KlingStubbins Architects Office, American Building, USA Design Studio, Project Image
KlingStubbins Architects
International Architecture Practice: Design Firm Information + Images
post updated Apr 22, 2021
KlingStubbins Building News
Nov 8, 2011
KlingStubbins – Acquisition
Jacobs Engineering acquires KlingStubbins
Major international engineers office – Jacobs Engineering, California – has acquired KlingStubbins.
Jan 18, 2011
KlingStubbins – New Associates
KlingStubbins selects new and senior Associates
PHILADELPHIA, PA – January 18, 2011 – KlingStubbins congratulates the following individuals for their recent election to Associate and Senior Associate:
New Senior Associates:
– Robert Khurana, AIA, LEED AP, Project Manager (Philadelphia)
– Kai Olsen, Senior Project Designer, Interiors (Philadelphia)
New Associates:
– Michael Diamond, PE, LEED AP, Electrical Services Engineer (Philadelphia)
– John La Rosa, PE, Project Manager (Philadelphia)
– Lisa McGregor, Senior Project Designer, Interiors (Philadelphia)
– Janelle Meagher, PE, Structural Engineer (Washington, DC)
The Board of Directors elects individuals to associate-level and senior status based on continued excellent performance as recognized through nominations made by the firm's Shareholders and Associate Executive Committee. National Managing Principal Michael R. Lorenz, PE, LEED AP, commented, "Each has exhibited strong technical competence, dedication, and leadership within their own disciplines, as well as throughout the firm."
Jan 5, 2011
KlingStubbins – New Shareholders
KlingStubbins welcomes New Year with new shareholders
– Xiaoyi Ma, AIA, LEED AP, Managing Director, Beijing
• Christopher Ham, PE, LEED AP, Engineering Design Principal, Cambridge
– Nancy Siefert, Project Director, Philadelphia
"In their own way, each has succeeded in advancing the reach and vision of KlingStubbins, and each has been challenged to continue and expand their roles in these efforts," remarked National Managing Principal Michael R. Lorenz, PE, LEED AP.
Oct 26, 2009
KlingStubbins – Competition Win
Moore Square Competition, Raleigh, North Carolina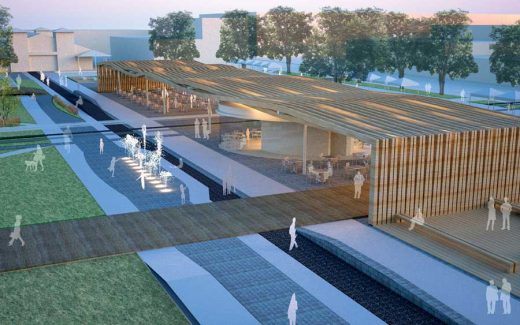 image : KlingStubbins
KlingStubbins wins honorable mention in national design competition
Moore Square competition distinguishes firm from nearly 100 applicants
Moore Square Raleigh
Apr 29, 2009
KlingStubbins – New Chinese Office
KlingStubbins opens office in Beijing
Design firm expands its commitment to Asian markets
Philadelphia, PA – April 29, 2009 – this architectural, engineering, and interior design firm headquartered in Philadelphia, PA, is pleased to announce the opening of an international office in Beijing, China. The office will focus on projects in China and will coordinate the efforts of the US offices within Asia.
The creation of the Beijing office was prompted by the design firm's steady increase in international work and global business interests. The office will be managed by Xiaoyi Ma, AIA, LEED® AP, who returned to her native China after working as a project designer in the Cambridge office.
"Our presence will allow us to better realize our ongoing aspiration to support the continued prosperity in China and to contribute throughout the Asian Pacific region," remarked Director of Design at KlingStubbins Bradford White Fiske, FAIA.
Some of the design firm's most compelling projects are located abroad including the Zhiye Plaza Office Tower in China, the Landmark Tower in Japan, the Treasury Building in Singapore, and the Berlin Congress Hall in Germany.
Dec 15, 2008
KlingStubbins Autodesk Competition Win
KlingStubbins' Craig Barbieri wins Autodesk's first "Design Slam"
PHILADELPHIA, PA – December 15, 2008 – In front of a live audience of more than 6,000 people at the Venetian Hotel in Las Vegas, Nevada, Director of Practice Technology at KlingStubbins Craig Barbieri, Associate AIA, won Autodesk University (AU)'s first ever Cut&Paste Design Slam competition in the "Less is More" category.
The event, broadcasted live on AU's website, invited its three participants to design an open forum pavilion in the setting of the famous replica of Mies Van Der Rohe's Barcelona pavilion in a 20-minute round. Competitors received the files of the site
plan and Barcelona pavilion in advance for preparation and were required to generate 2D and 3D documentation using Revit, Autodesk's building information modeling software, in the time allotted during the fast-paced event.
Phil Bernstein, FAIA, Autodesk vice president of industry strategy and relations and Design Slam judge remarked, "While all the competitors demonstrated impressive mastery of 3D design…the winning submissions…were selected because of their
artistic approach to innovative design."
Key Projects by this Philadelphia Architects Office
Designs by KlingStubbins (KS), alphabetical:
Piano Row Residence Hall, Emerson College, Massachusetts, USA
Date built: 2007
Emerson College Building
Autodesk AEC Solutions Group Customer Briefing Center, Massachusetts, USA
Date built: 2009-


rendering courtesy of KlingStubbins
AEC Solutions Group Headquarters, Waltham
More projects by KlingStubbins online soon
Location: Philadelphia, PA, USA
Philadelphia Architects Practice Information
KlingStubbins provides professional services in all major disciplines within the realm of architecture, engineering, interiors, planning, and landscape architecture. The firm consists of over 400 professionals in its Philadelphia, PA; Cambridge, MA; Raleigh, NC; San Francisco, CA; Washington, DC; and Beijing, China offices. Its areas of market focus and specialization include Corporate/Commercial, Government, Science + Technology, Higher Education, Hospitality/Entertainment, Institutional/Civic, Mission Critical, and Healthcare.
The company is a global leader in sustainable design and an innovator in project delivery.
As a design firm for some of the world's largest clients, KS is committed to improving the environment. The firm currently has 94 LEED® Accredited Professionals and has designed 15 projects registered for LEED® Certification throughout the United States.
Jul 23, 2008
New Directors
KlingStubbins creates new positions: Director of Sustainability and Director of Practice Technology
Jonathan Weiss and Craig Barbieri tapped for roles
PHILADELPHIA, PA – July 23, 2008 – KS announced the creation of two new positions: Director of Sustainability and Director of Practice Technology. The roles have been filled with current employees of the firm.
As first Director of Sustainability at KlingStubbins, Jonathan A. Weiss, AIA, NCARB, LEED® AP, is responsible for coordinating all sustainable design initiatives firmwide.
He accomplishes this by leading an interdisciplinary council of sustainability leaders from each of six KlingStubbins offices. He serves as a resource to staff at KS and clients and provides expertise and information on LEED® certification, as well as international sustainable design technologies, literature, events, and projects. Engineering-News Record recently recognized KS as one of the top 20 Green Design Firms in the country.

Jonathan Weiss Photo Courtesy of KlingStubbins
Mr. Weiss has led discussions on a range of sustainable issues for various organizations and conferences including the American Institute of Architects (AIA), the International Society of Pharmaceutical Engineers (ISPE), and Labs for the 21st Century (Labs21). He most recently co-presented the topic "Modeling Tools for Integrated Design" at the AIA's National Convention in May 2008. He will also be speaking on this subject at AIA Philadelphia's local conference, Design on the Delaware, this November.
Prior to his current position, Mr. Weiss worked as a Project Architect and Senior Project Architect for more than 14 years at KS. His recent notable experience includes the LEED® Certified Johnson & Johnson PRD Drug Discovery Laboratory in La Jolla, CA; the LEED® Certified MEDRAD GMP sterile disposables manufacturing facility in Indianola, PA; and the LEED® Commercial Interiors Gold Certified AstraZeneca B6A / BMRL Lab in Wilmington, DE.
Mr. Weiss graduated with a Bachelor of Arts in Architecture and Master of Architecture from Columbia University.

Craig A. Barbieri Photo Courtesy of KlingStubbins
Craig A. Barbieri, AIA Associate, invigorates the firm as first Director of Practice Technology at KS. In this role, Mr. Barbieri is responsible for identifying and implementing "best practice" and cutting-edge technologies that enhance this architectural office's design process. As the Chair of BIM Standards Board and Revit User Group at this architecture practice, he assists in fostering the growth of the firm's parametric design goals. He serves as a resource to staff by providing information on technology research, testing, training, and hands-on implementation methods on projects.
Mr. Barbieri is bringing his knowledge of "Techniques for Large Project Architectural Interiors in Revit," to Autodesk University in December 2008, the most popular session as rated by the Autodesk Community. He is a member of Autodesk User Group International.
Mr. Barbieri was the winner of the Woodman Competition and the recipient of scholarly awards including the Dales Fellowship, Bockius Traveling Fellowship, Newberry Scholarship, and the National AIA Scholastic Award. He was also a lecturer at the University of Pennsylvania's Graduate School of Design and Department of Architecture.
Mr. Barbieri received a Master of Architecture and a Master of Landscape Architecture from the University of Pennsylvania's School of Design. He also received a Bachelor of Business Administration from the University of California at Riverside.
KlingStubbins Architects – Website: www.klingstubbins.com
American Architectur
Buildings / photos for the KlingStubbins Architecture page welcome