Alvar Aalto Architect Designs, Finnish Building, Modernist Architecture Finland, Houses Projects
Alvar Aalto Architect
Modern Finnish Architecture : Key 20th Century Buildings in Finland
post updated 15 May 2023
Kunsten Museum of Modern Art Aalborg, Denmark
Photos taken today of this austere architecture, the only building by Aalto in Denmark
Exterior from north: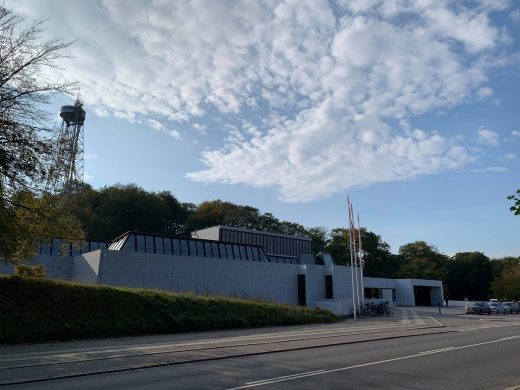 Exterior looking west away from the building: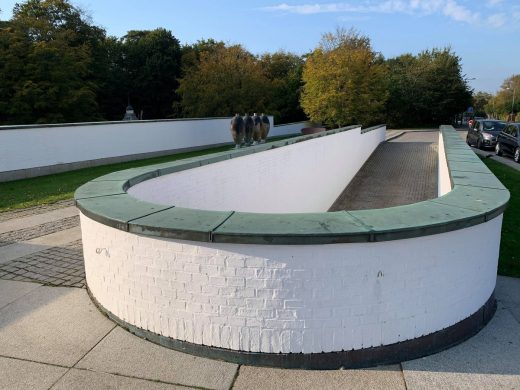 Exterior looking south: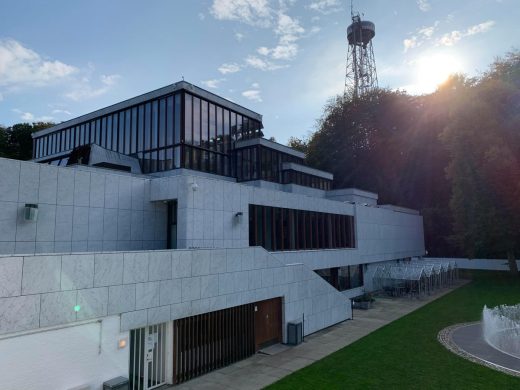 Entrance hall: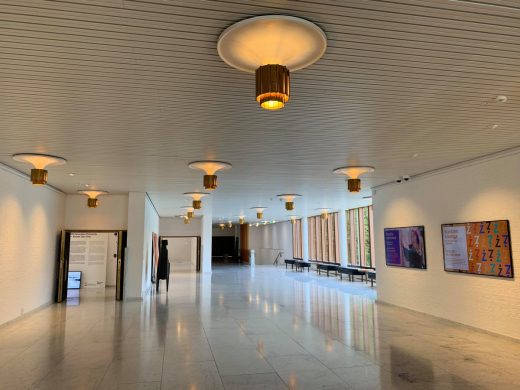 Entrance hall looking back through the double layer of glazed screens to the main road beyond: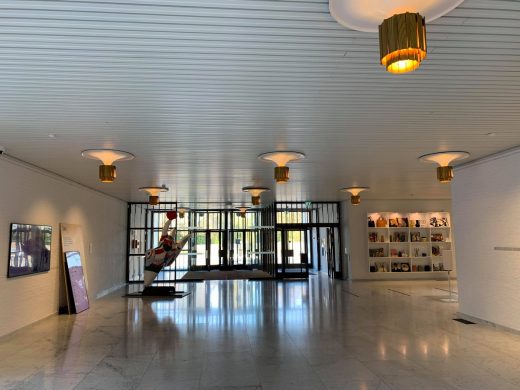 view of a gallery: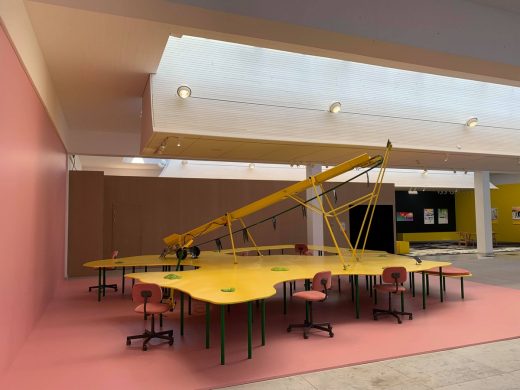 I had the fortune to win a Scholarship aged 18 to visit Finland and study the work of Alvar Aalto (in 1990), so can see how this work matches the scale and rhythms of his larger Finnish buildings, such as the Finlandia Hall, or in a different typology his university buildings such as at Otaniemi. This building has all the hallmarks of his style, with each element talking with the others.
For example the circular rooflights, ceiling lamps and tables tie the spaces together through a common language. Another example is the vertical fins that can be found on the doors and in the glazed screens.
Editor – architect Adrian Welch
Architectural details:
Ceiling light: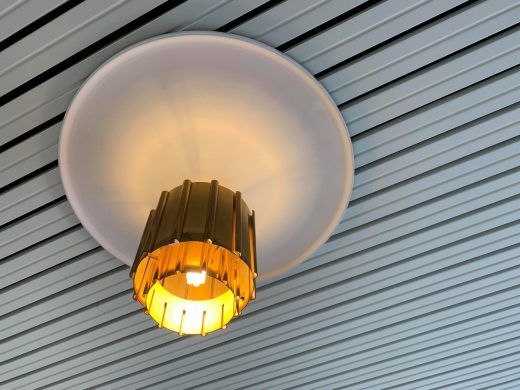 Rooflight lamps: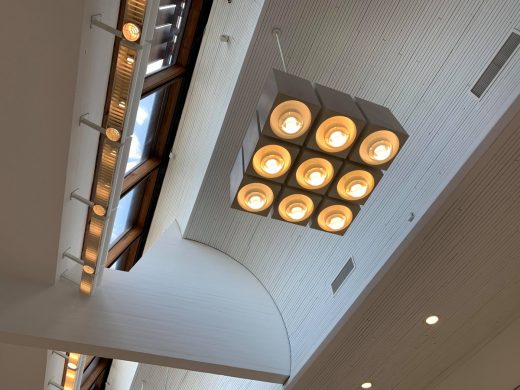 circular rooflight with lamp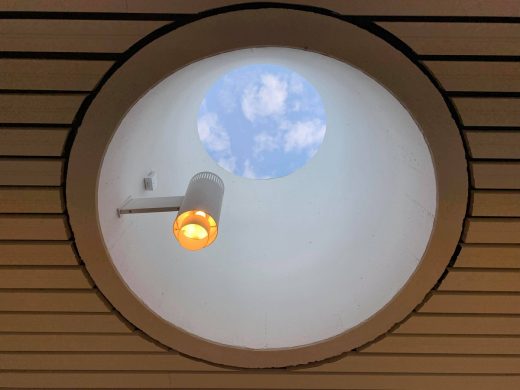 Modern & contemporary art, in an airy building designed by Alvar Aalto, housing international works.
A small gallery with rooflight slots filled with lamp arrays: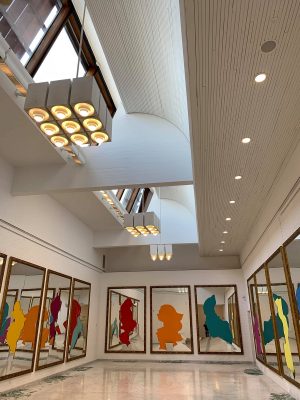 Another view of the small gallery with rooflight slots and lamps: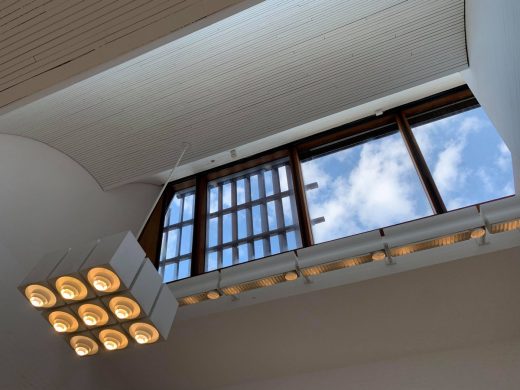 Black leather benches and circular tables look out onto the art gardens: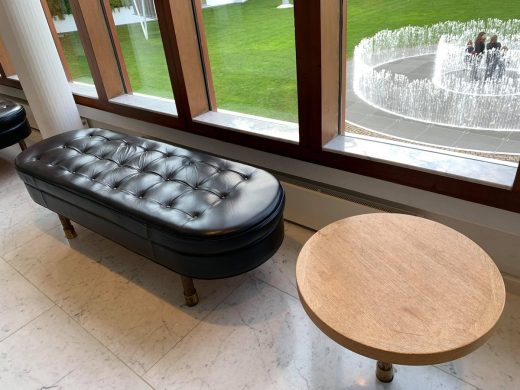 Address: Kong Christians Alle 50, 9000 Aalborg
Exterior looking south: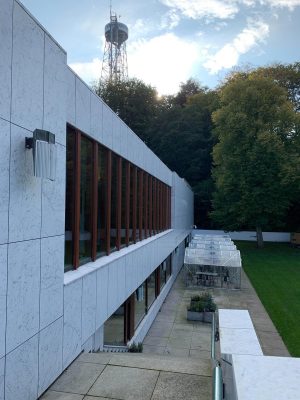 Website: kunsten.dk
The controversial 'Take the money and run'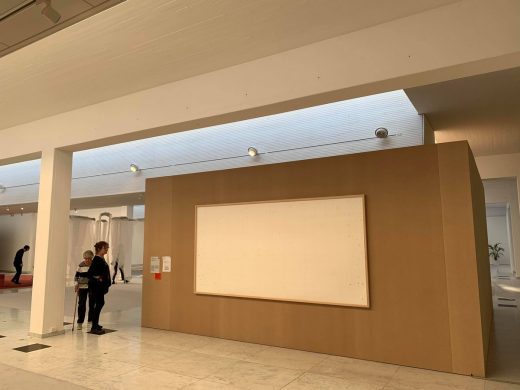 post updated Apr 11, 2021
Alvar Aalto News
26 + 24 May 2016
40 years from the death of the pioneering Finnish architect Alvar Aalto – new website celebrates his legacy
It is 40 years since the death of world-renowned Finnish architect Alvar Aalto.
To commemorate him and to celebrate his work Expedia has created a portfolio of his most notable works around the world:
The World According to Alvar: http://alvarin-maailma.expedia.fi/en
It includes 15 buildings around the world: city halls, theatres, private homes, cultural centres and churches. See his architecture in Finland, Denmark, Germany and US and learn more about the designs.
Some major buildings by architect Alvar Aalto:
Finlandia Hall, Helsinki, Finland: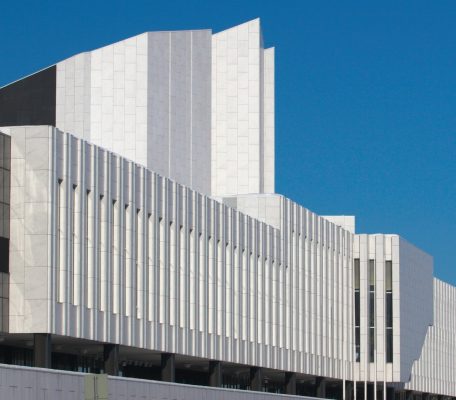 photo : Thermos, CC BY 2.5.
Finlandia Hall is often considered one of the true masterpieces by Alvar Aalto. The name of the building illustrates the significance with which the building is charged. Aalto himself saw Finlandia Hall as a symbol of an independent Finland.
Baker House, MIT, United States: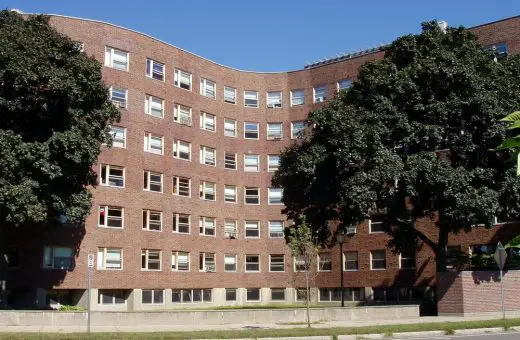 photo : TDaderot, CC BY-SA 3.0.
The Baker House is a student dormitory at the Massachusetts Institute of Technology in Boston, U.S. The building is one of the most prestigious works of art designed by Alvar Aalto overseas.
From the website you can also find new information about the buildings that illustrates well Aalto's practical and comprehensive design philosophy.
Aalto admired the idea of Gesamtkunstwerk, the total work of art. In the buildings he designed, he always paid attention to the purpose of use and designed the details and furniture as carefully as the whole structure of the building. The following examples show this quite well:-
– In the Paimio Sanatorium, a tuberculosis sanatorium built in 1930's, alongside the grand design of the building, he took the patient comfort and well-being into account in many ways. Aalto knew that the patients would share rooms, so he designed non-splash basins so that the patients wouldn't disturb each other when washing. He also designed sunning balconies at the end of patients' bedrooms because in the early 20th century the only known cure for tuberculosis was to spend time outside in the sun.
– Aalto's love for nature, skylight and practical design is visible in all of his buildings. Kunsten, the museum for modern art in Aalborg, Denmark, uses light colours and utilises the skylight to illuminate the museum in strategic ways. Baker House, a student hall of residence at the MIT campus in the US, was designed to a form of a wave because Aalto wanted as many students as possible to face the Charles River and the woods instead of a busy road.
– Aalto designed various concert halls and churches where he wanted to make sure the space is multi-use, light and pleasant, and the acoustics is outstanding. In the Church of the Three Crosses in Imatra, Finland, moveable doors enable the use of the church for parish activities. In the Finlandia Hall, the towering structure of the building was made to improve the acoustics of a 1700-seating concert hall through resonance.
some more key examples:
Turun Sanomat offices, Turku, Finland: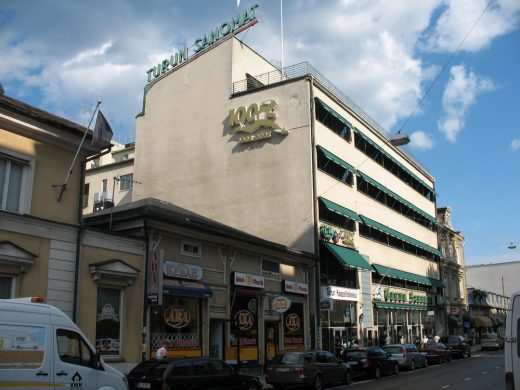 photo : Kreegah, CC BY-SA 3.0.
Alvar Aalto started working on the Turun Sanomat building in 1928 and fully finished in spring 1930. The building was known for its multipurpose setup, including printing presses in the basement, rented shop facilities on street level, a newspaper office on the floor above and even a luxury flat with a roof terrace on the top floor.
Lakeuden Risti Church, Seinäjoki, Finland: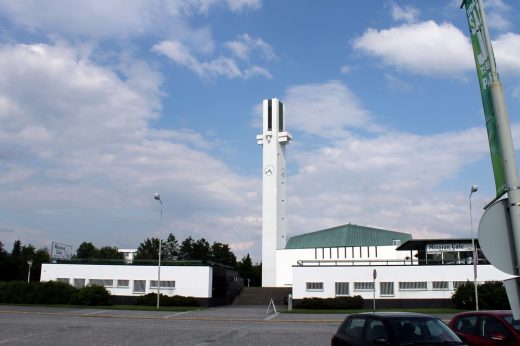 photo : Mädsen, CC BY-SA 3.0.
Lakeuden Risti Church was built between 1958 and 1960 and is located in Seinäjoki, Finland. The church gets its name 'Cross of The Plains' from its 65-metre-high bell tower which is shaped as a stylised cross.
Venice Biennale Finnish Pavilion by architect Alvar Aalto: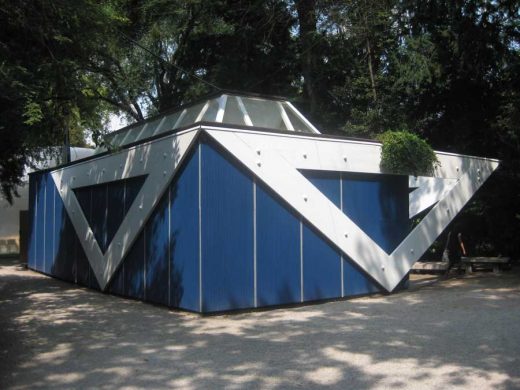 photograph © AJ Welch
23 Apr 2014
Alvar Aalto Exhibition
Reason & Intuition – Alvar Aalto & Ola Kolehmainen in Soane
PM Gallery & Pitzhanger Manor, Walpole Park, Mattock Lane, Ealing, London W5 5EQ, England, UK
4 July – 24 August 2014
Finnish art, architecture, design and photography fills Soane's dream house this summer
Pioneering design by this Modern Finnish architect and breathtaking architectural photography by Ola Kolehmainen.
This summer, the art, architecture and design of Finland will be celebrated in London. Reason & Intuition – Alvar Aalto & Ola Kolehmainen in Soane is a new exhibition bringing together the finest works of an acknowledged great of international modernist architecture and design and three collections of images by an acclaimed Finnish photographer.
Finnish art, architecture, design and photography fills Soane's dream house this summer
Modern House by Alvar Aalto
Maison Louis Carré, Bazoches-sur-Guyonne, west of Paris, northern France
Dates built: 1956-1959/63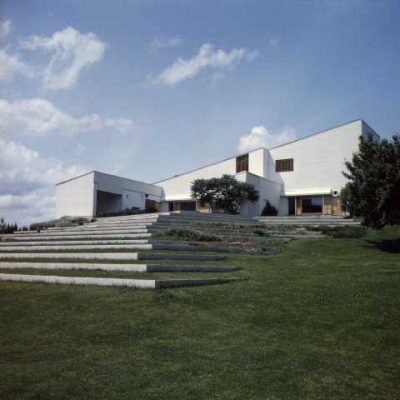 photograph © Collection Maison Louis Carré
Alvar Aalto House in France
In June 1959, the French art dealer and collector Louis Carré moved with his third wife Olga into the house designed by this 20th Century Finnish architect in Bazoches-sur-Guyonne, some 40 km southwest of Paris. Combining architecture, furniture and landscape, Maison Louis Carré is the architect's only remaining building in France and one of his most remarkable private houses.
Alvar Aalto – Key Projects
Summary of Locations
FINLAND
Alajärvi + Espoo + Helsinki + Imatra + Kauttua + Kotka + Järvenpää + Jyväskylä + Lahti + Noormarkku + Paimio + Rovaniemi + Seinäjoki + Turku
GERMANY
Essen
USA
Boston + St Benedict
Key buildings by Aalto are as follows
Helsinki: Aalto House + Studio Aalto + Finlandia Hall
Espoo, west Helsinki: Helsinki University of Technology, Otaniemi
Paimio: Sanatorium
Turku: Turun Sanomat
Jyväskylä: Säynätsalo Town Hall + Jyväskylä University + Muuratsalo House
Noormarkku, Pori: Villa Mairea
The churches at Imatra and Seinäjoki plus Rovaniemi Cultural Centre are also important
Venice Biennale – Finnish Pavilion, Giardini, Venice, Italy by architect Alvar Aalto


photographs © Adrian Welch
Alvar Aalto Buildings : full buildings list & personal view
To really get a feel for Aalto we suggest as a minimum visiting Helsinki, Noormarkku (nr Pori) and Jyväskylä over 2 days; I toured Finland over two weeks (route outlined at base of this page) and visited most of the buildings below which are fairly spread out despite the two concentrations in Helsinki and Jyväskylä. Other views/tips welcome at info(at)e-architect.com
Alvar Aalto – Winner of RIBA Gold Medal 1957
Helsinki Buildings
Aalto House
1935-36
Address: Riihitie 20, Munkkiniemi, 00330 Helsinki
Guided tours
Studio Aalto
1954-55, 1962-63
Address: Tiilimäki 20, 00330 Helsinki
GERMANY
Essen Concert Hall
Interbau Apartment House, Berlin, Germany
1957
Hansaviertel Buildings by various celebrated 20th Century architects
USA
Baker Dormitory, MIT, Boston
Mount Angel Abbey Library, St Benedict
Location: Finland, northern Europe
Finnish Architecture Practice Information
One of the key architects of the 20th Century, generally viewed as being less didactic compared to Le Corbusier, Mies van der Rohe and Walter Gropius. Alavar Aalto represent a way of melding the international Style with nature and to a certain extent the local vernacular and national traditions.
Architect studio was based in Finland
Alvar Aalto context – Helsinki Buildings
19 Mar 2012
Modern House inspired by this Finnish Architect
Rockfield House, Claonaig, Skipness, Tarbert, Argyll, south west Scotland, UK
Offers in excess of GBP £700,000
Property for sale by Knight Frank
"An iconic house in a remarkable location. Rockfield is a large modern home. Its striking design was inspired by the work of Finnish architect Alvar Aalto and contains several of his signature features. One of Rockfield's outstanding features is its remarkable location and views.

photographs from selling agents
The unique location provides Rockfield with some of the finest views and seascapes in the West of Scotland, if not Western Europe."
There are uninterrupted views towards the Isles of Bute and Cumbrae, across the Clyde Estuary to the Ayrshire Coast, over the Sound to Arran and down it towards Carradale, Campbeltown, South Kintyre and the North Channel, beyond which Ireland lies.
Finnish Architecture Walking Tours
Comments / photos for the Alvar Aalto Architecture – Finnish Design Practice page welcome
Website: www.alvaraalto.fi