ADEPT Architects, Copenhagen, Denmark, Buildings, Danish Design Studio, Projects, Office
ADEPT Architects, Denmark
Contemporary Danish Architecture Practice – Design Office Info + News
18 + 17 Mar 2017
ADEPT News
New Aarhus School of Architecture Competition
Newly qualified architects win restricted design competition for new school of architecture in Aarhus
The newly established architecture practice Vargo Nielsen Palle, led by three recently qualified architects, has won the restricted design competition NEW AARCH ahead of established and internationally recognised architecture practices: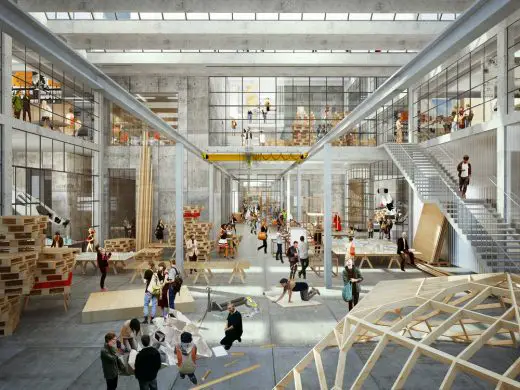 rendering : Vargo Nielsen Palle og ADEPT
New Aarhus School of Architecture Design Competition
Award for ADEPT
ADEPT AMONG THIS YEAR'S GAZELLES – THE MOST DEVELOPING BUSINESSES IN DENMARK
Copenhagen October 14, 2013 – ADEPT is announced one of this year's Gazelle businesses, an honorable award established by Boersen, Denmark's leading business newspaper. The award is assigned to smaller innovative companies, showing a constant development of business during the last four years, based on annual turnover and financial statements.
ADEPT is especially proud to be among this year's Gazelles, as the award not only underlines the solidity of the office, but also recognizes the high quality architectural practice that ADEPT wishes to be known for.
Recently ADEPT has expanded its staff with two central employees, whom, each in their own way, strengthen the office profile: Henrik Hvidt, former partner and owner of HVIDT Arkitekter, will fulfill the role as project director, while Jacob Eggen, former project leader at HVIDT Arkitekter, will be responsible for ADEPT's growing construction department. The communications team is also growing, now counting Eva Hviid-Nielsen, architect and cand. mag. Art.
ADEPT is based in Copenhagen and Guangzhou and performs architecture, planning and landscape design. In recent years ADEPT has won several national and international architectural, landscape and urban planning competitions.
Several of ADEPTs winning projects are currently under development or construction including the media library "Dalarna Media Arena" in Falun, Sweden, 'The House of Culture and Movement' in Frederiksberg, 'Housing for all in Aarhus' in Aarhus and The Danish Cancer Society's cancer centre 'Livrum' in Roskilde.
For more information please visit www.adept.dk or write to pr@adept.dk
'The Two Towers', Shenzhen, China
2011-
ADEPT / Urbanus
Major international architectural competition, 'The Two Towers', in Shenzhen, China.
The team selected to design this new Shenzhen landmark – comprising 100.000 square meters in total – is a constellation of ADEPT (DK) and Urbanus (CHN) with VSA (HK), Max Fordham LLP (GB) and Beijing CCI Architectural Design Co, LTD (CHN). The jury meeting was hosted at the Shenzhen Municipal Planning Building with Pritzker Prize winner Thom Mayne as chairman of the jury.
As the competition title suggests, the project is comprised of two towers, the CDB Tower (150 meters) and the Minsheng Financial Tower (120 meters), functioning as new headquarters for the two financial institutions. The challenge of designing two new towers in Shenzhen raised the question as to what kind of tower could be added in the context of an already impressive skyline. Analysis of this context suggested considerable emphasis has been placed in recent years on achieving extravagant, visually unique forms amongst the towers themselves – a situation that has generally occurred at the expense of the quality and liveliness of the urban spaces at their base.
In addressing this, 'The Two Towers' project attempts to articulate the skyscraper not as a purely visual landmark, but as a functional landmark welcoming and embracing citizens and visitors. In this way, the skyscraper as a type is capable of contributing toward a future urban culture by stimulating the urban area that it is rooted in. The focus of the design therefore has been the activation of the ground floors by placing active and public-oriented programs in visible positions, closely connected to the surrounding public realm.
By shifting the volumes around a sunken plaza, a dynamic shaded public space is created underneath, supporting a clear identity for the two institutions. Furthermore, the volumes are broken down into a human scale on the ground floor, creating a remarkable three-dimensional public space on many levels. Green and blue elements generate a pleasant micro-climate in these stacked spaces. Not only complying with the urban regulations and conditions of the local context, the scheme creates a diverse public space that exceeds the expectations implied in the brief.
A key factor for the clients has been the representation of a stable image for the financial institution. With this in mind, the expression of the towers themselves reflects strength combined with an image of generosity. Both towers are designed with structural cores and load-carrying façades leaving the offi ce spaces in the towers open and free of columns. The expressions of the towers are related, but diff erentiated to convey the separate identities of the two institutions. The façades are fi nished in two different types of stone – the CDB Tower in a darker tone and the Minsheng Financial Tower in a lighter tone. The glazing system on each tower underlines the two diff erent tower typologies – the vertical point and the rectangular slab.
The façade design of both towers reacts to the amount of sunlight and energy each façade is exposed to. Detailed studies of sun conditions led to the design of an energy performing façade off ering more shade to sun-affected areas. This results in a changing façade that offers a soft gradient that is reflected diff erently at each time of the day.
Furthermore, the positioning of a series of atriums in the towers is based on views to the surroundings. In the atrium areas the windows expand to offer better views and more light to the interior spaces. Additionally, the atriums create interior gardens and recreational spaces in the offi ce towers, generating greater spatial variety and improved social interaction amongst the buildings' users.
International interest in the competition was extensive, with a large field of established architectural offices competing for the project including Wilkinson Eyre, REX, Adrian Smith + Gordon Gill Architecture, and Rocco Architects.
ADEPT – Latest Design
Oppdal Sentrum, Norway
2011-


image from ADEPT
Oppdal Sentrum
ADEPT – Key Projects
Featured Buildings by ADEPT Architects, alphabetical:
Dalarna Media Arena, Falun, Sweden
2010-
ADEPT / SOU FUJIMOTO Architects


image : Luxigon
Dalarna Media Arena
Danish ADEPT, Japanese SOU FUJIMOTO Architects and an advisory team consisting of Topotek1, Rambøll A/S and Bosch & Fjord win the competition for a new library in Falun, Sweden, with the project "Dalarna Media Arena".
The project, which consists of a 3000m2 library and an adjoining plaza, is a part of Dalarna University campus.
Dalarna Media Arena is a reinterpretation of the library – a multifunctional event- and knowledge center – targeting students and teachers as well as the local community.
Dalarna Media Arena matches a new library culture, staging a wealth of opportunities for events and inspiration. The library and plaza at Högskolan Dalarna will be the city's third space – a dynamic meeting point with activities for students, employees and visitors.
House of Culture and Movement, Frederiksberg, Copenhagen, Denmark
2010-
MVRDV / ADEPT


image © MVRDV/ADEPT
House of Culture and Movement
The City of Frederiksberg, Denmark, the Danish Foundation for Culture and Sport Facilities and Realdania announced MVRDV and ADEPT winner of the House of Culture and Movement competition in Frederiksberg, Denmark.
The building is a new urban typology with its mix of community centre, exhibition and performance, playground, park and health centre.
The House of Culture and Movement is aimed to engage the population of Frederiksberg in a healthy and active life style. The 4,000 m2 building is set in 4,500m2 public gardens and is the first in a series of 3 buildings. The first phase is to be completed in 2015 and has a total budget of 17 million Euro.
More projects by ADEPT Architects online soon
Location: Copenhagen, Denmark, northern Europe
ADEPT Architects Practice Information
ADEPT architects studio based in Copenhagen, Denmark
ADEPT is based in Copenhagen, Denmark and works within the fields of architecture, Urban planning and landscape design.
ADEPT is founded and lead by architects: Martin Laursen, Martin Krogh and Anders Lonka.
ADEPT is currently working with projects: "Flintholm Spark" 4000 m2 House of Culture and Movement at Frederiksberg (DK), 'Village in the Sky' 22.000 m2 high rise (DK), "Iceland Academy of Arts" 20.000 m2 educational and cultural institution in Reykjavik (IS), and urban planning projects: "The Tolerant City" 1.000.000 m2 urban development in Helsingborg (SE), "Køge Coast" 350.000 m2 urban development project for Køge Municipality, and "The Måløv Axis" 100.000 m2 urban space in Ballerup (DK).
ADEPT's three partners have all been engaged and involved in teaching, workshops and lectures since they founded the company. Anders Lonka teaches in sustainable urban planning at The School of Architecture at the Royal Danish Academy of Fine Arts, while Martin Laursen and Martin Krogh are external professors at The Faculty of Architecture at AAlborg University.
Danish Architecture
Danish Architecture – Selection
KPMG Headquarters Copenhagen : 3XN


picture © Adam Mørk
Aarhus Town Hall, Jylland
Arne Jacobsen
Moesgård Museum Århus, Århus, Jutland
Henning Larsen Architects
Buildings / photos for the ADEPT Architects – Danish Architecture Office page welcome
Website: ADEPT Architects