BMCM+AC North Carolina, Black Mountain College Museum + Arts Center, American Architecture
Bauhaus in America Exhibition and Conference USA
"Bauhaus in America" Exhibition and Conference at Black Mountain College Museum + Arts Center, USA
Aug 18, 2015
Location: BMC, near Asheville, North Carolina, USA
Bauhaus in America Exhibition and Conference at Black Mountain College Museum + Arts Center
"BAUHAUS IN AMERICA" IS FOCUS OF NEW EXHIBITION AND CONFERENCE AT BLACK MOUNTAIN COLLEGE MUSEUM + ARTS CENTER
Address: 56 Broadway Street, Asheville, NC 28801, United States
Phone: +1 828-350-8484
Bauhaus in America Exhibition and Conference at BMC
August 18, 2015 – Exhibition on view September 4-December 31, 2015; Conference September 25-27, 2015
Asheville, NC…Black Mountain College Museum + Arts Center (BMCM+AC) presents a special exhibition and its annual conference on the Bauhaus in the U.S., focusing on two important centers led by highly influential artists and professors who had taught at the famed German institution.
In 1933, Josef Albers was invited to teach at the newly opened Black Mountain College (BMC) outside Asheville, NC, and, in 1937, László Moholy-Nagy established the New Bauhaus/Institute of Design in Chicago (ID). Both men had emigrated to the U.S. during the turbulent years preceding World War II when the Bauhaus, founded by eminent German architect Walter Gropius in 1919, was closed by the Nazis in 1933.
Hazel Larsen Archer, Buckminster Fuller's 1949 Dome at Black Mountain College, Summer 1949, gelatin silver prints, 13.75 x 21 inches (overall), 3.875 x 3.875 inches (ea):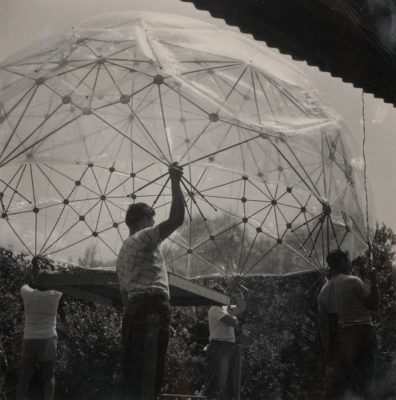 photograph © Estate of Hazel Larsen Archer
CONVERGENCE / DIVERGENCE: Exploring Black Mountain College and Chicago's New Bauhaus/Institute of Design is organized by Michael Reid, an independent researcher and graphic artist, and on view September 4 – December 31, 2015.
The annual conference, "ReVIEWING Black Mountain College 7: Bauhaus + USA," takes place at BMCM+AC's newly expanded facility in downtown Asheville and at the University of North Carolina at Asheville from September 25 – 27, 2015.
"The Bauhaus was a radical and extraordinary experiment in education that set a foundation for interdisciplinary arts education and practice. One can hardly overstate the impact of the Bauhaus, which is clearly recognizable in art schools and museums, but also in trends today towards more collaborative workspaces, creative packaging design, and the design of furnishings in our own living rooms" said Katherine de Vos Devine, Executive Director of BMCM+AC.
Bauhaus in America Exhibition
CONVERGENCE / DIVERGENCE explores the relationship between BMC and the New Bauhaus (renamed the Institute of Design in 1944) as innovators and direct educational descendants of the Bauhaus in America, their similarities and differences. Mr. Reid said, "At a time when most colleges and universities were still married to a far more rigid educational model born in the 19th century, Black Mountain College and the Institute of Design, though distinct in structure and place, took a largely untraveled path that embraced experiment itself as an instructional objective.
The participation at these schools by many of the same faculty, lecturers, pedagogical fellow travelers and acolytes of modernism contributed to a commonality of purpose in the absence of any relationship between Albers and Moholy-Nagy."
Beaumont Newhall, Summer Institute Faculty at Black Mountain College: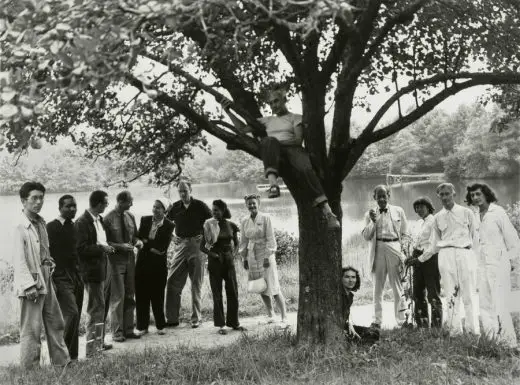 photograph © 1946, Beaumont Newhall, © 2015, the Estate of Beaumont and Nancy Newhall. Permission to reproduce courtesy of Scheinbaum & Russek Ltd, Santa Fe, New Mexico.
The exhibition features over one hundred artworks and objects in a variety of mediums-from BMC's distinguished collection and on loan from around the country-created by Albers and Moholy-Nagy, their fellow teachers and students, including Anni Albers, John Cage, Harry Callahan, Buckminster Fuller, Howard Dearstyne, Gropius, Wassily Kandinsky, Barbara Morgan, Xanti Schawinsky, Kenneth Snelson, Emerson Woeffler, among many others. A rich representation of photography, prints, catalogues, letters, and other printed materials provide a window onto the artistic, educational, and social environments at the two institutions.
Three primary areas of focus reveal the connections shared by these institutions and links with the original Bauhaus (Gropius, for example, served on the boards of BMC and ID) as well as the philosophical and directional differences that made each markedly original in their approach to higher education. First, while both Albers and Moholy-Nagy taught foundation courses at the original Bauhaus (mandatory one-year introductory classes preceding specialized workshops) and developed their pedagogical philosophies concurrently in Germany, their resultant American schools travelled along distinctly disparate paths.
Further, their individual presences were instrumental in shaping these unique institutions-BMC as a forerunner in progressive, interdisciplinary education with a focus on the arts and ID as a Bauhaus-based workshop model. Both schools changed direction when their leaders left.
Bauhaus Building, Walter Gropius, 1925-26, Dessau, Germany:



image © Gordon Watkinson
Secondly, Albers and Moholy-Nagy, as influential as they were, were an entrée for the many other Bauhaus teachers and former Bauhaus students who ultimately joined the faculties of both schools. Despite the fact that neither taught nor lectured at the campus led by the other, the list of people who did cross-pollinate these institutions is long and distinguished.
Finally, despite the differences in character, pedagogy, curriculum, and the setting
of these two places, a small but significant number of students chose, as part of their education, to share in the experience of attending both schools. Examining several of these individuals and their subsequent careers will illuminate the role that these two adapted Bauhaus educational models had in nurturing and defining modernism in the American culture.
László Moholy-Nagy, New Bauhaus Prospectus, 1937, 13.25 x 10 inches.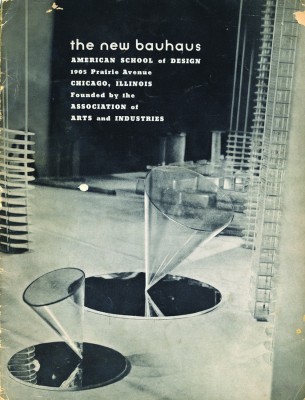 image provided by BMCM+AC
Public opening reception: Friday, September 4, 5:30-8:00 p.m.; Gallery talk by the curator at 7:00 pm.
A full-color, 64-page catalogue accompanies this exhibition and will be available for sale at BMCM+AC.
Black Mountain College Conference
Annual Black Mountain College Conference, September 25-27, 2015
"ReVIEWING Black Mountain College 7: Bauhaus + USA" is co-hosted by BMCM+AC and University of North Carolina, Asheville. The three-day program, open to the public for a fee, focuses on the Bauhaus legacy in the U.S. with a full schedule of speakers, panels, workshops, and performances.
Keynote Speaker:
Ellen Lupton, Senior Curator of Contemporary Design, Cooper Hewitt, Smithsonian Design Museum and Director of the Graphic Design MFA program at Maryland Institute College of Art (MICA) in Baltimore; author and curator.
Featured Speakers:
Brenda Danilowitz, Chief Curator, The Josef & Anni Albers Foundation;
Margret Kentgens-Craig, former Head of the Department of Archives and Collections at the Bauhaus Dessau Foundation, Germany, and author of The Bauhaus and America: First Contacts 1919-1936;
Fabienne Eggelhoefer, Curator at the Zentrum Paul Klee in Bern, Switzerland; and
Jonathan Creasy: 2015 DAAD Scholar at Freie Universität Berlin and Das Bauhaus-Archiv, Berlin.
Registration, schedule, and additional information: www.blackmountaincollege.org
Black Mountain College Museum + Arts Center
About Black Mountain College Museum + Arts Center
The Black Mountain College Museum + Arts Center (BMCM+AC) was founded in 1993, in Asheville, NC, to preserve and pay tribute to the history and legacy of innovation of Black Mountain College (1933-57) and to acknowledge the College's role as a forerunner in progressive, interdisciplinary education with a focus on the arts.
With its emphasis on the individual rather than the institution and its striking success in attracting people of great talent and originality, the College drew a roster of gifted mavericks, some of whom went on to become well-known and highly influential in the latter half of the 20th century.
A partial list includes: Josef and Anni Albers, John Cage, Robert Creeley, Merce Cunningham, Willem and Elaine de Kooning, Buckminster Fuller, Francine du Plessix Gray, Ray Johnson, Karen Karnes, Franz Kline, Jacob Lawrence, Kenneth Noland, Charles Olson, Arthur Penn, Robert Rauschenberg, M.C. Richards, Dorothea Rockburne, Ben Shahn, Cy Twombly, Jonathan Williams and many others who have impacted the world in a significant way.
BMCM+AC's programming targets both the historical importance of the College and the many ways that its legacy remains relevant and vital today with exhibitions, seminars, panel discussions, publications, film and video screenings, and oral history interviews with surviving BMC faculty and students. In early 2016, a new expansive dedicated gallery space will open across the street from the current BMCM+AC facility in downtown Asheville. www.blackmountaincollege.org
Black Mountain College Museum + Arts Center in Asheville
Bauhaus in America Exhibition and Conference images / information from Bow Bridge
Bauhaus Building, Walter Gropius, 1925-26, Dessau, Germany:



image © Gordon Watkinson
Location: Asheville, North Carolina, USA
North Carolina Architecture
James B. Hunt Jr. Library at North Carolina State University, Raleigh
Design: Snøhetta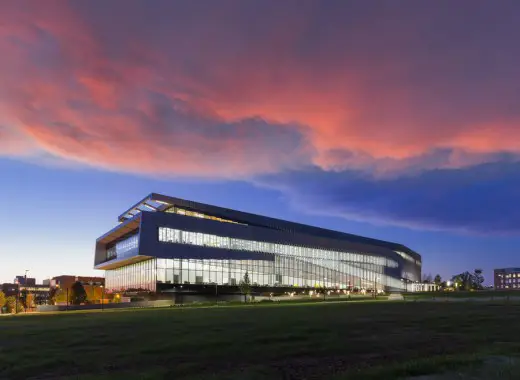 photograph : Jeff Goldberg/Esto
James B. Hunt Jr. Library North Carolina
North Carolina Museum of Art Building
Design: Thomas Phifer and Partners



picture © Scott Frances. Courtesy NCMA
North Carolina Museum of Art Building
Raleigh-Durham International Airport Terminal 2 Building
Design: Fentress Architects



picture Nick Merrick © Hedrich Blessing
RDU Terminal 2 Building
North Carolina Biotechnology Center
Bauhaus Buildings
Gropius Masterhouses in Dessau



image fromm architecture competition organisers
Bauhaus Masterhouses Dessau
Bauhaus Archive Building



photo © Adrian Welch, architect
Bauhaus Archiv in Berlin
Loft Bauhaus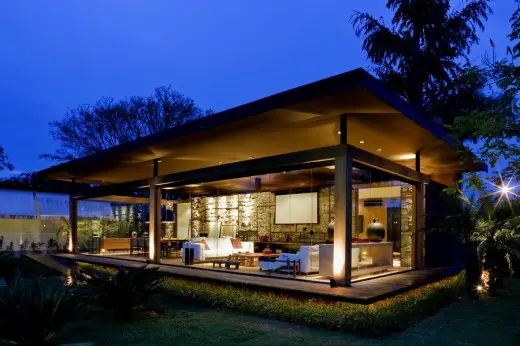 photo from architect
Loft Bauhaus in Brasil
Inspired by the famous Farnsworth House by Mies Van der Rohe, the project explores four of the five points of modern architecture
Walter Gropius Building in USA
Michael Reese Hospital, Chicago, USA : Demolition of Walter Gropius Buildings



photo © GCC
Michael Reese Hospital
American Commerce Centre, Philadelphia
Design: Kohn Pedersen Fox
American Commerce Centre
Smithsonian Museum – Robert and Arlene Kogod Courtyard
Design: Foster & Partners
Smithsonian Institute
World's First Bauhaus Building
bauhouse 24H Competition, Dessau, Germany
1st prize: Sonya Falkovskaia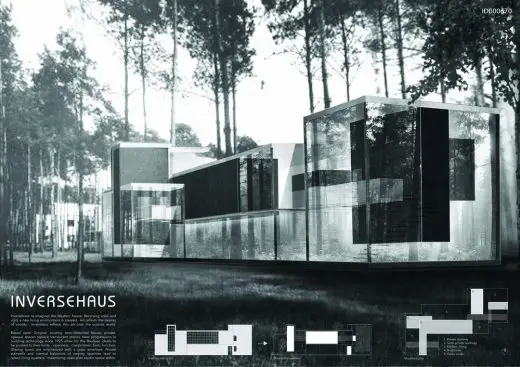 image courtesy of designer / 24h
bauhouse Competition
Comments / photos for the Bauhaus in America Exhibition and Conference – Black Mountain College Museum + Arts Center, Asheville, North Carolina, USA page welcome