Changi Airport Interior, Singapore Building Interior Development, Architecture Images, Architect
Changi Airport Interior in Singapore
Southeast Asia Interior Aviation Hub Development design by Moment Factory
10 Apr 2018
Changi Airport Interior
Design: Moment Factory
Location: Changi, Singapore
Moment Factory Commissioned by Singapore's Changi Airport Group to Create Major New Experiential Media Features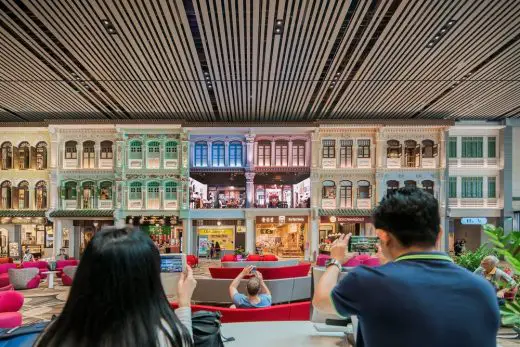 Singapore's Changi Airport, voted by air travellers as the World's Best Airport (Skytrax) for the sixth consecutive year, is taking its passenger experience to a new level with Terminal 4. As part of their quest for excellence, Changi Airport Group commissioned Moment Factory to produce two media features designed to entertain passengers as they navigate the airport's remarkable interior.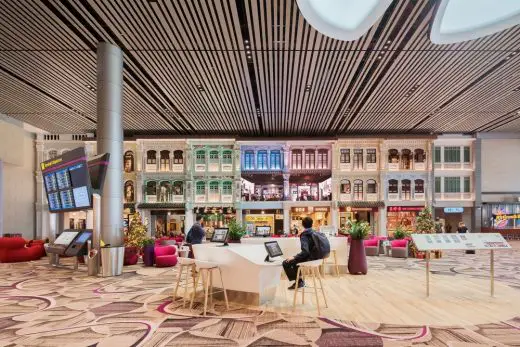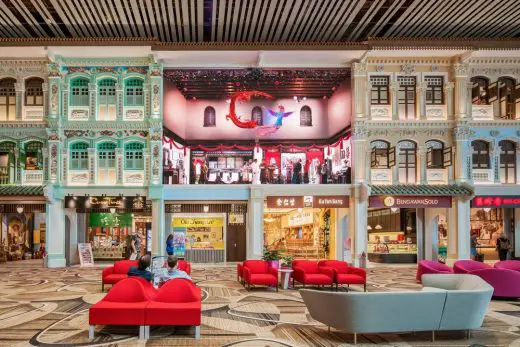 From optical illusions to cinematic storytelling, the architectural media features transform the least-appreciated travel moments into surprises of delight and discovery. Passing through security screening, travellers are enveloped by an immersive media wall with a variety of content capsules that transform the ambiance. Picturesque high altitude landscapes alternate with virtual bas-relief sculptures that subtly come to life.
In the heritage zone, real and virtual traditional shop house façades create an authentic backdrop for local culture and storytelling. Appearing static at first, the two LED façades spring to life with an engaging neighbourhood love story that brings two Peranakan families together.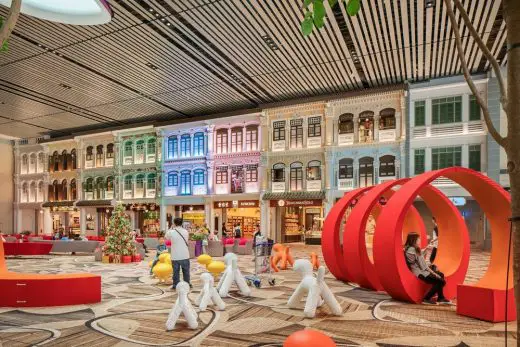 Building on Moment Factory's reputation for creating signature media environments, this collaboration with Changi Airport Group (CAG) pushes ambient entertainment in new and meaningful directions. Each of the media features was built with a distinct purpose in mind: to create wonder and captivate audiences in unique ways.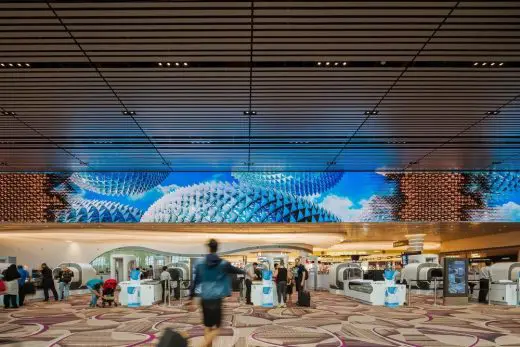 The Media Features
The Panorama—Security Zone
This enormous LED screen provides a panoramic experience, allowing travellers' imaginations to begin the journey even before they're through security. To transport viewers' imaginations to far-off places, Moment Factory created seven panoramic content capsules, each with a unique story and environment: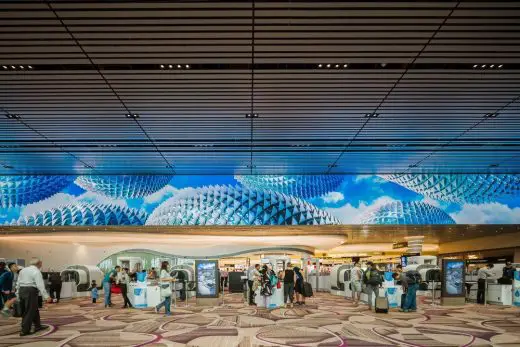 The Suitcase Machine offers a whimsical and playful glimpse behind the scenes of Changi's baggage handling system. Each machine has its own wacky personality in this fantastical rendering of what a child might imagine is going on behind the scenes.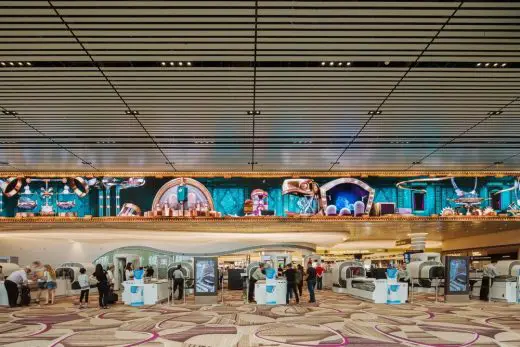 Through the Lens brings viewers on an imaginary international voyage. Soaring to new heights, travellers catch glimpses of various ASEAN destinations, peeking through the clouds. A mysterious photographer's camera takes visitors on a trip through worlds real and imagined. Each click of the shutter is a new chapter of the journey.
The Frieze creates calming beauty and trompe-l'oeil wonder. Travellers encounter what appears to be an enormous carved frieze in a traditional style. But as the carved animals begin to move, they understand that appearances can be deceiving. In fact, they are looking at an enormous, virtual 3D sculpture.
World Skies: Famous city landmarks emerge out of the clouds and the starry sky, accompanied by live data such as weather and flight information.
Lion City Panoramas: Time-lapse and tilt-shift imagery reveals unexpected beauty in panoramic views of Singapore and its many icons.
Drifting Petals: This identity content creates an iconic statement in the space. Like a virtual kinetic sculpture of golden petals embedded in the architecture, this content sequence enlivens the security area with gentle, flowing movement.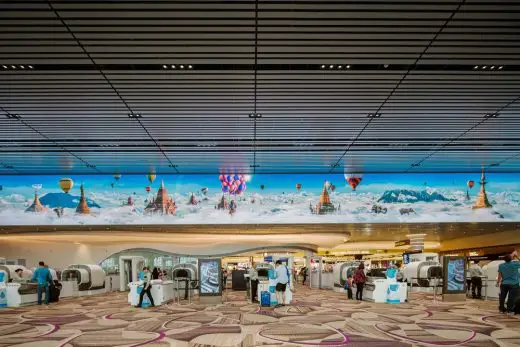 Technical Details
The total resolution of the Security Area screen is 10,704 x 768 pixels, for a total pixel space of 8,220,672 pixels.
Its physical dimensions are 70 m wide by 5 m tall.
The LED pitch of the screen is 6 mm (1 pixel every 6 millimeters).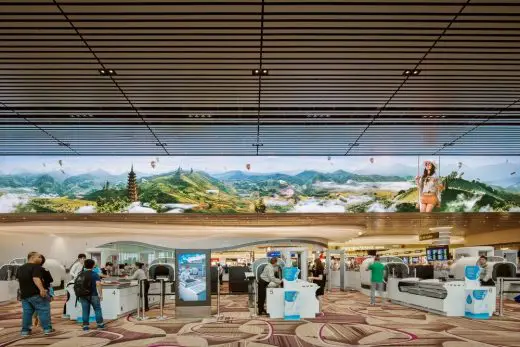 Peranakan Love Story
The idea for Peranakan Love Story was developed in collaboration with the iconic Singaporean singer Dick Lee, and was inspired by the row of traditional Peranakan shophouse façades being built inside the terminal. Using large format LED screens and a trompe-l'oeil approach to content, Moment Factory decided to bring one of these façades to life with a playful and local love story. While visitors shop and get something to eat, their mood is lightened by this touching story of two families coming together through a marriage.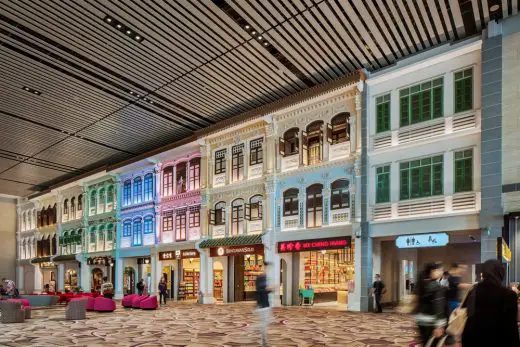 The show takes travellers on a journey deep into the heart of Singaporean culture. Music was a key ingredient for this show, and fortunately, the team had the perfect collaborator in Dick Lee who provided music and conceptual guidance that evokes the perfect romantic and authentic mood. His uniquely Singaporean sensibility adds a level of detail that incorporates all the elements into an unforgettable experience.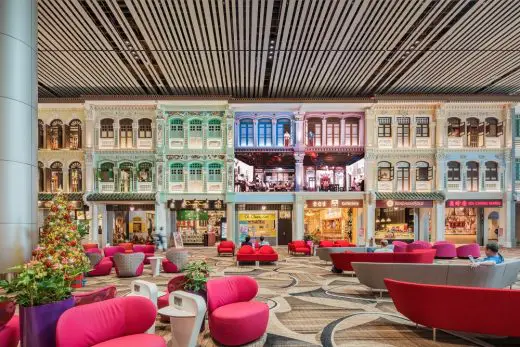 One of the most challenging aspects was working and testing in an active construction site. The virtual lighting in Peranakan Love Story needed to perfectly match the ambient lighting conditions of the space to achieve the trompe l'oeil effect. But because the lighting wasn't fully installed yet, there was a lot of postulation to do about the final lighting conditions. Fortunately, calculations of the eventual lighting were right on, and the capsule has been such a hit that CAG commissioned Moment Factory to add even more content. Travellers will be able to experience whole new dimensions of the story in summer 2018.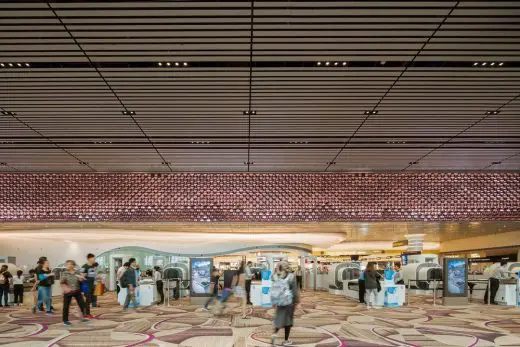 Collaborating to Push the Industry Forward
To adapt to the changing face of travel and the unique challenges of 21st century retail, airports are innovating like never before. Architectural media features are quickly becoming a key ingredient for creating the kind of iconic visual identity, and unforgettable experience that appeals to travellers. Moment Factory is leading the way with game-changing partners like the Changi Airport Group.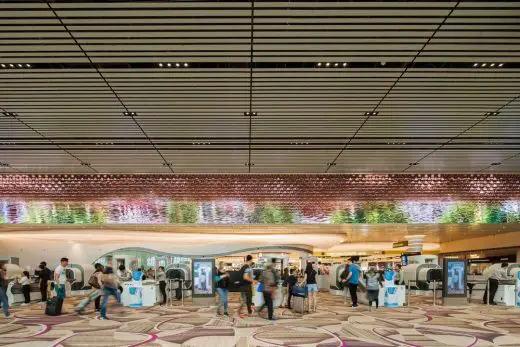 From the beginning the media features were developed in close collaboration with the client in order to perfectly understand the client's design and business objectives. But content and the final look and feel were always at the forefront of the exchanges. CAG's primary concern was to provide the highest quality experience to visitors by immersing them in lush, beautiful content.
As in any great collaboration, both sides took the time to learn from the other. The process was explained, as well as the thinking behind Moment Factory's proposals, and CAG elaborated on their goals, limits and airport guidelines. Because of this close collaboration, the content ideas that emerged perfectly embody the airport's guiding principle of "pleasant surprises".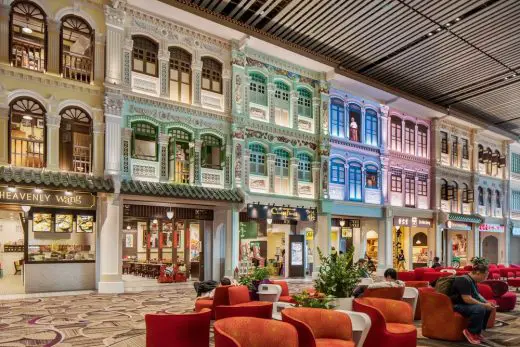 Even with the close collaboration, the project was not without its challenges. Coming in late in the design of the entire terminal 4, it was essential that the immersive experience integrate smoothly with traveller needs, and not interfere or slow down any other elements. By accompanying CAG throughout the 15-month process of procurement, construction, installation and integration, a solid foundation was laid for the smooth integration of all multimedia elements.
An extremely user-friendly show control system was even designed, provided by E&E that allows an unprecedented flexibility and simplicity in programming content. This ensures that the local staff can adjust and optimize the content schedule in just minutes.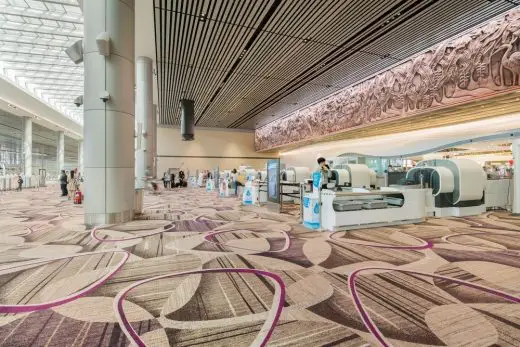 All deadlines were met because of this excellent relationship between Moment Factory, Changi Airport Group, the local integrator Electronics & Engineering Pte. Ltd. and LED supplier Nanolumens.
About Moment Factory
Moment Factory is a multimedia studio with a full range of production expertise under one roof. Our team combines specializations in video, lighting, architecture, sound and special effects to create remarkable experiences. With its headquarters
based in Montreal, the studio also has offices in Los Angeles, Tokyo, London, New York City and Paris. Since its inception in 2001, Moment Factory has created more than 400 unique shows and destinations. Productions span the globe and include such clients as Los Angeles Airport, Nine Inch Nails, Microsoft, NFL, Sony, Toyota, the Sagrada Familia in Barcelona, Madonna and Royal Caribbean.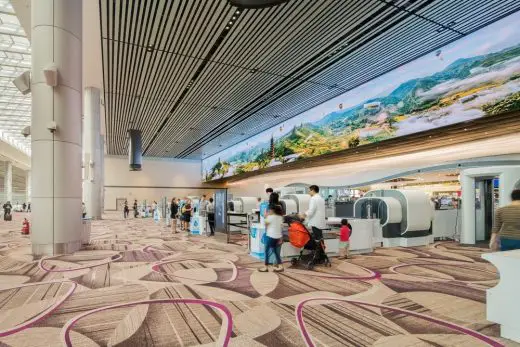 About Changi Airport Group
Changi Airport Group (Singapore) Pte Ltd (CAG) (www.changiairportgroup.com) was formed on 16 June 2009 and the corporatisation of Singapore Changi Airport (IATA: SIN, ICAO: WSSS) followed on 1 July 2009. As the company managing Changi Airport, CAG undertakes key functions focusing on airport operations and management, air hub development, commercial activities and airport emergency services. CAG also manages Seletar Airport (IATA: XSP, ICAO: WSSL) and through its subsidiary Changi Airports International, invests in and manages foreign airports.
Changi Airport is the world's sixth-busiest airport for international traffic. It served a record 62.2 million passengers from around the globe and handled 2.13 million tonnes of airfreight throughput in 2017. More than 400 retail stores and 140 F&B outlets are situated across four terminals to cater to passengers and visitors. With over 100 airlines providing connectivity to 400 cities worldwide, Changi Airport handles about 7,200 flights every week, or about one every 80 seconds.
Changi Airport Interior in Singapore images / information received received 100418
Location: Changi Airport, Singapore
Singapore Architecture
Contemporary Singapore Architectural Projects
Singapore Architectural Designs – chronological list
Architecture Tours in Singapore by e-architect
Singapore Architects Practices
Singapore High Line Park
Signage and Wayfinding Consultants: The Buchan Group, Brisbane
Architect: Nikken Sekkei, Architects with Tierra Design and Arup Singapore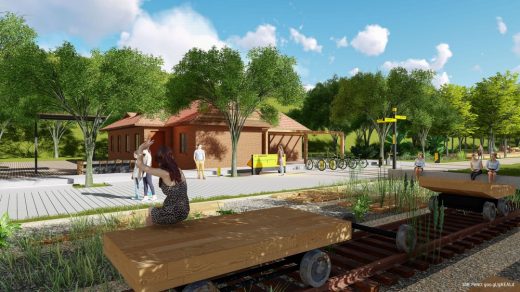 image courtesy of architects
Singapore High Line Park
Sandcrawler Office Building
Design: Andrew Bromberg at Aedas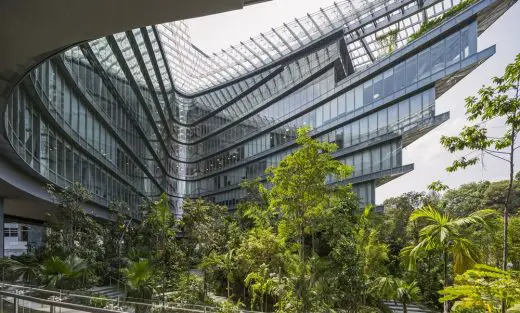 photography © Paul Warchol
Sandcrawler Office Building
Shan Shui Shi Lin Cultural Centre
Design: Park + Associates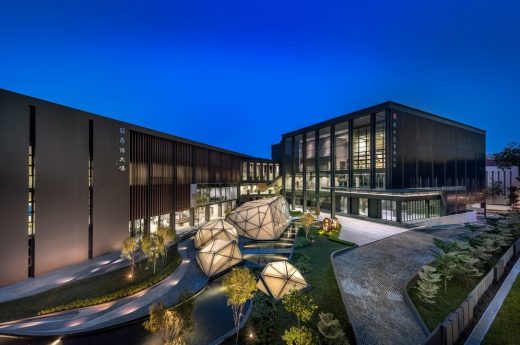 photo : Edward Hendricks © Park + Associates Pte Ltd
Shan Shui Shi Lin Cultural Centre
Airport Buildings
New Terminal Building of the Marco Polo Airport, Venice, Italy
Design: One Works + SAVE Engineering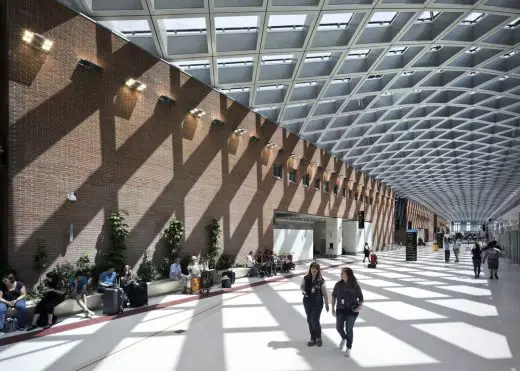 photo courtesy of architects
Marco Polo Airport in Venice New Terminal Building
Chhatrapti Shivaji International Airport Terminal 2 Building, Mumbai, India
Architects: Skimore, Owings & Merrill LLP – SOM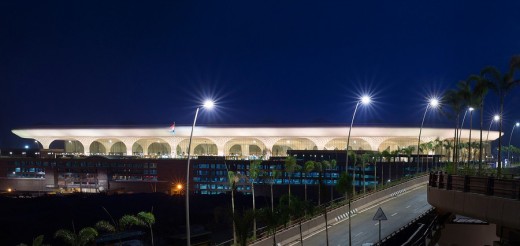 photo © Robert Polidori
Chhatrapti Shivaji International Airport Terminal Building
Comments / photos for the Changi Airport Interior – Singapore Terminal Building page welcome