SHS BURRIDGE, Architects Edinburgh, Buildings, Projects, Office, Scottish Design Studio
SHS BURRIDGE ARCHITECTS, Scotland
Contemporary Scottish Architecture Practice, Edinburgh, UK
post updated 6 November 2022
SHS BURRIDGE Contact Details
SHS BURRIDGE ARCHITECTS
Chartered Architects
Studio 33
33 Ashley Terrace
Edinburgh
EH11 1RE
Tel 0131 313 1311
Fax 0131 313 1331
Email info(at)shsburridge.com
Website www.shsburridge.com
SHS BURRIDGE ARCHITECTS News
11 Mar 2013 – the first year as SHS BURRIDGE Architects has been very busy. Clearly the skills and quality of service which the small architecture practice can offer is in demand.
Recent projects include working for:
• Heriot Watt University Research Park
• The Fruitmarket Gallery
• Western General Hospital, NHS Lothian
• The Royal Blind, Braille Press
• Edinburgh College of Art, UoE
• Langhill Farm, UoE
• King's Buildings, UoE
• Easter Bush, UoE
• many private residential clients
SHS BURRIDGE ARCHITECTS About us
Architect studio based in Edinburgh, Scotland
SHS BURRIDGE ARCHITECTS was established in 2006 by chartered architects Andrew and Jane Burridge after separate careers with leading, award-winning international practices. The studio is based in Edinburgh but the practice enjoys working throughout the UK.
The work of the practice is contemporary, characterised by light spaces and a "refined simplicity of detailing" which we blend with natural materials and a conscientious approach to sustainability. Designs are not preconceived but the product of close and continuing dialogue with our clients.
Experience
With over 25 years of experience delivering projects on a range of building types with a recent workload including office fit-out and restaurant interior design, housing and improvements to private homes, exhibition design, working with listed buildings and low energy projects, bridges and public art installations.
Andrew Burridge has delivered projects for both the public and private sectors since the mid-1980s. A skilled and innovative designer, he has a natural affinity with materials. Andrew has worked as an architect & technical coordinator on two new office buildings in the City of London. several office fit-outs and residential schemes.
As project architect for the British Ambassadors residence in Jakarta and also for the offices and conference facilities in Westminster for the FCO, Andrew's team was responsible for realising high quality contemporary buildings for an exacting client. Previously he worked for the GLC's Education Division and was responsible for various improvement projects to schools & educational buildings.
With his own practice since 1995, Andrew has delivered bespoke modern domestic projects, which have been published in "New Timber Architecture in Scotland" and Dermot Gavin and Terence Conran's book "Outdoors" as well as Homes & Interiors Scotland & Grand Designs Magazines. Since 2006, working with his partner Jane, Andrew has lead a diverse range of projects including office and restaurant interiors, bridges and public art installations and low-energy housing. Andrew is a Professional Practice examiner for APEAS and currently sits on the Council of EAA.
After qualifying as an architect in London Jane worked for Michael Hopkins & Partners on IBM's headquarters at Bedfont Lakes and as project architect for the Dynamic Earth, Edinburgh. She then joined leading low energy experts Bennetts Associates, and in 1995 set up their Edinburgh office.
Working on pioneering headquarter buildings for BT and John Menzies Jane gained a particular understanding of the complexities of the modern workplace. After 11 years with the practice and having become an Associate Director she joined her husband's award-winning practice in 2006 to form a+j burridge architects. Her expertise is in strategic analysis and planning, liaising closely with clients to formulate briefs and achieve the aspirations of user groups. Jane is a Civic Trust Awards Assessor, former member of the Civic Trust National Panel, Edinburgh Architectural Association Council and RIAS Competitions Committee.
Key Projects by this Edinburgh Architecture Practice
Taste Good, Edinburgh, Scotland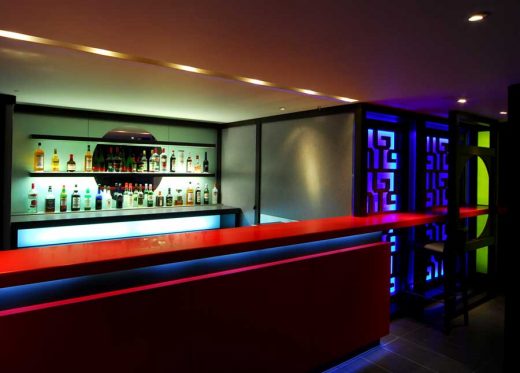 photo : TCHEUNG
Taste Good Restaurant Edinburgh
Gordon Terrace, Edinburgh, Scotland
"…it was clear that Andrew understood our needs for the space and could visualise a practical solution"
Gillian Robertson, client
The original linear flat has been extended and re-focused, replacing the B Listed conservatory with a new kitchen and dining space – the original octagonal stone plinth being retained and the fenestration pattern repeated. Glazing above and below the new windows is substituted with insulated glass spandrel panels to achieve current thermal requirements. Slender stainless steel tie rods allow the space to open up to the underside of the lead roof.
Kitchen units in American cherry, stainless steel and Cumbrian green slate integrate windows and storage. Double glazed units with integral blinds provide solar-control and privacy whilst avoiding the problems caused by grease and dust in kitchen areas.
Architects: a+j burridge edinburgh
Interior Design: a+j burridge
Publications + Core Architect: PR-Design
Structural Engineer: SKM Anthony Hunts
Photography: Zoë Maxwell
Sheffield Parkway Footbridge, Sheffield, England
Competition entry

model : a+j burridge architects ; computer visualisations : Tom Kaneko
The aim of our proposal is to create a unique & humane alternative to the familiar structural showmanship of bridge design. Rather than making a gesture to the non-car user it prioritizes their experience and aims to avoid creating an undesirable and unsustainable white elephant whilst still providing a distinctive landmark and iconic gateway.
Our intention was to create both a pleasurable route for the pedestrian & other recreational users and a larger landscape sculpture. It is therefore a beautiful and intriguing place and an experience that reveals itself through repetition, nurturing the route and encouraging walking and other recreational activities.
For the car user our proposal is to soften the existing harsh motorway context and provide a link with the surrounding woodland landscape. By doing this we endeavour to establish a place with a distinctive identity, a focal point connecting vehicles, pedestrians, the bridge and the countryside.
The design is composed of 2 elements – steel 'trees' and a timber ribbon walkway that glides through the landscape and is lifted through the canopy of the existing wood. It is a simple, low tech, sustainable bridge that has a minimum impact on the forest. Flat top timber trusses form the bridge sides where the walkway spans across the road. Clad in timber boarding it is decorated with a leaf motif cut out which sparkles when lit at night.
The steel trees are introduced to lift the walkway through the forest and across the road. When lit at night they provide a reference to Sheffield and Rotherham's heavy industrial heritage. The resultant design creates an exceptional and delightful space, a safe crossing, a landmark and gateway to the city and region and a beacon for future regeneration. From industrial roots grows the sustainable future. A forest of steel, with the nostalgic red glow of the foundries, defines the crossing of the two routes and marks the new gateway.
Architects: a+j burridge edinburgh
Sculptor: Michael Visocchi
Structural Engineer: David Narro Associates
Cost Consultant: Davis Langdon LLP
Sheffield Parkway Footbridge partners: Rotherham Borough Council and Yorkshire Forward
Computer Renderings: Tom Kaneko
Moray Place, Edinburgh, Scotland
The pristine neo-classical square of Moray Place forms one of the most important elements of Edinburgh's World Heritage Site.
However, the houses have been subdivided and extended since the early 19th Century. This basement flat was dark and the agglomeration of rear extensions acted as a barrier to the garden and created awkward, leftover spaces, adjacent to the house.
The new structure lightly encloses the space between the out-buildings forming a covered space and open court in steel and glass. The garden elevation is composed of two large sliding windows delineated with fine – 25 mm wide – aluminium frames. Green Cumbrian slate flooring flows between the inside and outside spaces and French walnut joinery defines the internal spaces.
The sensitive architectural and historic site resulted in a protracted statutory process but with the support of the Planning Department achieved a design which they described as "simple and refined". The building brings light into the flat, connecting it to its garden, redefining the way the house operates and making it appropriate to modern living.
Architects: a+j burridge edinburgh
Structural Engineer: SKM.AnthonyHunts
Photography: Zoë Maxwell
Publications: Homes and Interiors Scotland issue no. 46
Clydebank Bridge Canopy, Scotland
Competition entry

images : a+j burridge architects
The hard materials and unforgiving design of the existing pedestrian walkway creates a desolate, soulless environment – the potentially delightful canal-side context being wasted. Our aim is to create something joyful and humane, to soften the existing harsh urban context and provide a link with the rural landscape that the canal leads to. By doing this we endeavour to establish a place with a distinctive identity, a focal point connecting buildings, pedestrians, the canal and its users.
To realise our goal we have introduced an organic canopy of transparent petals supported by mature oak trees. The ETFE cushion petals are printed with coloured leaves and brightly lit to give a dramatic appearance. From a distance and from the air the sequence of giant flowers gives a unique and distinctive look.
Although the proposal is vibrant and innovative it is achieved using established technologies. ETFE cushions give the characteristic appearance to the Eden Project in Cornwall and have been used to clad many prestigious buildings worldwide including the Treasury Buildings and Natural History Museum in London, and the Stirling Prize wining Magna Project.
ETFE offers a highly cost effective and durable building component. The cushions are restrained around their perimeter with proprietary aluminium extrusions, which are in turn fastened to a supporting primary structure. Inflated with low-pressure air to effectively resist wind loads, they can be partially or completely prefabricated and then clipped into their supporting framework on site.
Cultivating and transplanting mature trees such as the Oaks used to support our organic canopy is a well-established technique – developed in northern Europe it has been used in this country for many years, whilst using living trees to support structures – from tree houses to aerial walkways – is an age-old practice. The proposed trees are home grown Fastigiate Cultivar Oaks.
With their stiff straight trunks and crown above 4m high they are a very suitable choice giving the necessary clearance for the canopy, the strength to support the petals and stiffness to resist the wind loads and not to wave around unduly. The resultant design creates an exceptional and delightful space to what has been a joyless and unloved location, a gateway to the rejuvenated canal and a beacon for the regeneration of Clydebank.
Architects: a+j burridge edinburgh
Structural Engineers: David Narro Associates
Cost Consultant: Davis Langdon LLP
Dundee Street, Edinburgh, Scotland
Space planning and fit-out of special areas to SKM Anthony Hunt's new Edinburgh base at One Sixty Dundee Street
The suite on the top floor of One Sixty enjoys panoramic views of Edinburgh's skyline. The cluster of cellular accommodation is therefore located around the atrium allowing the mainly open plan office to enjoy good daylight and connect with the full height glazed external wall.
A sequence of social spaces on the principle circulation route in the office have been detailed with bespoke joinery and furniture items to a restrained palette of materials and colours.
Our previous experience of fast-track fit-out projects meant that an intensive five month programme from initial sketches to completion was successfully achieved.
Architects: a+j burridge edinburgh
Floor Area: 7,000 sqft
Contractors: GHI Contracts
Specialist Joinery: H.M. Raitt and Sons Ltd
Photography: Zoë Maxwell
Cale Cross House, Newcastle, England
Having successfully completed the fit out of SKM Anthony Hunts' Edinburgh office in Autumn 2006, a+j burridge were commissioned in January 2007 to design the fit-out of new premises for SKM at Cale Cross House in Newcastle.
Prominently located close to the Tyne bridge and river SKM's suite occupies the entire 13th floor and enjoys panoramic views of the Newcastle skyline.
The existing 1960's building with central core, narrow floor plates and low floor to ceiling presents interesting challenges for the demands of the 21st century office. No raised floor and a modest suspended ceiling supports the low energy approach of natural ventilation and good daylight. Open plan office accommodation follows the perimeter on 3 sides with reception and cellular meeting rooms located on the fourth, north side avoiding a need for additional cooling. The primary circulation forms an inner ring around the core and gives direct access to comms room, shower, storage wall and library. As with Dundee Street the bespoke joinery and furniture items are designed to a restrained palette of materials and colours.
The project was successfully delivered on time and budget in an intensive 3 month period from initial sketches to client occupation.
Floor Area: 4,700 sqft
Contractor: AMH Office Interiors
Building Control Consultant: Assent
Photography: Zoë Maxwell
River Douglas Bridge, Ribble Coast, Lancashire, England
Competition entry

model : a+j burridge architects ; computer visualisations : Tom Kaneko
The Ribble Coast and Wetlands Regional Park has a wealth of significant but overlooked natural assets. To correct this and enhance the experience of this unique environment, we have seen the crossing of the Douglas as offering the following: an opportunity for a delightful experience for the users of the path, a place to observe the environment, an object to admire and a habitat for the ecosystem to colonise.
To this end we have taken the route though an arbour of hazel and honeysuckle, with dappled light and glimpses through the foliage to the river and surrounding countryside. Buddleja and hawthorn are grown to give a variety of plants and colours and encourage birds and butterflies. From the river bank the bridge takes the form of "branches" growing out of masonry trunks to create arches. Hanging from these tree structures is a nest-like enclosure carrying the path. At the west end of the bridge the enclosure becomes an egg shaped nest secluded amongst the trees – a place to stop and view the locality, a hide, an information point.
The nest enclosures are formed from a grid mesh of 75 x 25 mm continuous finger-jointed timber slats woven with stainless steel cables. At 6 m centres along the length of the nest hoops of cables lock the grid and provide pick-up points to connect to the timber structure. The 4m wide path deck is constructed in ferro-cement around the steel cables. The upstand to the deck doubles as the hydroponic reservoir for the plants containing light expanded clay aggregate growing medium.
The arches are formed from bundles of coppiced timbers bound together to form arches 300 mm diameter at the centre tapering to 200 mm at the supports. 150 – 200 mm diameter timbers tie the arches across the width of the bridge at their base and the structure sits on circular gabion piers 12.5 m apart at 25 m.
Architects: a+j burridge edinburgh
Structural Engineers: King Shaw Associates
Cost consultant: Davis Langdon LLP
Computer Renderings: Tom Kaneko
The Flower House, Scotland's Housing Expo, Inverness, Scotland
Built as one of the exemplar sustainable houses at Scotland's Housing Expo, The Flower House demonstrates that housing can be joyous whilst being economical and beneficial for the environment.
The competition winning design developed by a+j burridge was for a 2-storey detached house on a prominent site facing The Village Green with an elegantly simple organisation and a bold identity. Living accommodation at first floor level giving the benefits of good daylight and panoramic views whilst making these spaces relatively warmer and the ground floor bedrooms more comfortably cooler. The house is entered through the two-storey sunspace, which acts as a buffer to the outside in winter and a flexible extension to the living room throughout the rest of the year. Through computer modeling, carried-out by Buro Happold, the design of the sunspace and specification of the glass were modified to optimise the benefits of solar gain and heat loss throughout the year.
The house is formed substantially of timber, with cross-laminated timber (CLT) structure, wood-fibre insulation and timber board cladding, utilising the unique characteristic of timber as a carbon sink. In contrast to the average building product, which adds 1.1 tonnes of CO2 to the atmosphere, timber stores the equivalent of 0.9 tonnes of CO2 in every cubic metre. Using prefabricated cross-laminated timber (CLT) panels allowed walls, floors and roof to be erected on site within 36 hours of the units arriving on site with precise factory tolerances that substantially improve the airtightness of the building. Most significantly though, the CLT panels alone capture more than 40 tonnes of CO2, even when allowing for the transport from Europe transport – a difference of 83 tonnes had the building used conventional building materials.
With triple-glazed windows, high levels of insulation and good air-tightness The Flower House is designed to have low energy requirements which, with solar-thermal panels and a wood-burning boiler, means that fuel costs are low as well as having a minimal impact on climate change and fossil fuel depletion.
Architects: a+j burridge edinburgh
SHE Site Developer: Highland Housing Alliance
Structural Engineer: W.A.Fairhurst & Partners
Environmental Modelling: Buro Happold
Contractor: O'Brien Homes
SHS BURRIDGE ARCHITECTS Edinburgh Staff Information
Directors
Andrew Burridge BA(Hons) Dip Arch ARIAS RIBA
Jane Burridge BArch Dip Arch ARIAS RIBA
Location: 33 Ashley Terrace, Edinburgh, EH11 1RE, Scotland, UK
Edinburgh Architects Practice : Contact Details
Comments / photos for the SHS BURRIDGE ARCHITECTS page welcome
Website: www.shsburridge.com