Daniel Libeskind Villa Building, German home project images, proportion property design news
Libeskind Villa: Future House
German-made House of the Future by architect Daniel Libeskind
15 Sep 2009
Studio Daniel Libeskind Unveils "Libeskind Villa"
Libeskind describes the series as "a limited artistic edition of a new space, of a new way of living, a total work of art."
Libeskind Villa Design
World renowned architect Daniel Libeskind has announced that on September 29, he will unveil the prototype for his highly anticipated Libeskind Villa. The Libeskind Villa is a German-made, sculptural living space which marries the highest standards in design, craftsmanship and sustainability.
The futuristic residential project has been realized in partnership with Berlin based proportion GmbH and the prototype has been built on the premises of Rheinzink GmbH & Co., the developer of the Villa's zinc façade.
25 Jun 2009
Distribution by proportion, based in Berlin, Germany
Designed by Daniel Libeskind

German-made House of the Future
A crystal growing from rock
Like a crystal growing from rock, a dramatic structure emerges from the ground: The Villa, designed by renowned architect Daniel Libeskind, is a work of art. Built from premium materials, this German-made, sculptural living space meets the highest standards in design, craftsmanship and sustainability.
It is unique at every turn, offering maximum insulation and durability, cutting-edge technologies and compliance with some of the toughest energy-saving standards across the world.
Libeskind's Villa awakens the senses: light floods through glass expanses, clean lines invite calm, elegant halls and staircases offer seamless transitions. Symbolically and physically, the Villa's connection with nature is uninterrupted, offering ample natural light and open spaces.
A trio of interlocking architectural bands envelop the Villa in striking angles, creating a dramatic, asymmetrical interior of spiraling, two-story peaks and smooth transitions to secluded terraces. The impressive entrance hall leads to an elaborate Grand Room which highlights the geometric space.
Design details reveal style and functionality: A balcony adjacent to the master bedroom is adorned with elaborate metalwork; light wells direct daylight into a sauna; and recessed wardrobes streamline dressing spaces.
High-tech façade
Mimicking the Jewish Museum in Berlin and other architectural masterpieces by Daniel Libeskind, the Villa's exterior is enveloped by an elegant standing-seam zinc façade, which enables the use of 21st Century technologies such as a solar thermal system and a rain water harvesting system. The zinc cladding is available in two hues that resemble naturally aged zinc: the popular pre-weathered blue-gray, and the elegant graphite-gray, both made by leading German zinc manufacturer Rheinzink.
Large floor-to-ceiling windows create dazzling displays of sunlight and transparency inside the house. The aluminum façade, adorned with mullions and concealed fittings, offers maximum thermal insulation, noise reduction and weather resistance. Homeowners may choose from double or triple low-E glazing, as well as different surface colors and finishes.
A new era of luxury
The dramatic look of the Villa's exterior is matched by a luxurious interior. Among the exquisite amenities is the stunning kitchen ensemble, situated in the Grand Room, with a custommade island designed by Daniel Libeskind – an attractive focal point for cooking, dining and entertaining.
Equally breathtaking is the monolithic rain shower in the Master Suite Bathroom on the first floor. Rising four meters above ground, the elegant shower provides a perfectly controlled mix of water, mist, light and fragrance to soothe the senses and quiet the mind. Wellness is also at the heart of the lower level, where a fitness oasis features a dramatically lit sauna, among other stateof- the-art amenities.
The interior of the Villa comes in two styles carefully composed by Daniel Libeskind: The cool, sculptural "Libeskind Style", and the warm, natural "Casual Style".
Casual style interior
Elegant smoked parquet flooring, slim stainless steel staircases, and soft, bright manufactured stones in the bathrooms distinguish the Casual Style, which evokes a sense of warmth and comfort. Plush lounges, intimate lighting and warm colors, best suited to the Casual Style, create a striking contrast with the exterior architecture and more stylistic elements of the Villa.
Libeskind style interior
Marked by stark white, polished flooring, sculptural bath– room decor, and clear, sharp forms, the Libeskind Style brings the dramatic exterior look and feel of the Villa indoors, lending an airy, open feel to the sun-drenched living spaces. This unrestrictive and energizing style highlights both spiraling, two-story peaks and secluded terraces with artistic grace.
Scientific evidence now proves that humans consume natural resources at unsustainable levels. Clearly, efforts must be made in order to curb such unprecedented use of precious stock. The Villa was conceived and designed to be part of this effort and demonstrates that exceptional architecture can promote the efficient use of natural resources.
Design and Materials
Sustainable materials are at the heart of Libeskind's design. While not apparent from the exterior, the Villa is largely constructed of wood, a renewable resource that is making a strong comeback as a key building material for the 21st Century, due to its impressive carbon-storing capabilities.
The wooden core offers maximum thermal insulation, and thus efficient operation. With more than 360 mm of recyclable wooden fibers and a heat transition coefficient of 0.11 W/m²K, the insulation of the Villa's exterior walls matches that of passive houses.
Onsite Renewables
The Villa employs onsite renewable energy sources for heating, electricity and water. Its standard configuration includes a solar thermal system which is invisibly integrated into the zinc façade, as well as a geothermal system with a high-efficiency heat pump.
In addition, electric power may be generated from photovoltaic thinfilm, while rain water can be harvested from the rooftop for use in the garden's irrigation system.
Energy Saving Standards
As a result of its high thermal insulation capabilities and renewable energy sources, the Villa is classified as a low-energy structure. Indeed, it complies with some of the world's toughest energy-saving standards, such as Germany's KfW40 code, which indicates a thermal energy consumption of less than 40 kWh/m²a.
The Villa is designed to provide homeowners with the highest level of luxury and comfort. Every detail has been meticulously addressed, from the most exclusive fittings to the most efficient heating systems and the most sophisticated communication and home control systems.
Because the Villa relies on innovative building technologies, this high living standard is realized in an sustainable, eco-friendly manner. For example, heating and cooling systems are powered by renewable energies, while the ventilation system recovers almost all of the heat during air exchange.
Heating, Cooling, Ventilation
To maximize comfort, the Villa is equipped with a multifunctional heating, ventilation and cooling system. The underfloor heating provides gentle radiant heat across all floor levels, and can even transport refreshing cool water to living quarters on hot summer days. The ventilation system provides fresh, pollen- and draughtfree air at a pleasing temperature, and recycles air to pre-heat the incoming air at a heat recovery rate of 90%. The multifunctional system is exclusively powered by solar and geothermal energy.
Electrical and Security
All building technologies are easily monitored and controlled via an electrical bus system which allows homeowners to program custom lighting scenes, operate sun shades, regulate room temperatures, ventilation and household devices, and monitor the security system. Various communication media can be accessed throughout the house, such as internet, telephone, radio and television. TV screens, for example, have been installed behind bathroom mirrors to connect busy homeowners with the world's affairs with the touch of a button.
Health and Wellness
High-end fixtures and accessories convey luxury and exclusivity. Among them, homeowners will find Dornbracht's latest bathroom series, which mimics stylistic elements of the Villa's architecture, or a large handcrafted Jacuzzi tub and a grand rain shower, which sits four meters above ground to provide a perfectly controlled mix of water, mist, light and fragrance. On the lower level, a dramatically lit sauna is among the luxurious amenities of a wellness and fitness oasis.
Exposé Villa © proportion GmbH 2009
Libeskind Villa images / information from Studio Daniel Libeskind
Location: Berlin, Germany
Architectural Design
Website : www.libeskind-villa.com
Also by Daniel Libeskind Architects:
Contemporary Jewish Museum San Francisco
Danish Jewish Museum Copenhagen
Key Recent Building by Daniel Libeskind, Switzerland
Westside Shopping Center
Architectural Products
Building Products – chronological list
Architectural Product Profiles – recent selection:
Oneiric Catamaran
Design: Zaha Hadid Architects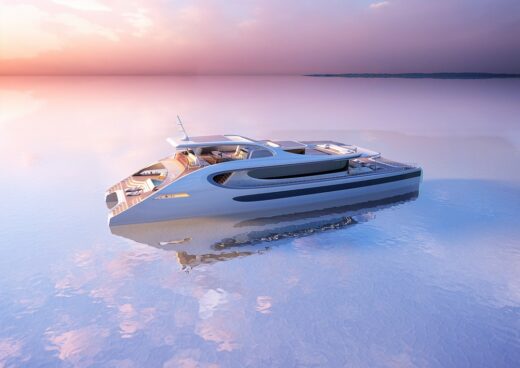 Oneiric catamaran
Oneiric Catamaran, Zaha Hadid Superyacht
Lignacite celebrates 75 years of manufacturing sustainable masonry for Britain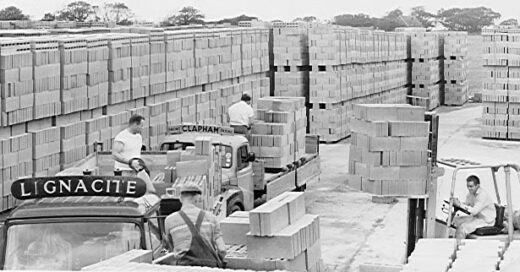 Lignacite celebrates 75 years of manufacturing masonry
Comments / photos for the Libeskind Villa page welcome