Passerelle Simone de Beauvoir Paris, Parisian Foot Bridge, DFA Design, France River Crossing
Passerelle Simone de Beauvoir Paris Footbridge News
Simone de Beauvoir Footbridge design by Dietmar Feichtinger Architectes
2 Aug 2011
Passerelle Simone de Beauvoir
Paris 12ème et 13ème arrondissements
Design: DFA | Dietmar Feichtinger Architectes
SIMONE DE BEAUVOIR FOOTBRIDGE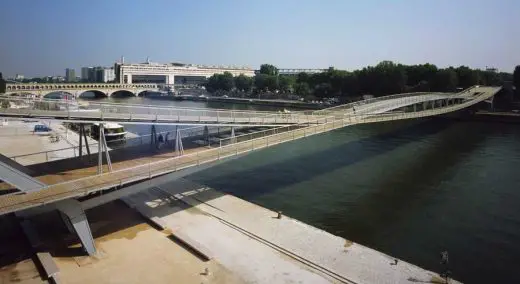 photograph : David Boureau
Simone de Beauvoir Footbridge
The pedestrian bridge with a length of 304 meters links the new districts of Paris- Bercy and Tolbiac – and at the same time the new national french library with the Park Tolbiac.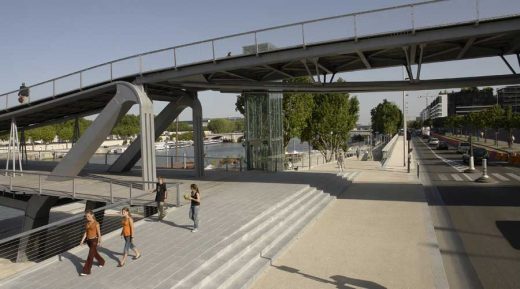 photo : David Boureau
Flying above the busy freeways which track the Seine, the footbridge touches down on the quayside promenades and links the public plaza of the National Library with the new Bercy Park beyond the river, thus ensuring the centre-stage role of the Seine which it plays in the heart of Paris. Different to the average 100 meters in the city centre, the Seine has here a width of 150 meters.
The two existing bridges in a distance of 700 meters delimit the «Bassin de Bercy». The new footbridge maintains the coherence of this unusually open Parisian space by reaching across the river in a single, continuous span, without intermediate supports.
The pedestrian bridge associates architecture and structure inseparably. Two arches constitute the geometry of the bridge, the tender form answers to the strictness of the architectural environment. These arches are structure and pathfare at the same time. They compose a wide spanned rope and bow. The criss-crossing of the pathways permits different ways to cross the bridge and at the same time the free span of 194 meters. The overlay of the two force lines matches with the path-network.
Several possibilities linked with different perspectives are offered to the pedestrian while crossing the bridge. Three paths succeed along the arch and the bow. The middle alongside the bow reveals the view of Notre Dame and historic Paris. The rope guides near to the riverside. Rope and bow produce an "eye" in the central section of the bridge. It offers a unique space over the water, to be intended as tribune for events on the water. The lower level of the lens forms a plaza 12 m wide and 65 m long which, enlivened by kiosks, cafes and other temporary installations. It invites the pedestrian to pause mid-route.

photo : Dietmar Feichtinger Architectes
The central deck, forming the upper part of the lens, protects these activities. The central piece anchors the bridge visually in the landscape, giving rise to a unique public space. The bridge is composed of three parts. It comprises a main central span across the Seine, coupled with two side spans across the urban freeways to either side, connected to the French National Library and the Tolbiac Park.
The decks are clad in striated oak, with non slip inserts. The filling of the balustrades are made of stainless steel nets stretched vertically between the extruded aluminium handrail and a guiding rod at the bottom. The net is transparent but sufficient visible to convey a good sense of security. The illumination is integrated in the handrails. It underlines the outstanding silhouette of the bridge.
By its innovative construction, the pedestrian bridge adopts the Parisian bridge tradition.
Passerelle Simone de Beauvoir – Building Information
Projekt / Project: Passerelle Simone de Beauvoir
Addresse / Address: Paris 12ème et 13ème arrondissements
Bauherr / Client: Mairie de Paris, Direction de la Voirie et des Déplacements
Architect / Architekt: DFA | Dietmar Feichtinger Architectes
Architekt DI Dietmar Feichtinger – Federführung, mandataire, contract leader
Team: Wettbewerb/competition: Barbara Feichtinger-Felber, Christian Pichler, Marta Mendonça, Bernardo Bader, Montse Ferres, Armelle Lavalou, Eddie Young (Rendering), Woytek Sepiol, Caroline Djruic, Mario Lins Modellbau : Christian Pichler, Bernardo Bader, Frank Hinterleithner Photos : Jo Pesendorfer Entwurfs- und Ausführungsplanung/ Executiv planning : José-Luis Fuentes, Marta Mendonça, Guy Deshayes, Christian Pichler, Ulrike Plos, Claire Bodenez, Simone Breitkopf Bauleitung / Site: José-Luis Fuentes
Fachplaner/ Engineering: RFR
Wettbewerb / Competition: Sep 1998 1. Prix
Planungsbeginn / start of planning: Jun 1999
Baubeginn / start of construction: Jun 2004
Fertigstellung / completion: Jul 2006
Baukosten / building costs: 18.000.000 € 21.000.000 € TTC
Passerelle Simone de Beauvoir Paris images / information from Dietmar Feichtinger Architectes
Passerelle Simone de Beauvoir design : Dietmar Feichtinger Architectes
Location: Passerelle Simone de Beauvoir, Paris, France, western Europe
New Paris Architecture
Contemporary Paris Architecture
Paris Architecture Design – chronological list
Paris Architecture Walking Tours by e-architect
Paris Architect : contact details
River Seine Park Pavilions, Lagravère Park, Colombes, northwestern suburbs of Paris, France
Design: h2o architectes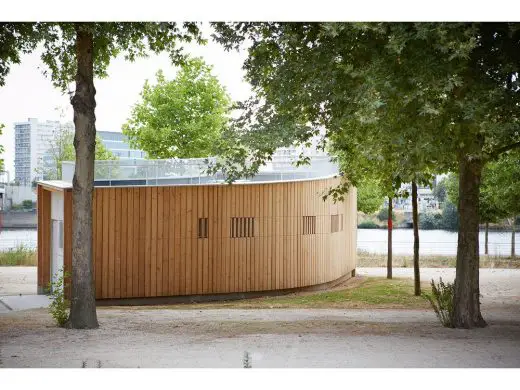 photo : Julien Attard
River Seine Park Pavilions
Docks de Paris, Cité de la mode et du design
Jakob+MacFarlane
Cité de la mode et du design Paris
Contemporary Bridges – Selection
Spencer Dock Bridge, Dublin, Ireland
Amanda Levete Architects
Grand Canal Bridge, Venice
Santiago Calatrava
Comments / photos for the Passerelle Simone de Beauvoir – Paris Footbridge page welcome