Tortona 37 Milan Building, Showrooms, Laboratories, Project Design News, Property Images
Tortona 37 Milan Building
Mixed-Use Milanese Development at former industrial plant design by Matteo Thun & Partners
17 Mar 2009
Tortona 37 News
Design: Matteo Thun & Partners
Tortona 37 Milan
The transformation of Via Tortona, which was started by the businessman Alessandro Cajrati Crivelli back in the 1990s, is continuing, revealing its full potential for redeveloping and reinterpreting some of the most interesting urban spots in the metropolis.

Tortona 37 Milan pictures courtesy M. Thun
The 37 Tortona project by Matteo Thun & Partners is part of this healthy process of reusing the land and strengthening it through low environmental impact architecture. A building project which salvages a former industrial plant covering 25,000 square metres (it used to belong to General Electric) and restores it to the city through cutting-edge energy-efficient technology.
Tortona 37 is a mixed-purpose architectural complex composed of five buildings set out like the courtyard around a garden planted with trees. Each rectangular-based building has 6 levels allowing double-exposures for the property units. They are double height (7m) units generating open spaces with an interior mezzanine of great functional versatility. Here showrooms, laboratories, professional studios, shop and offices find their own custom design: the highly flexible interior spaces also ensure sustainably over time. An overhanging white lattice on the facade frames the wide glass windows of the entire complex, which culminates up on the roof with large roof-gardens, authentic urban plazas with extensive views across the horizon.
SUSTAINABILITY
Every design feature is aimed at achieving maximum energy efficiency, cleverly coordinating the architectural design with the plant-engineering: from the air-conditioning system working along geothermal lines to the use of radiant panels in the interiors and the careful study carried out for the outside shell.
The Shell
The glass facade, incorporated in a system of outside curtains, is highly efficient at reducing the impact of sunlight (up to 87%) to prevent the interiors from overheating during summer. Further screening is provided by the wooden shutters (a material used "purely") on the window frames and large overhanging bow-windows, so that its image evolves naturally over time.
Energy
Geothermal exploitation is a cutting-edge principle of eco-sustainability, still not used very frequently in Italy but acknowledged as providing definite environmental benefits.
First and foremost, geothermal energy is a free source of Energy. Milan's ground water is always available at a constant temperature, warmer than the outside air in winter, cooler than it in summer: a highly beneficial starting point from an energy viewpoint.
Plant-engineering
37 Tortona exploit this energy to create hot and cold water (even simultaneously) by means of water/water polyvalent heat pumps, one of the most efficient systems currently available causing least environmental impact.
Four wells extract groundwater at a temperature of between 14°C-16°C depending on the time of year. The water is conveyed into an underground catchment and decantation tank and then supplied to each of the individual building units by means of heat pumps.
37 Tortona uses a mixed system of primary air and radiant ceiling panels for climatising the interiors. The radiant ceiling panels used in the Tortona 37 complex are the ideal complement to the water-based heat pumps perfectly to create an efficient energy system. The panels are supplied by "low-temperature hot" water in winter and "high-temperature cold" water in summer and only require a minimum amount of energy to operate at various times of year.1 Moreover, the ambient temperature is controlled by means of irradiation with no noise or air currents to ensure maximum comfort in the areas occupied by people.
The primary air is provided by processing units fitted with pre-processing batteries also drawing on ground water.
Compared to conventional systems, the main benefits are high energy efficiency, zero emission at the installation site, no sound or landscape impact.
Tortona 37 Milan – Building Information
Client: Fondo Creative Properties – Duemme Sgr, Gruppo Banca Esperia
Advisor: Creative Properties Advisor
Address: Via Tortona 37 – Milan, Italia
Programme: mixed-use (Laboratories, offices, Showrooms, restaurants, workshops)
Project: Architecture, Public Areas Design, Light Design
Project Manager: Luca Colombo
Team: Architetti Simone Alberi, Ilaria Brollo, Tom Lacey
Start Date: 2003
End Date: 2009
Phase: under construction
Tot. area: 25.000 sqm
Tortona 37 Milan Event
Matteo Thun with Zumtobel, Parador, Riva1920, Schoenhurber Franchi, Valverde, Cantine Ferrari
37 Tortona in cantiere_Fuori Salone
via Tortona, 37 Milan
23 + 24 Apr 2009 6 pm – 12 am
37 Tortona in cantiere is an event organised by Matteo Thun & Partners in occasion of the 2009 edition of the Fuori Salone ("Off the Furniture Show").
On the evenings of of the 23rd and 24th April a future "micro-city" in the city will show its development, welcoming the guests into its own building site, with the framework of the final building work on the Tortona 37 complex, designed by Matteo Thun: a mixed-use and highly iconic urban object capable of incorporating eco-sustainable design solutions.
A whole landscape of conviviality will take shape with this context: in conjunction with Zumtobel and the lightness and flexibility of its light collection Sconfine, Parador showcasing its top quality wooden floors as "pictures at an exhibition", Riva 1920 featuring two huge tables made of Kauri from New Zeeland, the most ancient and precious wood in the world, Schoenhuber Franchi with the eclectic tableware Reggia in Fine Bone China and unexpected glass, Cantine Ferrari serving its famous wine from Trentino's biological cultivations and Valverde, one of the lightest mineral waters in the world accompanied by the high gastronomy of the chef Pietro Leemann with a sustainable "Kilometro zero" approach.
37 Tortona in cantiere brings together architecture, interior design and objects into one single form of rituality for the two evenings of the "Fuori Salone" event.
Tortona 37 Milan images / information from Matteo Thun & Partners 170409
Location: Tortona 37,Milan, Lombardy, northern Italy
Milan Architecture
Contemporary Milanese Architecture
Milan Architecture Designs – chronological list
Milan Architecture – Selection
New Sassetti Tower Milan Building, S32 Fintech District
Architects: L22 Urban & Building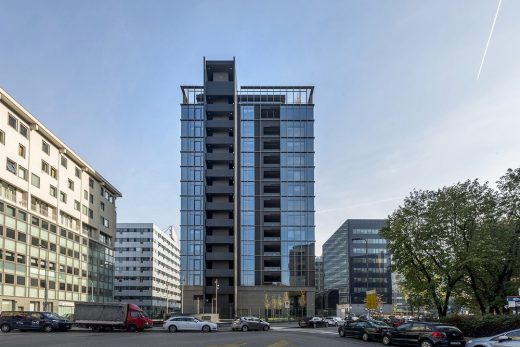 image courtesy of architects
Torre Sassetti Milano Building
Milano Santa Giulia : Masterplan / Housing
Foster + Partners
Santa Giulia Milano
Alba Milan
Ian Ritchie Architects
Milan building
Comments / photos for the Tortona 37 Milan Architecture page welcome