New Milan Football Stadium Building Images, Italian Arena Architecture, Cathedral Design
New Football Stadium in Milan
La Cattedrale: Arena Development in Italy design by Populous Architects
21 December 2021
Nuovo Stadio Milano – A new stadium for Milan
Populous' "cathedral": a New Home For Inter And Milan
A new sport and leisure district: pedestrian-only, with a 50.000sqm park and underground parking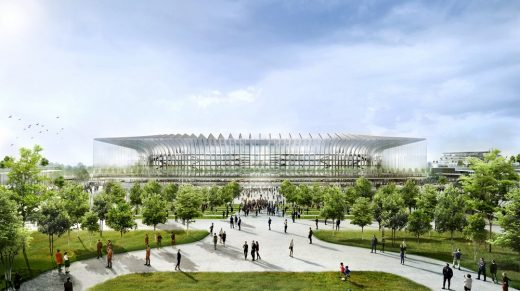 New Milan Football Stadium Design
Milan, 21st December 2021 – AC Milan and FC Internazionale Milano are delighted to announce that Populous' project – named "the Cathedral" – has been selected for their new Football Stadium. The next weeks will be dedicated to finalising the objectives and development process of Milan's New Stadium.
The decision announced by Comune di Milano on 8th November sees a reconfiguration of the area in the San Siro neighbourhood, currently occupied by the Meazza Stadium, through the creation of a new district dedicated to sport and leisure. The new district will include a new 50,000 sqm green area, on top of a reduction of built volumetry, in line with the latest regulations (as regulated by Piano di Governo del Territorio).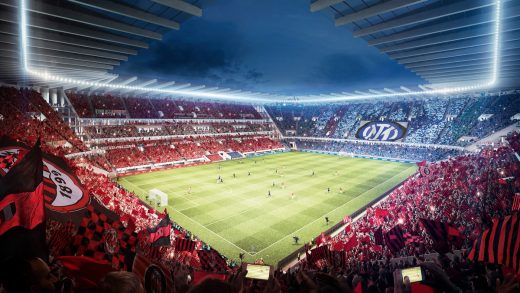 The district will be pedestrian-only, with over 110,000 sqm of green areas (40% of the total square footage). The parking lot, which represents 40% of the total area in the current situation, will be moved to a dedicated underground area. Most of the sport and leisure activities – located both indoors and outdoors – will be free-of-charge or financed by the city.
Following the decision of Comune di Milano, the Clubs sped up the process to finalise their agreement with Populous and kick-off the next phase of the project, which will be carried out in the next months with the aim to present a final project at a later stage in 2022.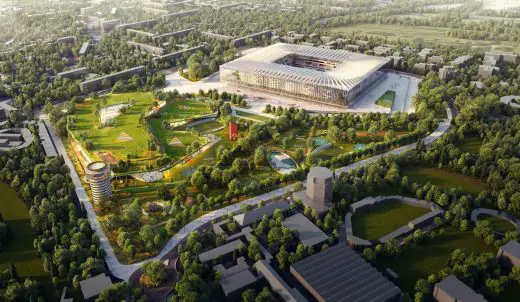 Populous boasts 21 offices in four continents, with over 800 employees and a well-tracked experience in designing sport arenas. Over the last 38 years, the practice has developed more than 3.200 sport-focused projects, giving life to some of the world's most iconic sport arenas, including Wembley Stadium, the Olympic stadiums that that hosted Sydney's Olympic games in 2000 and London's in 2012, the Emirates Stadium and Tottenham Hotspur Stadium in London, as well as the Yankee Stadium in New York, the Groupama Stadium in Lyon and the Estadio Da Luz in Lisbon. In 2021, the new Populous-designed Climate Pledge Arena in Seattle achieved the highest sustainability standard ever for a stadium and was certified as the first-ever carbon-neutral arena in the world by the International Living Future Institute.
The new San Siro was designed by Populous' Milan office with the support of their EMEA team in London. A multidisciplinary team will lead the project, which is set to increase the opportunities and services offered to the residents with an improvement in the quality of the urban fabric of the neighbourhood.
"The Cathedral" is a celebration of the artistic and cultural heritage of Milan. Its design was inspired by two of the most notorious buildings of the city – the Duomo di Milano and the Galleria Vittorio Emanuele – and will result in a unique stadium that will stand out from any other sport arena in the world.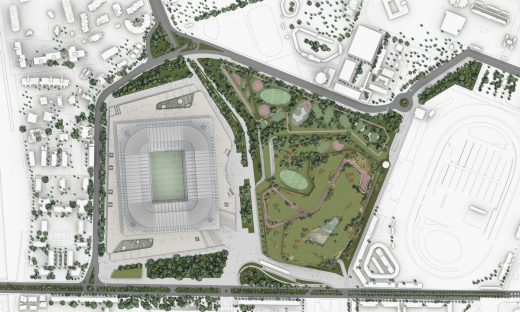 "The Cathedral" is set to offer a ground-breaking arena in terms of innovation and sustainability. The new stadium, surrounded by a large green area, will be carbon neutral and LEED-certified, thanks to the use of the most innovative materials and cutting-edge technologies in terms of water and electricity usage, as well as noise control. Accessibility and user experience will also be outstanding, offering unprecedented safety, comfort, vision quality and range of services to the public.
AC Milan and FC Internazionale Milano hereby confirm their desire to deliver an outstanding project, which generates new job opportunities, regenerates a key urban area in the city and offers a new green area of over 50,000 sqm to the residents. The project aims to consolidate and improve the image of the City of Milan and of Italian football.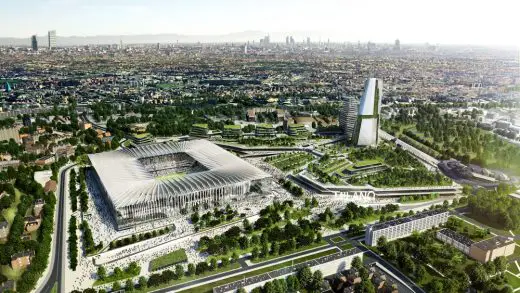 "The new San Siro aims to become the most beautiful stadium in the world for its strong identity and recognisability. An attractive arena, accessible and sustainable for the city of Milan that will facilitate the growth of the clubs and their global competitiveness" commented Paolo Scaroni, President at AC Milan.
Alessandro Antonello, Corporate CEO at FC Internazionale, says "The New Stadium of Milan will be in an extra-contemporary green area that can be lived all year round. The new district for sport and leisure and its 50,000sqm park will make San Siro the go-to neighbourhood for sport and entertainment."  
Christopher Lee, Managing Director – EMEA, Populous, says: "The Cathedral will become one of the most iconic stadiums in world football. It will create a world-class, modern, and truly bespoke home for the legendary clubs of AC Milan and FC Internazionale Milano and form the beating heart of a new civic district. It will be a stadium for all Milanese to enjoy for generations to come that is true to the city and honours its heritage. A stadium of Milano and for Milano."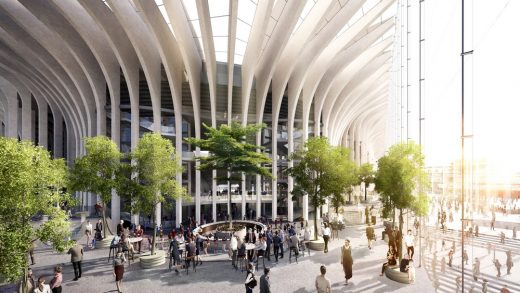 Declan Sharkey, Senior Principal and General Manager, Populous Italia, says: "Our design envisages the stadium as the most sustainable in Europe and the focal point of a new sports and entertainment district for Milano that will be alive throughout the year. Underpinned by the history and traditions of these two great clubs, it will not only deliver an incredible sporting arena to watch football in but revitalise the whole area to better serve Milano's citizens, visitors, fans and their families."
Silvia Prandelli, Principal, Populous Italia, says: "The new Milano Stadium project represents a once-in-a-lifetime opportunity to write a defining chapter in the storied history of AC Milan and FC Internazionale Milano. The Cathedral will create a new quality of experience for the clubs' supporters and future generations of supporters, offering world-class amenities befitting of Milano, with sustainability at the very heart of the design."
Previously on e-architect:
13 Oct 2019
New Milan Football Stadium Building
Architects: Populous
Location: Milan, Lombardy, Italy
English text, scroll down for Italian: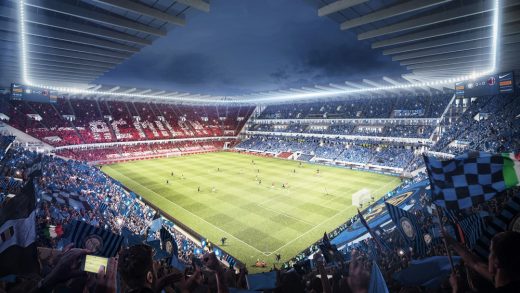 Populous Reveals Its Design For New Milano Stadium; 'the Cathedral'
Global architectural design firm Populous has revealed its competition bid for the new Milano Stadium which, it is anticipated, will replace the San Siro as the home of the two legendary clubs of AC Milan and FC Internazionale Milano, as well as provide a new city centre venue for the citizens of Milano to come together.
Populous' design, known as 'The Cathedral', will create a global icon for Milano that is true to its people and honours its heritage. It draws inspiration from two of Milano's most iconic buildings: the Duomo and the Galleria, creating a stadium that could not be found in any other city or mistaken for any other stadium in the world. It will be a stadium that sets new standards for fan experience, stadium atmosphere and community engagement.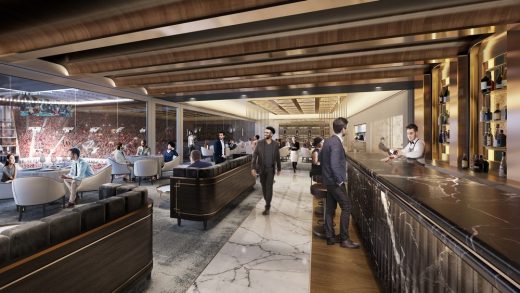 Designed to create a unique home and distinct experience for the two clubs, the stadium features bespoke installations that dramatically change the appearance of the architecture and incorporate the clubs' unique identities into the building fabric.
For Inter Milan, a coiled viper of blue light wraps itself around the stadium; while for AC Milan, the vertical buttresses glow a smouldering red emanating from the depths of the building. Two home changing rooms and two megastores – one for each club – allow each club to unreservedly call the stadium their own.
The stadium's bespoke seating bowl will be the most intimate in Europe, bringing fans closer to the action than ever before and creating an unforgettable atmosphere with the best in acoustic design. A sunlit galleria encircles the stadium enveloped by an elegant glass façade, providing a democratic space for all supporters and the citizens of Milano to enjoy a wide-ranging offer of food and beverage outlets inspired by the worldrenowned food culture of the city.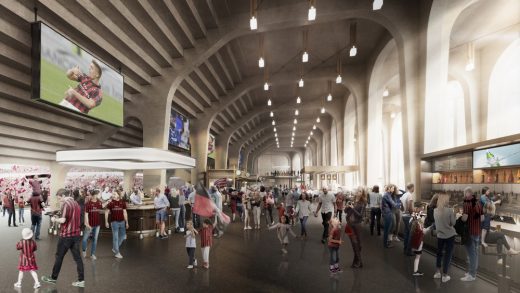 The Cathedral forms a centerpiece for a new San Siro District; a sustainable 365-days-a-year sports and entertainment destination for the fans, the community and visitors to the city. It will be the most sustainable football stadium in Europe, with photovoltaic roof panels to generate electricity and rainwater harvesting to minimise water use, surrounded by 22 acres of green space which reduces water runoff. The interior spaces are naturally ventilated and passively heated and cooled, with the entire district connected to a central heating and cooling system.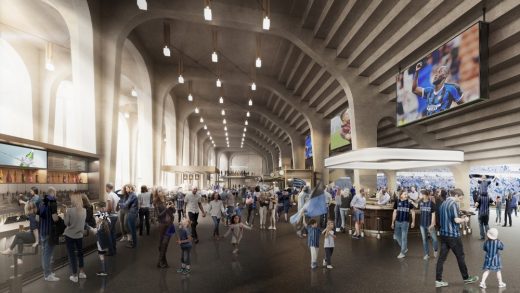 Christopher Lee, Managing Director EMEA, Populous, said:
"The Cathedral is a stadium of Milano and for Milano; an iconic and enduring piece of architecture that draws on the history and aspirations of this great city. It will be the greatest football stadium in Europe – more sustainable than any other with an incredibly tight and atmospheric seating bowl. It will be a stadium for all Milanese to enjoy for generations to come."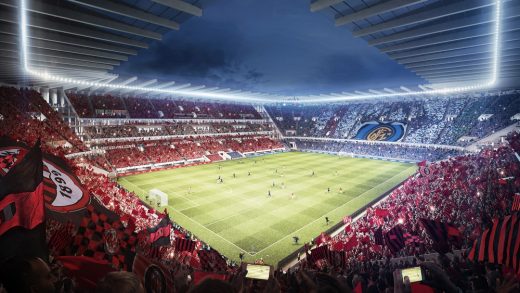 Declan Sharkey, Principal, Populous, said:
"Our design envisages a stadium that cannot be mistaken for any other in the world and one that converts on match day to create a very distinct appearance and fan experience in keeping with the individual personalities and traditions of AC Milan and FC Internazionale Milano. It will feel like home for both of these legendary clubs."
The Cathedral Milan stadium building – English:

A Stadium for Milano – Italian Version from on Vimeo.
La Cattedrale – Nuovo Stadio Milano
Populous Rivela Il Progetto Per Il Nuovo Stadio Di Milano: 'la Cattedrale'
Ottobre 2019 – Populous, studio d'architettura internazionale con una expertise di 1.325 stadi progettati e realizzati, con base anche a Londra e Milano, ha reso noto il proprio progetto in gara, denominato "La Cattedrale", per il nuovo Stadio di Milano che sostituirà la storica struttura di San Siro come sede dei due leggendari club calcistici AC Milan e FC Internazionale Milano, andando inoltre a costituire un nuovo polo di aggregazione per i milanesi.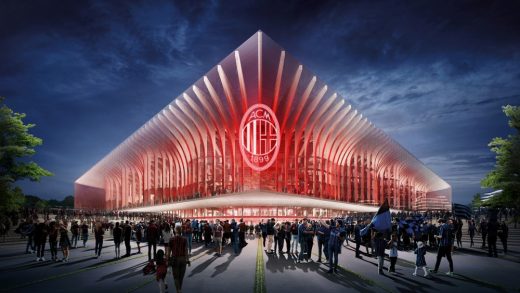 Il Team Populous dedicato a questo progetto è composto dallo studio Populous di Milano, diretto dall'architetto sportivo Alessandro Zoppini, e dagli studi d'ingegneria TEKNE e MAFFEIS, con un organico di oltre 300 professionisti italiani.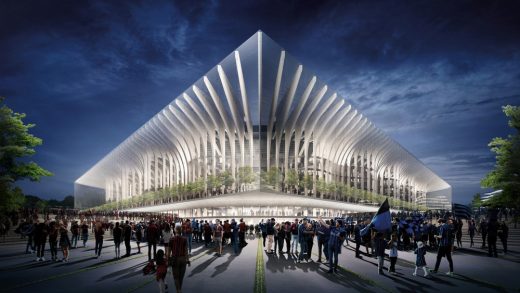 La Cattedrale vuole essere un'icona fedele per Milano e per i suoi cittadini e celebrativa del suo patrimonio. Il progetto si ispira a due degli edifici più rappresentativi di Milano, il Duomo e la Galleria, creando uno stadio che nessun altra città possiede e impossibile da confondere con altri stadi del mondo, in grado di definire nuovi standard in termini di esperienza dei tifosi, atmosfera durante gli incontri e coinvolgimento della collettività.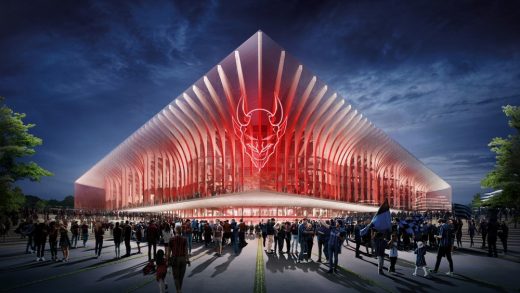 Gli spalti, costruiti su misura, creeranno l'atmosfera più intima di tutta Europa, avvicinando i tifosi all'azione come mai prima d'ora e creando un'atmosfera indimenticabile grazie al migliore design acustico. Una galleria illuminata dal sole corre attorno allo stadio rivestito da un'elegante cortina di vetro, offrendo ai tifosi e ai cittadini di Milano uno spazio aperto a tutti con un'ampia offerta di punti di ristoro ispirati alla tradizione gastronomica italiana, famosa in tutto il mondo.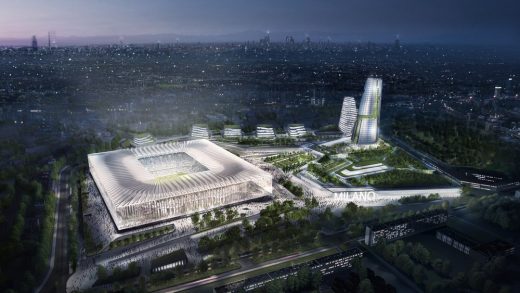 La Cattedrale è il fulcro del nuovo quartiere di San Siro, una destinazione eco-sostenibile 365 giorni l'anno, dedicata allo sport e al divertimento dei tifosi, della collettività e dei turisti. Sarà lo stadio di calcio più sostenibile d'Europa, immerso in 9 ettari di verde per ridurre il deflusso dell'acqua e dotato non solo di pannelli fotovoltaici sulla copertura, ma anche di un sistema di raccolta dell'acqua piovana per ridurre al minimo il consumo idrico. Gli spazi interni sono climatizzati a ventilazione naturale e a riscaldamento e raffreddamento passivi, mentre l'intero quartiere è collegato a un sistema di riscaldamento e raffreddamento centralizzato.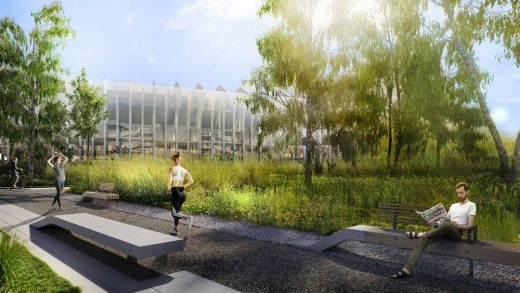 Progettato per rappresentare una sede esclusiva e offrire un'esperienza unica per i due club, lo stadio presenta installazioni su misura che cambiano drasticamente l'aspetto dell'architettura e riprendono l'irripetibile identità dei club nel tessuto edilizio.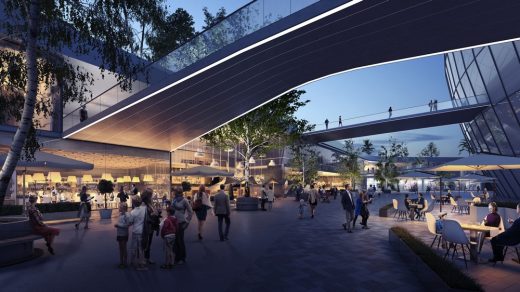 Per FC Internazionale, lo stadio è avvolto nelle spire luminose di un biscione blu, mentre per AC Milan i contrafforti verticali risplendono di un rosso fuoco che emana dalle profondità dell'edificio. Due spogliatoi per ciascuna squadra di casa e due megastore – uno per ogni club – permettono a entrambe le squadre di definire senza riserve di sorta lo stadio come "proprio".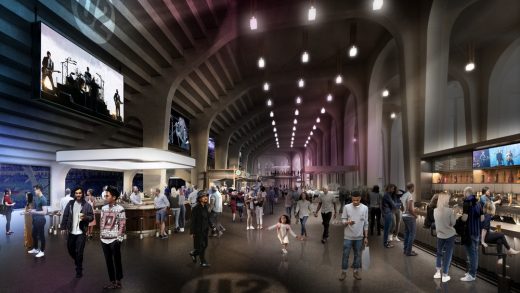 Christopher Lee, Managing Director EMEA di Populous, ha dichiarato:
"La Cattedrale è uno stadio di Milano e per Milano; un'architettura iconica e duratura che si ispira alla storia e alle aspirazioni di questa grande città. Sarà il più grande stadio di calcio d'Europa e più sostenibile di ogni altro, con un catino incredibilmente raccolto e suggestivo. Sarà un luogo di entertainment di cui potranno usufruire tutti i milanesi per le generazioni a venire".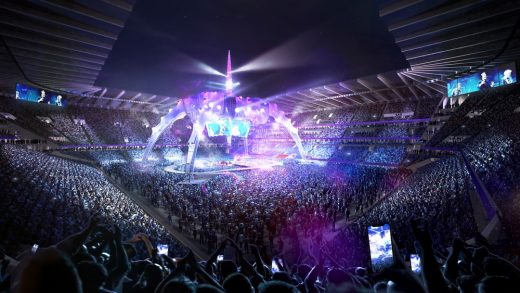 Declan Sharkey, Principal di Populous, ha dichiarato:
"Il nostro progetto prevede uno stadio che non può essere confuso con nessun altro al mondo e che nel giorno della partita si trasforma, assumendo un aspetto molto particolare e offrendo ai tifosi un'esperienza unica, ma in sintonia con la personalità e le tradizioni di AC Milan e FC Internazionale. Per entrambi questi leggendari club il nuovo stadio sarà come una casa."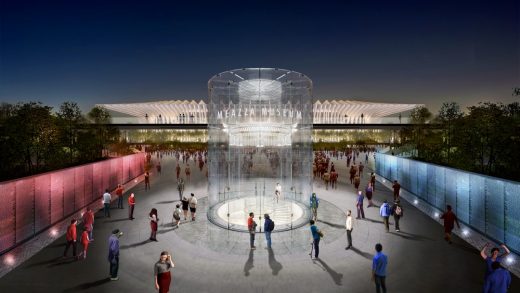 Un video della Cattedrale – lingua italiana:

Informazioni su Populous
Populous è uno studio di architettura e design internazionale specializzato nella progettazione dei luoghi di aggregazione più amati e famosi come lo Stadio di Wembley, l'Emirates Stadium dell'Arsenal e il nuovo Tottenham Hotspur Stadium. Negli ultimi 30 anni, lo studio ha realizzato oltre 3.000 progetti per un valore di 40 miliardi di dollari sia nei mercati emergenti che in quelli sviluppati.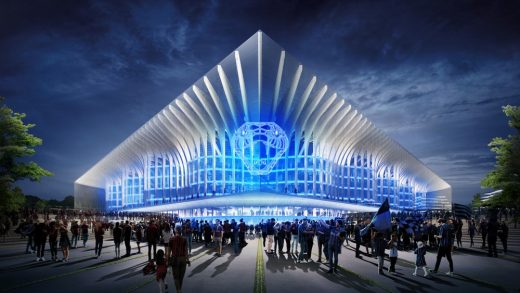 Populous offre un ventaglio completo di servizi tra cui architettura, interior design, progettazione di eventi e overlay, ambienti brandizzati, wayfinding e grafica, pianificazione e urbanistica, architettura del paesaggio, aviazione e trasporti, hotel e hospitality, e consulenza per la progettazione sostenibile. Populous opera attraverso 18 uffici in quattro continenti con centri regionali a Kansas City, Londra e Brisbane.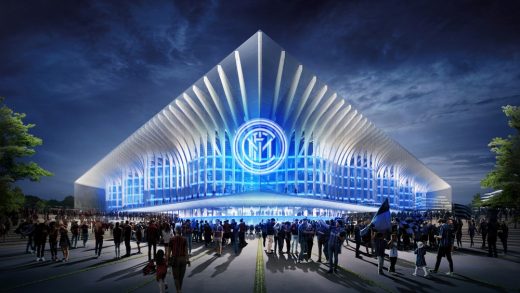 Twitter: @Populous Sito Web: www.populous.com
New Football Stadium in Milan: The Cathedral images / information received 111019
Location: Milan, Italy
Milan Architecture
Contemporary Milanese Architecture
Milan Building Designs – chronological list
Milan Architecture Tours – city walks by e-architect
Milan Architects Offices – architectural firm contact details on e-architect
Generali Tower
Design: Zaha Hadid Architects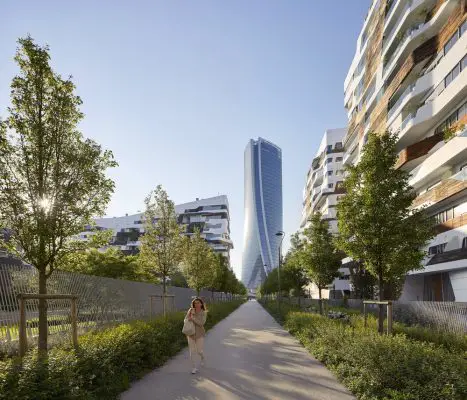 photo © Hufton + Crow
Generali Tower Building in Milan
Gucci Hub Milan HQ Building opens to the public
Architects: Piuarch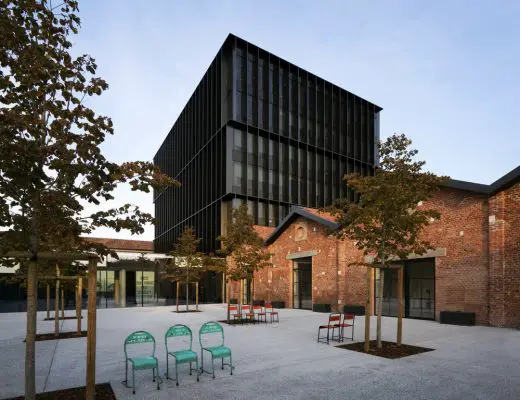 photo : Andrea Martiradonna
Gucci Hub Milan Headquarters Building
Between earth and air
Design: Piuarch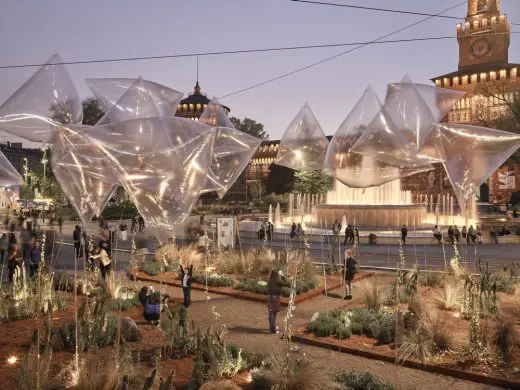 photograph © Giovanni Hanninen
agrAir installation Milan
Comments / photos for the New Football Stadium in Milan: The Cathedral page welcome