Rothschild Bank Headquarters London, New Court Architect, Image, News, Design
Rothschild Bank London : New Court Headquarters
Major City of London Building design by OMA
Photos from 29 Apr 2013:
22 Jun 2012
New Court London Award
Design: OMA with Allies and Morrison

photograph : Charlie Koolhaas
RIBA Awards winner, 2012
15 Feb 2012
Rothschild Building City of London
Rothschild Bank project generates plenty of interest
Design: OMA
St Stephen Walbrook Church with west facade of Rothschild Bank:


photograph © OMA
A lecture on designing the new Rothschild Bank HQ, given by the renowned architect, Ellen van Loon of OMA Partners, was standing room only.
Well over 250 people crammed into the lecture theatre at The Building Centre in London last night to attend a talk sponsored by Szerelmey Ltd, the Vauxhall based specialist stonework and restoration contractors.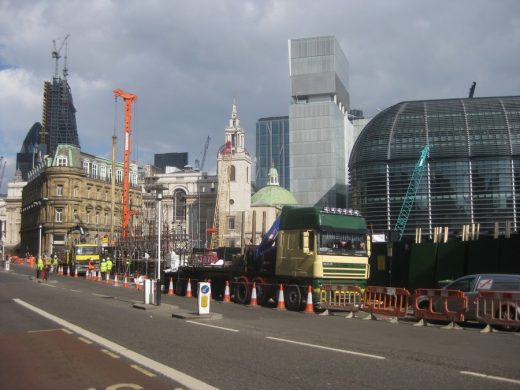 photo © Adrian Welch
The speaker, Ellen van Loon, gave a very detailed insight into the trials and tribulations involved in the design of New Court, the new HQ for Rothschild Bank in St Swithin's Lane. Trying to persuade the planning authorities to accept a 15 storey cutting edge design building in the inner sanctum of the city would be a challenge for any architectural practice. When your client is a very traditional institution who has occupied the site since 1809, it makes the eventual outcome even more radical.
Rothschild Bank HQ London:


photograph from Front Elevation
The speaker didn't go into too much detail on why the project took 7 years from design to completion but did mention that a whole year was lost in the planning process. Far from being just based on the aesthetic challenges in blending the traditional oak panelling and a Louis XV1 desk into a modern environment, the lecture also touched on the 'real' building issues.
St Swithin's Lane is around 3m wide and the site sits in front of a Christopher Wren masterpiece, St Stephen Walbrook Church. Other real issues such as Party Wall Agreements going back several centuries and historic 'rights to light' reminded them that they were in 'The City'.
Building in April 2013: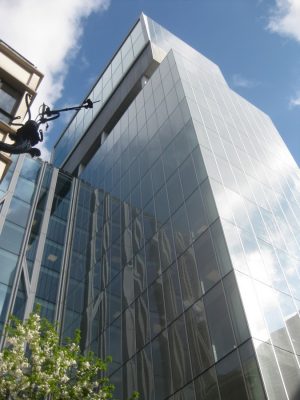 photograph © Adrian Welch
The talk raised many interesting issues with regards to procurement and design, not least the architects right to push back all of the boundaries, regardless of the challenges. Despite the obvious perception when dealing with a multi-billion pound client, budgets were an issue and having built up their fortune over hundreds of years going back to the Crimean War, a blank cheque wasn't offered.
One of Ellen van Loon's pet hates is offices with carpet tiles and by bringing in a contractor to solve the flooring issue, rather than a manufacturer, was perhaps not as controversial as it sounds. A building of this stature still needed its grandeur to be reflected, especially in the foyer and ground floor reception which is surrounded by floor to ceiling glass panels.
Rothschild Bank HQ London:


photograph from Front Elevation
The challenge was in requiring a 'solid' stone floor but also needing to run all the modern day services underneath. Szerelmey rose to the challenge in both practical terms and budget restrictions. With over 150 years of experience the Szerelmey design team not only created a raised floor but also took into account the multitude of reasons why architects or clients might wish to avoid the 'wet trades' associated with stone floors.
To avoid the dust, cement, drying times and access issues, much of the system was designed to be constructed in large panels offsite. This concept enabled the on-site time to be cut by 80% in comparison to the more traditional stone floor. Anyone working in London and paying parking costs and congestion charges will realise what a huge saving this represents.
In the true spirit of this project, having a superb stone floor was not enough. If you can have a stone raised stone floor with services underneath, why not a suspended stone ceiling with services above? Again Szerelmey took this in their stride and produced a lightweight stone system which allowed the vast array of alarm systems, CCTV cameras, sprinkler systems and specialist lighting to be installed within the ceiling void. If these services were not enough the ceiling also needed to accommodate a curtain track system so that 'rooms' could be produced at the flick of a switch by using the bespoke curtain system.
The stone ceiling weighs no more than a traditional design, proven by it being hung on a British Gypsum support system. A raised stone floor that can be assembled quickly on site with a minimum of time and mess are two bi-products of an architect knowing what they want, and perhaps just as important, knowing where to get it. The result is not only a ceiling which, literally, mirrors the polished stone floor but also a soffit and exterior ground surface to match, blurring the edges between interior and exterior. To continue the design concept, Szerelmey also designed, supplied and laid all of the exterior paving and steps.
Whilst approaching a specialist contractor rather than a manufacturer may not be the traditional route. However everyone who crammed into The Building Centre last night will be aware that OMA Partners do 'traditional' but not in a traditional way.
All this effort is for a building that is tucked away down a tiny 'street' that you can just about squeeze a car down. However if are in the area take a walk down St Swithin's Lane and your journey will be rewarded not only with a great modernist structure but also a stunning view of an earlier masterpiece, from Messrs Wren. Just don't tell the guy on security that Szerelmey sent you!
27 Nov 2011
Rothschild Building London
OMA completes first London building
New Court, the new London headquarters for Rothschild, and OMA's first building in London, has been completed. The 21,000m2 building is embedded in the narrow medieval alley of St Swithin's Lane in the heart of the City of London.
A subtle presence, New court is hidden within a cluster of buildings which form the historical core of the financial centre of the City. Surrounded by buildings of significance, the new development preserves and enhances this heritage while contributing a new dimension to the area. It emphasizes new connections within the dense streetscape, and offers views over the City from the 75-metre high Sky Pavilion.

photographs © OMA by Philippe Ruault
OMA's design for New Court is the fourth building inhabited by Rothschild since 1809 on the architecturally rich site of St Swithin's Lane. Led by the OMA partners Rem Koolhaas and Ellen van Loon, OMA designed a building with most of its mass lifted up from the street, reinstating the visual connection between the Lane and St Stephen Walbrook church, built by Christopher Wren in 1680, which had been hidden from view following 200 years of development.
For the first time, New Court now has a generous and intriguiing relationship with its surroundings. Instead of competing as accidental neighbours, the church and New Court now form a twinned urban ensemble, an affinity reinforced by the proportional similarity of their towers.

photographs © OMA by Philippe Ruault
Koolhaas commented: "We lifted the building so the ground becomes a manifesto about the richness of London's history."
New Court is a combination of a cube — for open-plan office space — and four simple adjoining volumes for support facilities (circulation, reception, cafe, gym). The facade is in structural steel and dark glass. The top of the cube is a platform for a landscaped garden for hosting open air events.
Above the roof garden, the Sky Pavilion perches on pilotis, providing two storeys of double-height space for client meetings and events, and creating new, unfamiliar mid-level views over St Stephen's, the nearby St Paul's Cathedral, and the surrounding City. From Cannon Street and King William Street, and from across the Thames, the Sky Pavilion is a subtle addition to the City's intricate skyline.

photographs © OMA by Philippe Ruault
Van Loon commented: "The exterior as well as the interior of the new building has been carefully conceived to create an inspiring building for Rothschild that establishes a new dialogue with the City."
Rothschild project manager Tony Chapman said: "Rothschild has made a commitment to the City of London that has endured across six generations. The new New Court is of significant historical and architectural importance and continues this commitment." New Court is the second building completed by OMA this year in the UK after Maggie's Centre in Glasgow opened in October.

photographs © OMA by by Charlie Koolhaas
Rothschild Bank Headquarters London images / information from OMA
Rothschild Bank London
Location: City of London
Date: 2006-10
Architect: Rem Koolhaas – OMA
14 Sep 2010
Photos of this OMA building as it nears completion
Architecture Competition win, 2005
Rothschild Bank Headquarters – New Court: OMA's first building in City of London
1 King William Street
Office building just north of the Rothschild Bank HQ
New photos by Matt Chung exclusive to e-architect, 12 Apr 2011:
Photographs by Matt Chung
Apr 2007
Rothschild Bank HQ London
Rothschild Bank HQ wins planning permission

image from architects
Press Release – HSH Nordbank AG
Hamburg/Kiel, May 8, 2008 – HSH Nordbank has arranged and underwritten the development financing for the new headquarters of NM Rothschild & Sons Limited ('Rothschild') on its historic site of New Court, St. Swithin's Lane in the heart of the City of London.
The loan facility that has been arranged by the London Branch's Real Estate team is for a total amount of GBP 122 million (EUR 152 million).
Rothschild Bank Headquarters information from HSH Nordbank AG
OMA – Rothschild Bank Headquarters – New Court designers
Location: King William Street, London, England, UK
London Buildings
Contemporary London Architecture Designs
London Architecture Designs – chronological list
London Architecture Tours by e-architect
Rothschild Bank London lead architect : Rem Koolhaas
Rothschild bank HQ context : Church of St Stephen Walbrook
The Meier on Rothschild Tower
Design: Richard Meier & Partners Architects


photographs : Adrian Welch
The Meier on Rothschild Tower
Bespoke Lighting 22 Rothschild
One New Change
Design: Jean Nouvel architect


image © Miller Hare Ltd
One New Change
60-70 St Mary Axe
Design: Foggo Associates Architects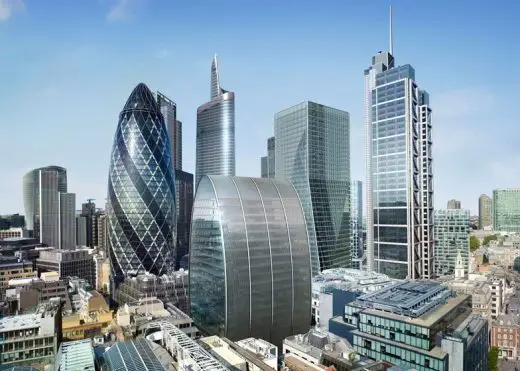 image courtesy of the architects
60-70 St Mary Axe Building
Comments / photos for the Rothschild building London – New Court design by OMA page welcome