National Music Centre Calgary, Canadian Building, Studio Bell Project, News, Design, Property
Canadian National Music Centre : Architecture
Studio Bell: Calgary Arts Development for the Cantos Music Foundation in Canada
5 May 2016
National Music Centre Calgary News
National Music Centre in Calgary nearing completion
Design: Allied Works Architecture
Studio Bell, Calgary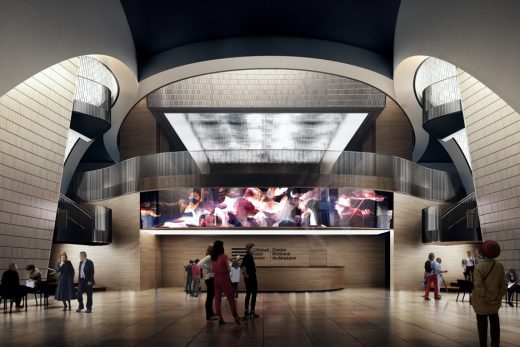 images : MIR
US architects studio Allied Works Architecture is nearing completion of a massive new home for the National Music Centre of Canada, described as the practice's "largest and most ambitious project to date".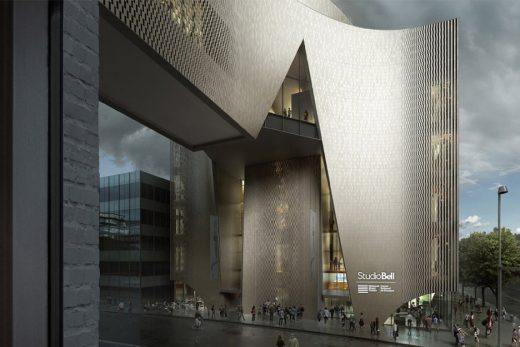 Encompassing 160,000 sqft (14,860 sqm), the cultural centre – called Studio Bell – is scheduled to open on 1 October 2016 in Calgary, Alberta, reports Dezeen.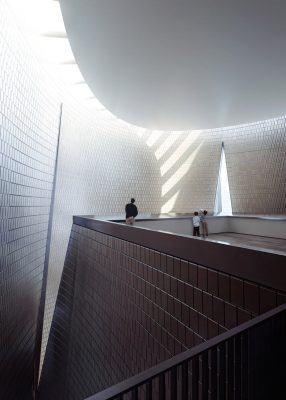 Renderings show a large building composed of two main volumes connected by a skybridge that passes over a plaza. The design features curved exterior walls and sculptural protrusions.
"Marking Allied Works' largest and most ambitious building project to date, Studio Bell rises in nine, interlocking towers, clad in glazed terracotta," said architects Allied Works, which has offices in New York and Portland, Oregon.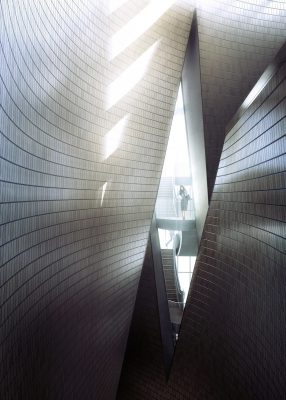 "Its subtly curved design references acoustic vessels, while allowing for sweeping views of the Stampede, Park, Bow River and surrounding cityscape."
The project is the latest cultural building from Allied Works. Founded in 1994, the firm's portfolio includes the Clyfford Still Museum in Denver, the Seattle Art Museum and the Museum of Arts and Design in New York.
The five-storey music centre will contain a 300-seat performance hall, recording facility, broadcasting studio and exhibition galleries totalling 22,000 sqft (2,040 sqm). It also will house classrooms and spaces for artists-in-residence.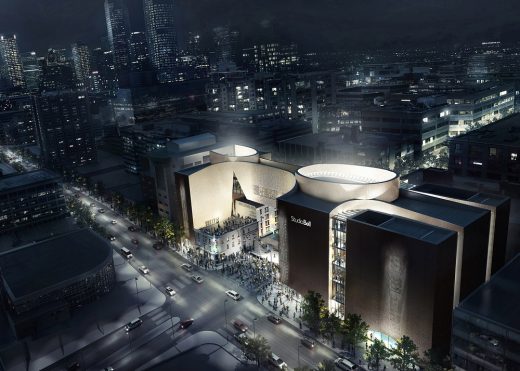 Billed as the first facility of its kind in North America, the centre will inform visitors about Canada's musical history through exhibitions, interactive programs and live performances.
Website: Studio Bell – National Music Centre Calgary
Studio Bell : Centre Nationale de Musique Calgary – Building Information
Client: National Music Centre
Scope: Programming, Building Assessment, Site Design, Complete Architectural Services (in association with Kasian), Artist Coordination, Interior Design
Project Team: Brad Cloepfil, Kyle Lommen, Chelsea Grassinger, Daniel Richmond, Dan Koch, Brent Linden, Kyle Caldwell, Björn Nelson, Thea von Geldern, Philip Balsiger, Emily Kappes, Rachel Schopmeyer, Keith Alnwick, Brock Hinze
Project Collaborators: Royal Tichelaar Makkum
Special Features: 300-seat performance space, collections and performance galleries, restored music club, recording and broadcast studio, rehearsal spaces, café, education center. Master plan includes a 700-seat concert hall.
15 Feb 2016
National Music Centre Calgary Award
National Music Centre receives international architecture award
Centre Nationale de Musique
The National Music Centre (NMC) has received a second international design award. The 61st Annual Progressive Architecture (P/A) Awards—an annual award given by Architect Magazine, one of the leading publications dedicated to architecture and design— recognized lead architect Brad Cloepfil and Allied Works Architecture at an awards dinner last week in New York for the visionary design of the new NMC building.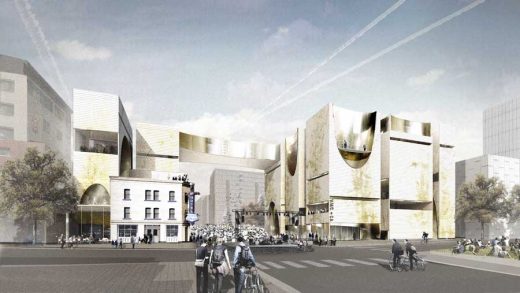 Architect Magazine's P/A Awards recognize unbuilt projects demonstrating overall design excellence and innovation. The National Music Centre was one of the 10 projects to be recognized out of 150 submissions, and was one of three to receive an award.
"For over 60 years, the Progressive Architecture Awards have recognized the most innovative global architecture. We are honoured to have our design of the National Music Centre recognized with a P/A Award and look forward to the culmination of this important project," said Brad Cloepfil, Founding Principal of Allied Works Architecture.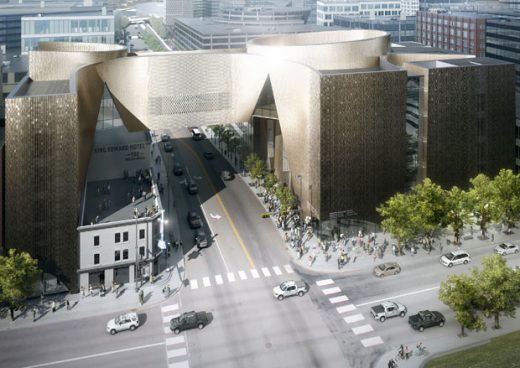 Allied Works Architecture won an international competition to convert the historic King Edward Hotel and an adjacent half-acre parcel into a new building that brings the love of music to life by providing space for engaging exhibitions, recording studios, performance spaces, classrooms and a radio station.
The new National Music Centre will be a 160,000 square-foot cultural destination in the heart of Calgary. Opening in 2016, the new NMC is part of the rapid and extensive revitalization of the East Village. Construction began in early 2013 and Allied Works Architecture is working closely with local architect partner Kasian Architecture and CANA Construction to realize the ambitious design.
"When I first saw Brad's design, I realized that he understood the scope and importance of this project, not only to Calgary, but to Canada. Allied Works understands the heart of NMC, and has given it an awe-inspiring home that Calgarians can be proud to have in their backyard, but it will also attract visitors from across Canada and around the world," said Andrew Mosker, President and CEO of NMC.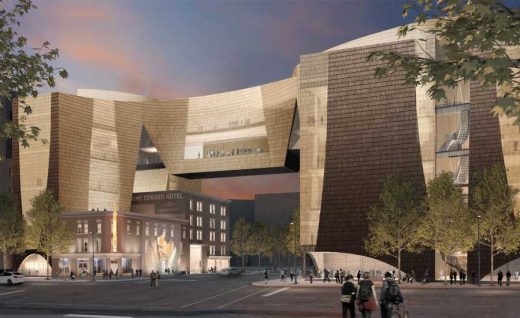 Brad Cloepfil describes the building as a gathering of resonant vessels that hold the many diverse programs, spaces and experiences of the National Music Centre. Nine towers form the body of the building; the vessel walls, clad in terra cotta, will rise in subtle curves that merge, part and intertwine, modeled by light, gravity and acoustics.
Inspiration for the building was drawn from Canada's iconic landscapes – from the cadence of waves to the lullaby of lakeshores, from the silence of the prairies to the echo of the Arctic, and the energy and diversity of Canada's urban spaces.
NMC construction partners:
• Allied Works Architecture, Portland, Oregon and New York City, New York
• Kasian Architecture, Calgary, Alberta
• CANA Construction, Calgary, Alberta
• Haley Sharpe Design, Leicester, UK
To learn more about the future of NMC, visit: Studio Bell Calgary
The P/A Award Jury included, Lise Anne Couture, AIA, Nataly Gattegno, Sasa Radulovic, and Marcelo Spina, Intl. Assoc. AIA.
To learn more about the award, visit: http://www.architectmagazine.com/architects/the-61st-annual-progressive-architecture-awards_o.aspx?dfpzone=awards.pa_award
About the National Music Centre
The National Music Centre is the home for music in Canada and its mission is to amplify the love, sharing, and understanding of music. The new National Music Centre will be a 160,000 square-foot, architecturally stunning destination in the heart of Calgary's East Village. It will resonate with expanded programming including education, performance, artist development, and community building collaborations — both in Calgary and across the country. Learn more at nmc.ca.
Website: Studio Bell – National Music Centre Calgary by Allied Works Architecture
27 Jun 2011
Allied Works and National Music Centre Reveal Much-Anticipated Design
Allied Works and the National Music Centre of Canada have revealed the final design for the new building, scheduled to open in 2014
National Music Centre | Centre National de Musique
Extraordinary building is a testament to an evolving city
Calgary, June 22, 2011 – Two years after holding an international architectural competition that saw world renowned designers face off in a public presentation, the National Music Centre revealed competition-winner Allied Works Architecture's extraordinary final design today.
"We have worked tirelessly over the last two years to create a space unlike any other in the world," says NMC President and CEO Andrew Mosker. "We're ecstatic with the results and with the experience we had working with Allied Works, GEC and the rest of the team. We truly believe this building will join the ranks of iconic architecture in Canada."
The National Music Centre's design pays homage to the western Canadian landscape with a series of "resonant vessels" informed by the crags and canyons of the Rocky Mountains, the hoodoos of southern Alberta and the vast openness of the prairies creating spaces that will resonate with the sounds of NMC's dynamic program offering.
Built around the historical (and condemned) King Edward Hotel, many have speculated on how the design would treat this piece of Calgary's musical history that closed in 2004 after serving as a hotbed of blues music in Canada for decades.
"It was important to us to respect the King Eddy," says architect Brad Cloepfil. "While reclamation and restoration is certainly necessary, we didn't want to scrub it too clean. We don't want to scare the ghosts away." One of the more unique features of the building is a two-story bridge that spans 4th Street SE.
The span not only creates interesting event and performance spaces for NMC, but also serves as a very strong, visual gateway into a revitalized East Village.
"We worked closely with the Calgary Municipal Land Corporation to ensure our design meshed with the overall vision for East Village," says Mosker. "We've created a strong visual anchor in addition to a vibrant, street-level atmosphere that speaks to the work, play live philosophy the CMLC is striving for."
Projected to open in 2014, the 135,000-sq.-ft. National Music Centre will give Canadians a place that amplifies the love, the sharing and the understanding of music through collections, programs and collaborations across the country.
"The completion of the design marks an important milestone in the creation of the National Music Centre," says Mosker. "Combined with funding commitments from three levels of government, partnerships with the Canadian Academy of Recording Arts and Sciences and the Canadian Country Music Association and an aggressive fundraising campaign, the project has a great deal of momentum here in Calgary and across Canada. We're very excited."
To see the design and learn more about the project, visit www.nmc.ca.
National Music Center Canada images / information from Allied Works
National Music Centre Calgary : main page with images of shortlisted designs
Previously:
National Music Centre Calgary
Five Fit for a King
Five Renowned Architects to Compete for National Music Centre Project at the King Eddy Site
Image of wining design:

image from architects
May 21, 2009 Calgary, AB – After an extensive worldwide search, Cantos Music Foundation has narrowed the field to five exceptional architectural teams to compete for the opportunity to design a new national music centre featuring world-renowned music collections and public programs at the site of the King Edward Hotel.
Canadian National Music Centre Shortlist
– Allied Works Architecture, Portland, OR, with BKDI, Calgary, AB
– Jean Nouvel Workshop, Paris, France
– Diller Scofidio + Renfro, New York, NY with Kasian, Calgary, AB
– Saucier + Perrotte, Montreal, PQ with Graham Edmunds, Calgary, AB
– Studio Pali – Fekete, Los Angeles, CA
"We were thrilled with the response our request for expressions of interest received worldwide," says Andrew Mosker, executive director of Cantos Music Foundation. "The caliber of talent was outstanding and it was a difficult task to narrow it down to five." Sixty-six firms from all over North America and Europe expressed interest in the project.
Each of the five teams will be given $50,000 USD upon completion of a conceptual design for the project, which is seen as a key catalyst in the redevelopment of the East Village. Calgary Municipal Land Corporation (CMLC) president and CEO, Chris Ollenberger, says the national music centre project represents the community's future.
"We are passionate about the rejuvenation the East Village, and we share Cantos' passion for this project and its potential for all of Calgary," says Ollenberger. CMLC is the current owner of the King Eddy and is leading the development of Calgary's East Village to a mixed-use, vibrant, inner-city community.
The final five will develop design concepts for the Canadian National Music Centre in Calgary to be presented to the public as well as a selection committee comprised of:
– 2-3 architects
– 1 local visual artist with national exposure
– 2 museum Presidents/CEOs (1 national, 1 international)
– Cantos Executive Director
– 1 Cantos board member
– A recognized Canadian citizen
– A Canadian musician of international stature
The competition winner, who will be announced in the summer of 2009, will be awarded the project which is planned to open in 2012. The public is welcome and encouraged to visit www.cantos.ca/kingeddy to offer their ideas and input.
Cantos Music Foundation is a registered charitable organization whose vision it is to be a national catalyst for discovery, innovation and renewal through music. Cantos serves nearly 30,000 people per year – a number that's expected to more than triple in the new facility.
Location: King Edward Hotel, East Village, Calgary, Canada
Architecture in Canada
Contemporary Canadian Architecture
Canadian National Music Centre Shortlisted Architects
Canadian Architecture


image from architects
Calgary East Village Masterplan
Calgary Bridge Design Competition
National Mountain Centre Canada
Comments / photos for the Calgary National Music Centre Canada Architecture page welcome
Website: National Music Centre Calgary