Barcelona Pavilion Architect, Architecture, Mies van der Rohe Building Photos, 20C Catalan Design Pictures
Barcelona Pavilion Building
Guide to Famous Modern structure in Spain by Mies van der Rohe architect: 20th Century Building
4 + 2 December 2021
'Never Demolish'
Intervention at the Mies van der Rohe Pavilion
November 26 – December 16
Curators: Ilka and Andreas Ruby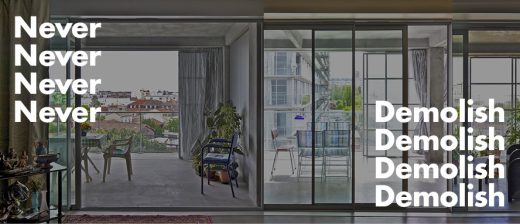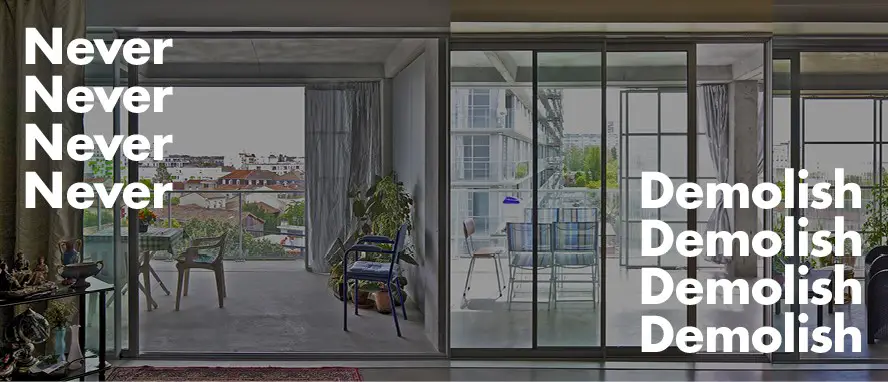 The Mies van der Rohe Foundation presents the intervention "Never Demolish" curated by Ilka and Andreas Ruby based on the winning project of the EU Mies Award 2019 "Transformation of 530 dwellings – Grand Parc Bordeaux" by the architects Lacaton & Vassal architectes, Frédéric Druot Architecture and Christophe Hutin Architecture.
Never Demolish, Mies van der Rohe Pavilion
post updated 4 July 2021
Barcelona Pavilion Building by Mies van der Rohe
El Pavelló Alemany
Reconstrucció del Pavelló de Representació d'Alemanya a l'Exposició de Barcelona
The building is also known as the 'German Pavilion' or 'Mies van der Rohe Pavilion'.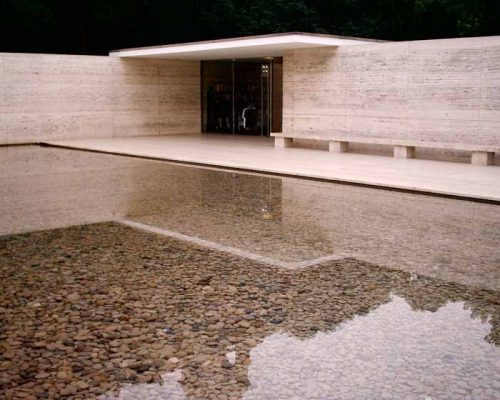 Location: Hill of Montjuic, southwest Barcelona
Date: 1929; pavilion building reconstruction 1983-86
Design: Ludwig Mies van der Rohe and Lilly Reich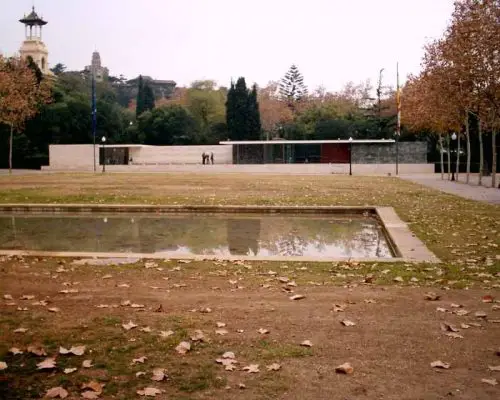 Photos of this Mies van der Rohe building © Adrian Welch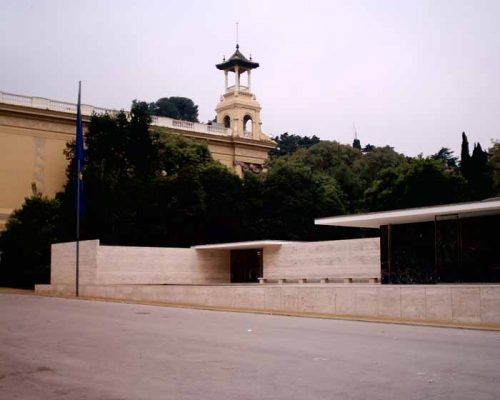 Mies van der Rohe : Barcelona Pavilion architect
Barcelona Pavilion Building Description
The Barcelona Pavilion building is for many architects their favourite building in the World. It's architecture is pure poetry, simple honest planes of stone with slim, graceful polished steel cruciform columns. The integration of water through two shallow pools brings calmness and reflection to the pavilion.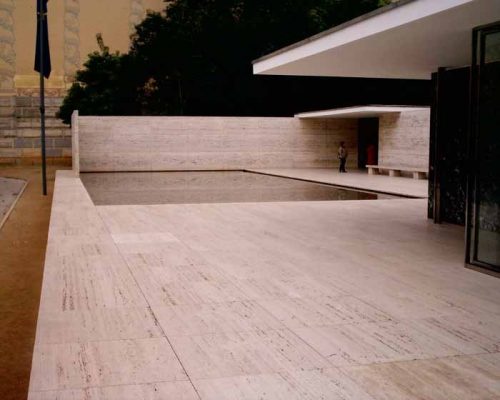 The architect Mies van der Rohe was interested in developing free flowing space and this is done using walls as planes in isolation, joined by sliding elements or glass.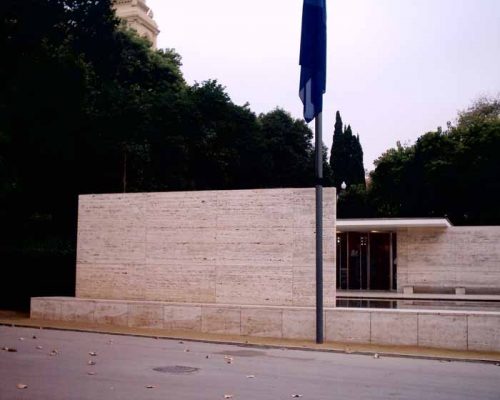 Thus the wall is expressed as a single element with space flowing around it. The majority of the pavilion building is constructed out of (cream-coloured) travertine which gives the building a luxurious feel and aids the perception of spaciousness.
For many people the Barcelona Pavilion building represents the apotheosis of Modernism, a building which is uncompromised by the complexity of functions. In this respect it is similar to the Farnsworth House, also by Mies van der Rohe.
Further information re visiting hours, entry, etc.
English text:
Barcelona Pavilion Building
Spanish text:
Pabellón Mies van der Rohe
Location: Barcelona, Catalunya, Northeast Spain, southwestern Europe
More Mies van der Rohe building images available upon request: images 1280×1024 pixels, 72dpi
More Barcelona Pavilion Photos
Modern Architecture
Another world-famous Mies van der Rohe building featured on the e-architect website:
Tugendhat Villa, Brno, Czech Republic
Barcelona Architecture Walking Tours
Barcelona Architecture in this Catalan city
The Barcelona chair from Iconic Interiors – the Bauhaus furniture enthusiasts.

Buildings in Montjuïc
Catalonia National Art Museum Building
Ludwig Mies van der Rohe, born Maria Ludwig Michael Mies (1886 – 1969) was a German-American architect. The architect is commonly referred to and was addressed as Mies, his surname. Along with Le Corbusier, Walter Gropius and Frank Lloyd Wright, he is widely regarded as one of the pioneers of modernist architecture.
Mies, like many of his post-World War I contemporaries, sought to establish a new architectural style that could represent modern times just as Classical and Gothic did for their own eras. He created an influential twentieth-century architectural style, stated with extreme clarity and simplicity.
Source: Wikipedia
Comments / photos for the Barcelona Pavilion – Mies van der Rohe architecture in Catalunya, Eastern Spain page welcome