Bioregional Sustainability, Green Buildings, Eco Architecture Project, FCBS Climate Change Design News
New Online Platform for Sustainability
BuildGreen Solutions, Cundall, Feilden Clegg Bradley Studios, Elementa Consulting and Sherwood Design Engineers
6 Oct 2016
New Sustainability Online Platform
Leading building design companies support new online platform to speed up sustainability
BuildGreen Solutions, Cundall, Feilden Clegg Bradley Studios, Elementa Consulting and Sherwood Design Engineers form the first cohort of Global Founders of a new online platform that will take the headache out of going green. Developed by sustainability charity Bioregional, the platform will make it easier for anyone involved in sustainability to make progress in creating a better world.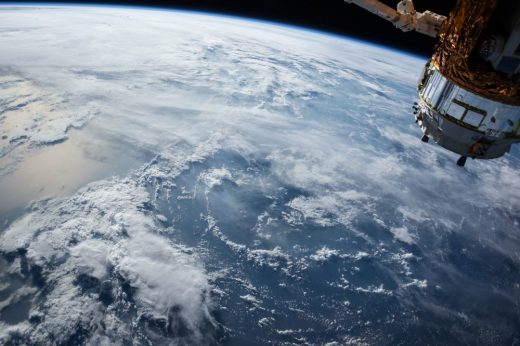 If everyone in the world consumed as many natural resources as the average person in the West, we would need several planets to support us.
Bioregional developed the One Planet Living framework using learning from its involvement in the development of the award-winning BedZED Eco-village in London, the UK's largest mixed-use eco-community. One Planet Living is based on ten intuitive principles ranging from 'zero carbon energy' to 'health and happiness', that work together to enable us all to live happy, healthy lives within the means of our one planet.
Complementing existing certification systems like BREEAM, LEED and BCorp, the online platform will capture green initiatives by cities, businesses, real estate developers, schools and individuals, enabling global, cross-sector collaboration and knowledge-sharing.
Bioregional Co-Founder and International Director of One Planet Communities Pooran Desai OBE said: "It's clear that there is huge untapped demand for One Planet Living. We already know that hundreds of organisations around the world, across four continents, are using it as the engine of their sustainability efforts.
"Our new platform will provide free tools and resources for everyone to write sustainability action plans, crowdsource solutions, and benchmark their performance against the leaders.
"We are enormously pleased to welcome BuildGreen Solutions, Cundall, Feilden Clegg Bradley Studios, Elementa Consulting and Sherwood Design Engineers as the first Global Founders of our platform – a platform that we will continue to build with their support. We are looking for more like-minded sustainability leaders to join us, so they can help influence the development of the platform and its associated tools, services and business model."
BedZED London building: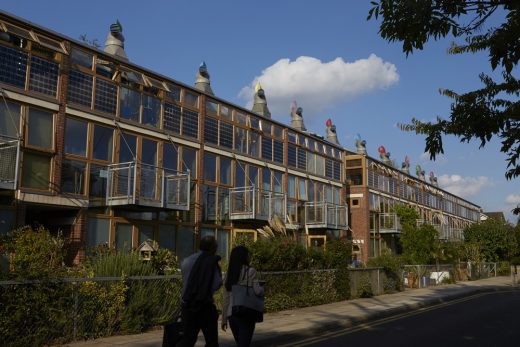 photo © Bioregional
The President and Chief Executive Officer of Integral Group and Elementa Consulting, Kevin Hydes said: "We have worked with One Planet Living over the years and supported its ongoing evolution and development. What's really exciting about the framework is its ability to change hearts as well as minds. It's a fantastic tool for engaging communities and businesses. It makes the issues accessible to all and it accelerates our collective impact towards the biggest challenge in an era: to live within our earth's resources. I am extremely proud to join this initiative as a Global Founder, and encourage other like-minded global firms to come on board."
Alan Fogarty, Sustainability Partner at Cundall said: "Cundall has been a One Planet Company since 2012, and is delighted to be a Global Founder of this new platform. We see it as the natural next step, making the One Planet ethos accessible to the broadest possible audience, helping people and organisations around the world to adopt One Planet Living. We apply the One Planet ethos within Cundall every day, not only to assess our operations as a business but also as our framework to ensure our projects are truly sustainable."
Bioregional is inviting up to 40 Global Founders to help support the development of the platform over the next 6 months, and it will be launched to the public next Spring.
Bioregional also publishes its 2015/16 Annual Review today, which maps the growth of One Planet Communities across four continents.
Follow @oneplanetliving and #oneplanetliving on twitter.
New Online Platform for Sustainability in 2016
Background Information:
Bioregional champions a better, more sustainable way to live. We work with partners to create better places for people to live, work and do business. www.bioregional.com
BuildGreen Solutions is a real estate advisory services company with a unique perspective on development, blending development experience with unparalleled expertise in sustainability. With a long-term interest in building dynamic and vibrant communities, it advises on how to maximize environmental, social and economic returns from development projects in various roles as managers, educators, consultants and facilitators. http://www.build-green.com
Cundall is an international multi-disciplinary engineering consultancy with over 600 staff, operating in over 11 countries across the globe. 2016 sees Cundall (Cundall Johnston and Partners LLP) celebrating its 40th anniversary. It provides clients with practical advice and solutions, which reduce the environmental impact of developments, and provide better spaces for building users and occupiers, as well as for the wider community. Cundall is the world's first consultancy to be endorsed as a One Planet Company. www.cundall.com. Also visit http://www.cundall.com/About-Us/Sustainability/One-Planet-Company.aspx
Feilden Clegg Bradley Studios (FCBStudios) is an award-winning architectural practice with an international reputation for design quality, for pioneering environmental expertise and a progressive architectural approach. It has experience in designing for education, housing, masterplanning and urban design as well as places for art and the creative reuse of historic buildings. FCBStudios started small over 38 years ago and, in spite of its growth to over 200 staff, it continues to be committed to social and humanistic values in its work. It won the RIBA Stirling Prize for Accordia, a scheme which is widely regarded as setting a new benchmark for housing in the UK. It is the top RIBA National Award winning practice of the last decade. http://fcbstudios.com/
Feilden Clegg Bradley Studios
Integral Group is an interactive global network of over 360 design professionals collaborating under a single deep green engineering umbrella; Elementa Consulting is a member of Integral Group. It provides a full range of building system design, energy analysis, and third party LEED commissioning services with a staff widely regarded as innovative leaders in their fields. Integral has offices and affiliates throughout North America and around the world that focus on providing clients with high-quality, efficient solutions. The organisation is designed to specifically meet the challenge of accelerating critical change in sustainable building practices.
Sherwood Design Engineers is a 21st century civil and environmental engineering firm committed to the optimal integration of ecology, infrastructure, and design, with offices in San Francisco, New York, and Houston. It was established to provide a new generation of infrastructure services focused on both planning and implementation. The firm has implemented net-zero green building projects, district infrastructure, new street standards, and many sustainable civil projects throughout the world. http://www.sherwoodengineers.com/
The One Planet digital platform will be publicly launched in the UK at Ecobuild in March 2016, and at in the USA in April, at the Urban Land Institute in Seattle.
BedZED Centre, 24 Helios Road, Wallington, London, SM6 7BZ, UK
@Bioregional
Location: 24 Helios Road, Wallington, London, SM6 7BZ, England, UK
Sustainable Architecture
Sustainability Pavilion for Expo 2020 Dubai
Design: Grimshaw Architects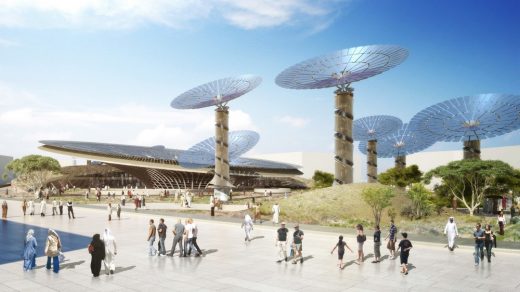 image from architect
Sustainability Pavilion Building – 9 Sep 2016
Siemens Crystal, London
Design: WilkinsonEyre
Siemens Urban Sustainability Centre
ICSC Global Sustainability Award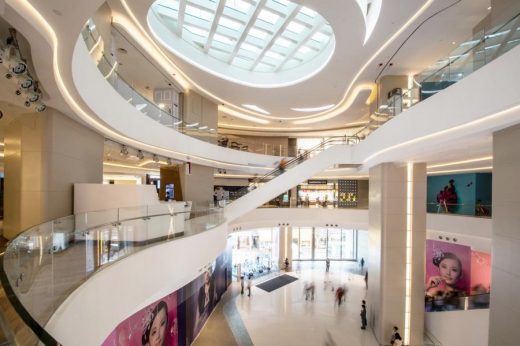 VIVA Best-of-the-Best Sustainability Award
World Architecture Festival Awards
Siemens Crystal Urban Sustainability Centre
Comments / photos for the New Online Platform for Sustainability page welcome