Peter Cook Architect UK, CRAB London Design Studio, English Building Project Photos, Bartlett
Peter Cook Architect : Architecture
Cook Robotham Architectural Bureau – Contemporary Architect Practice, England, UK
post updated 8 April 2023
Sir Peter Cook News
Sir Peter Cook Architecture News
4 Nov 2021
Arts University Bournemouth Innovation Studio Building, AUB Wallisdown campus, Poole, Dorset, southern England, UK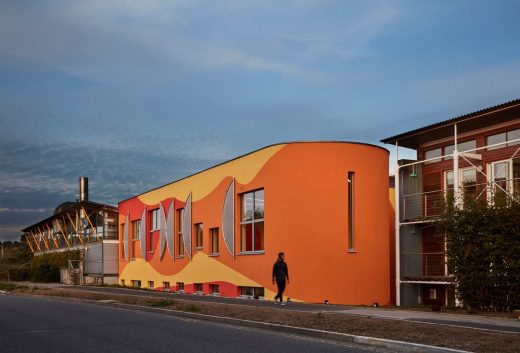 photo © Richard Bryant
Arts University Bournemouth Innovation Studio
The building, as with the completed Drawing Studio, encourages innovation and creativity that is especially useful to the creative industries. Such initiatives have become hallmarks of the Arts University, which has particular links into the film industry and the performing arts as well as architecture, graphic design, etc.
25 Nov 2016
Professor Sir Peter Cook RA
Professor Sir Peter Cook RA Celebrates 80th Birthday at Arts University Bournemouth
AUB hosts lecture & drinks reception for acclaimed architect and AUB alumnus in award-winning drawing studio
25th November 2016 – Arts University Bournemouth (AUB) was delighted to celebrate the 80th birthday of acclaimed English architect and Honorary Fellow of the University, Professor Sir Peter Cook RA, in its new multi award-winning Drawing Studio, designed by the Royal Academician himself.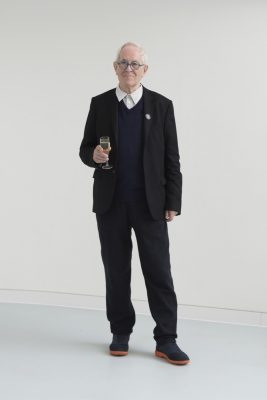 The event, consisting of a lecture and drinks reception, honoured Professor Sir Peter Cook RA and his contribution to architecture and teaching throughout his career. The Drawing Studio at AUB is the first of its kind to have been built in the country for 100 years and is Professor Sir Peter Cook's only building in the UK, the perfect setting for this milestone celebration.
Based around the theme of 'dreams', the lecture charted Professor Sir Peter Cook's career thus far and his concepts and ideas. He spoke about buildings 'slithering,' 'melting' and 'flying' in their architecture. The lecture was attended by current students and alumni of AUB's Architecture, Interior Architecture and Design and Modelmaking courses.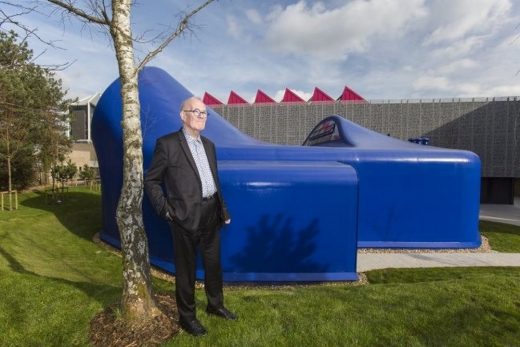 Professor Sir Peter Cook RA was a leading figure in the Archigram Group and was knighted for his contribution to British architecture and teaching in 2007. One of Professor Sir Peter's most significant works from his time with the avant-garde group was The Plug-In City, a hypothetical fantasy city which has helped to inspire modern architects and urban thinking today. As well as holding the title Commandeur de l'Ordere des Arts et des Lettres of the French Republic, Professor Sir Peter's achievements with Archigram were recognised by the Royal Institute of British Architects in 2004 with the award of the Royal Gold Medal.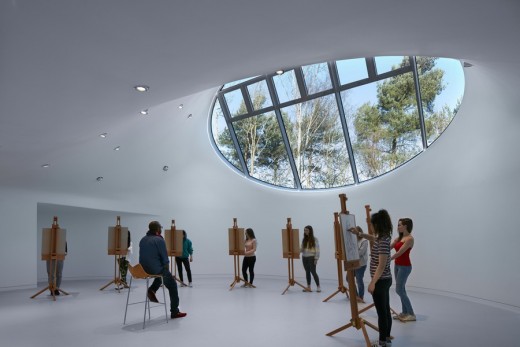 Professor Sir Peter Cook's latest piece is the Drawing Studio at AUB, a purpose-built studio which is open to all students, from all courses, highlighting the importance of drawing for all creative disciplines.
Professor Sir Peter Cook RA comments: "As an alumnus of AUB, I am deeply honoured that this university, where I learned my craft, is now home to my first building in the UK. The studio represents a fundamental recognition of the importance of drawing for all creative subjects. When it came to the design of the studio I wanted to ensure I created a space which all students, from all disciplines – be it fashion design, graphic design, fine art, or architecture like me – could make use of and feel inspired in it."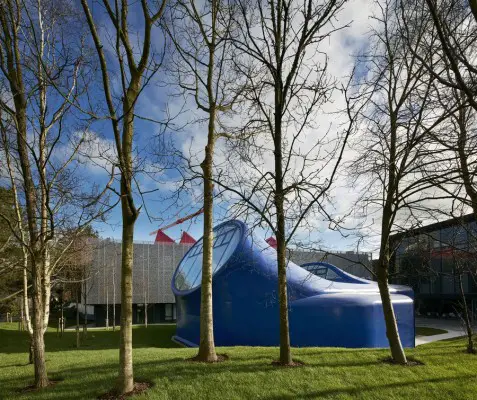 With creative industries contributing almost £10million per hour to the UK, AUB is dedicated to the progression and learning of its students that feed these industries[1]. Visionaries such as Professor Sir Peter Cook RA are vital to the continuation and the development of the design world, to which the Drawing Studio is testimony.
Professor Stuart Bartholomew CBE, Principal and Vice-Chancellor, AUB commented: "We are delighted to have the opportunity to celebrate the milestone birthday of such an inspiring and visionary architect. This beautiful building, Professor Sir Peter's only one in the UK, is helping to inspire the next generation of creative individuals across the courses we offer."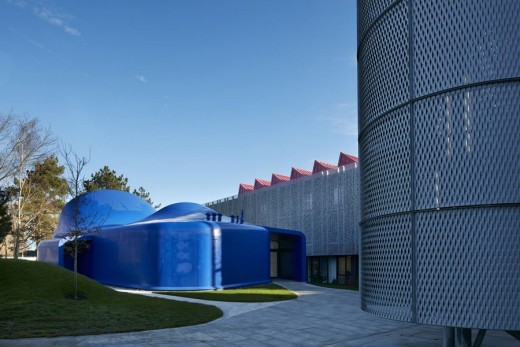 Professor Sir Peter Cook's 80th birthday celebrations represent an important milestone for British architecture, design and learning.
The Drawing Studio was officially opened in March 2016 by the late Dame Zaha Hadid, who closed her speech by saying "I simply love this building."
4 + 3 Mar 2016
Drawing Studio at AUB
Design: Sir Peter Cook, CRAB Studio
Location: AUB, Wallisdown, Poole, Dorset, southern England, UK, BH12 5HH
Drawing studio opened by architect Dame Zaha Hadid at Arts University Bournemouth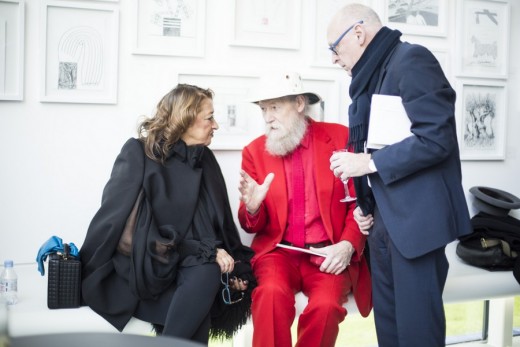 The first drawing studio built in the UK for 100 years to open at the Arts University Bournemouth
Drawing Studio at Arts University Bournemouth
For more information about the work and courses taking place at AUB, visit: www.aub.ac.uk.
Arts University Bournemouth is the leading professional arts university dedicated to turning creativity into careers. Established in 1885, AUB is based on a single campus where students and staff come together to innovate, collaborate and connect across art, design, media and performance. For each of the last ten years, AUB has been in the top 10 of all UK universities for employability (DLHE). aub.ac.uk
[1] Gov.uk – http://www.gov.uk/government/news/creative-industries-worth-almost-10-million-an-hour-to-economy
CRAB Studio News
CRAB Studio News – latest additions to this page, chronological:
14 Nov 2013
Law Faculties and Central Administration Buildings for Wirtschafts University


photo © Kurt Kuball
Wirtschafts University Building
This is an interesting new Vienna building in the Prater district. Draped over the exterior is a layer of natural timber louvres that partially deal with sun shading and respond to the woodlands that surround the campus – also acting as staccato foil to the striation of the buildings as a whole.
8 Nov 2012
West Kowloon Cultural District Art-themed Park, SAR, China
Cook Robotham Architectural Bureau (CRAB) is one of 7 Shortlisted Design Teams news
West Kowloon Cultural District Art-themed Park
The West Kowloon Cultural District Authority ("WKCDA") announced today a shortlist of seven design teams that have been invited to submit technical proposals for the development of Hong Kong's first art-themed park, 14 hectares of landscaped public space for arts and culture at the West Kowloon Cultural District, by the waterfront in Kowloon.
Kunsthaus Graz, Austria


photo from West Kowloon Cultural District Authority
For this ambitious design project CRAB studio and VOGT Landscape will form a partnership supported by Buro Happold for the complex and diverse technical and (infra-) structural questions and supported by Oval partnership and Adrian L. Norman as local partners in the field of architecture and landscape architecture.
Landscape and the natural environment of Kowloon are setting the context and framework for any human activity. The juxtaposition of water vs. land, the topography of the peninsula, the subtropical humidity, the growing and living conditions, all these and many more aspect influence the Kowloon Park development.
Peter Cook Key Projects
Key Building by architect Peter Cook
Kunsthaus, Graz, Austria
Date built: 2000
Design: Spacelab Cook-Fournier


photo : Maleen Diestel
Kunsthaus Graz
Professors Peter Cook and Colin Fournier, co-designers of the incredible Kunsthaus Graz museum for art and electronics in Austria
Kunsthaus Graz, Austria


photo : Maleen Diestel
Major Buildings by Peter Cook, alphabetical:
Botanical Gardens of Osaka pavilion, Japan
1990
with Christine Hawley
IBA Housing, Lützowstrasse – Lutzowplatz housing block, Berlin, Germany
1985/87
Peter Cook architect with Christine Hawley and Hinrich & Inken Baller


photo © Adrian Welch
Lützowstrasse Housing
Internationale Bau-Ausstellung – IBA project
More designs by architect Peter Cook online soon
Location: 50A Rosebery Avenue, EC1R 4RP, London, UK
Peter Cook Architect Practice Information
Cook Robotham Architectural Bureau (CRAB)
Kunsthaus Graz, Austria


photo : Maleen Diestel
CRAB studio's Directors have both been heavily involved in bringing art to the public in subtle ways: Sir Peter Cook as Director of London's Institute of Contemporary Arts and of Art Net for some years and subsequently of the British and Cyprian Pavilions at the Venice Biennale, as well as the Graz Kunsthaus.
Also as author of much published projects for installations such as 'Instant City' and Kassel Documenta. Gavin Robotham with the Stirling prize winning Magna Centre and of the interiors of the War Museum of the North (as chief designer for the 'Event' company). Current ongoing projects happen to include a study of Culture facilities and 'ART BOARDWALK' for a major Australian city.
Peter Cook is a writer, critic, architect and teacher
Practice:
Studio now called CRAB
Education:
Architectural Association, London – graduated 1960
Sir Peter Cook made his name with Archigram and went on to be head of the Bartlett School of Architecture in London
Peter Cook was born 1936 in Southend, Essex, England, UK
British Architectural Designs
UCL – Bartlett School of Architecture, University College London:


Building photos © Adrian Welch
Comments / photos for the Buildings designed by Peter Cook Architect page welcome
Website: www.crab-studio.com