Ian Ritchie Exhibition, Architecture Talks, Images, News, Design, Photos, Projects
Ian Ritchie Architects : Lecture + Exhibitions
Contemporary Architecture Practice, London, UK
post updated 21 Apr 2021
Ian Ritchie Lecture
11 Feb 2012
IAN RITCHIE : PUBLIC POLICY INTERESTS
Environmentally Intelligent Design
– Well before sustainability was on any government agenda, Ian Ritchie was lecturing on the subject using his own projects as exemplars, beginning with low-cost, self –construct, passive and active solar energy housing (Fluy 1976, Eagle Rock house 1981), and designed a zero energy cultural centre in Terrasson-La-Villedieu, France 1993.
– Ian chaired the launch of the first major global book on sustainability, Seymour, Girardet and Penney's Blueprint for A Green Planet, at The Ecology Centre, London, 1987.
– Since 1987 he has lobbied government agencies in Europe and particularly the UK Government, English Heritage, as well as commercial volume house builders Wimpey and Berkeley Homes to change their approach towards sustainable design.
– Ian continues to give lectures and delivering keynote speeches concerned with establishing an intelligent environmental and ethical approach to design at international conferences in Europe, USA and China.
Blue Gold, Water in 21st Century, Exhibition, Oberhausen Gasometer, Germany: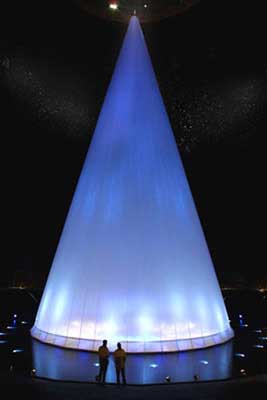 photo from Ian Ritchie Architects/span>
Interdisciplinary Design in the Built Environment
Ian Ritchie believes that the need for quality and respect of our built environment should be seen as vital to our survival, in much the same way that people now accept that the natural environment be treated. For this reason alone, the cultural awareness of all professionals involved in the design of our built environment has to be raised. Ian believes that breaking the design apartheid that exists in architectural and engineering education and between the professional bodies that represent architects and engineers, as well as introducing more social science disciplines will produce better designed and integrated urban environments.
– Ian Ritchie founded Ian Ritchie Architects in 1981 in London, and In the same year, he co-founded, with Peter Rice and Martin Francis, the design engineering office, RFR (Rice Francis Ritchie) in Paris. While Ian was a Director, this practice's work included the Louvre Pyramids and Sculpture Courts, The Cloud at The Arch, and La Villette Science Cité in Paris, and TGV-RER Station at Roissy Airport.
– Ian was Special Professor at Leeds University School of Civil Engineering (2001-2004) where he taught the final year cohort to the 4 year Masters Civil Engineering with Architecture course. An ambition was to provide a shared learning project in the first year for all engineering students, while another aim, focused upon the MEng course, was to achieve RIBA validation for part 1 Architecture. The course is already recognised by the Institute of Civil Engineers, Institute of Structural Engineers and CIBSE.
– He sat on Cambridge University's Advisory Committee for the postgraduate Masters course in Interdisciplinary Design in the Built Environment (IDBE) (2001-2004).
– Since 2001, he has been a member of the Royal Commission for the Exhibition of 1851 – Built Environment Panel which selects two-year research fellowships on urban issues; and the new Design Fellowship Panel established in 2006.
– He represented the Architects Council of Europe on the European Construction Technology Platform High Level Group helping to set the construction sector's 2025 research agenda for built environment.
– He is an advisor, representing the Royal Academy of Arts, to The Ove Arup Foundation. This charitable trust promotes and supports graduate and post-graduate education throughout the world in the field of the built environment.
– Ian advises Lee Bollinger, President of Columbia University NY, on its expansion into a 17 acre site at Manhattanville.
Raising Design Quality in Social Housing and International Design Exchange
– In 1999, Ian Ritchie Architects designed and realised with Scottish Homes and Thenew Housing Association innovative social housing in Glasgow's East End. The project was monitored by Scottish Homes for the first three years of occupation.
– In 2000, founding CABE commissioner Ian Ritchie established and chaired a Housing Industry Research Group which included Peabody, Guinness, Rowntree, Nationwide, Popular Housing Forum, FPD Savills, Arup, DETR, Bellway, Westbury, Chelsfield and London Residential Research.
– In 2000, Ian Ritchie, while a CABE Commissioner, initiated a cross-cultural exchange between CABE and La Direction de l'Architecture et du Patrimoine (DAPA) to explore how differences in design, financing, procurement and manufacture of social housing could be used to benefit both the UK and French supply. A protocol was signed between the two agencies and in autumn 2002, which launched a social housing Design, R&D and Construction programme of projects to be constructed in Paris at Sénart, and London and the Southeast Region. The first constructed project is at Shepherd's Bush, London, designed by Cartwright Pickard (London) and BCD Architectes (Paris) for Octavia Housing Association.
– From 1997 to 2003, Ian Ritchie was president of Europan UK (a pan-European urban and social housing biennial design competition for young architects). It has been managed in the UK by CABE since 2004.
Raising Government Awareness that Architecture is a Cultural Product
– Working as Architectural Advisor to the Lord Chancellor (1999-2004), Ian Ritchie had a central role in helping to formulate procurement and design quality policy within the Lord Chancellor's Department for all new court buildings, and included formulating the competition for the award-winning Manchester CJC. Supported by the Lord Chancellor, the policy aim was to establish the Lord Chancellor's Department as an exemplar of design standards that other Ministries would recognise and emulate.
– Ian Ritchie has spoken at National and International conferences on current UK mechanisms to improve the quality of our built environment.
– Ian Ritchie is CABE's first Emeritus Commissioner and represents CABE at international seminars and conferences.
Ian Ritchie Architects Exhibiitons : Key Projects
Blue Gold, Water in 21st Century, Exhibition, Oberhausen Gasometer, Germany 2001-02

photos from Ian Ritchie Architects 2007
Bruce Nauman exhibition, Hayward Gallery, London
1998

images © Bruce Nauman/Hayward Gallery
Gallery 1; Galleries 2-3:


plans © Ian Ritchie Architects
Light Tunnel Interactive, Ingolstadt, Germany
1992

photos © Ian Ritchie Architects
Sonic Boom Exhibition, Hayward Gallery, London, UK
1999
Gallery 2 M; Gallery 4; Gallery 5 L


images © Ian Ritchie Architects
More projects online soon
Location: London, south east England, UK
London Architecture Practice Information
IAN RITCHIE ARCHITECTS EXHIBITIONS (selected)
1970-79
Ian Ritchie Diploma Work UIA, Bulgaria 1972
1980-89
PARIS BIENNALE 1982
ART OF ARCHITECTURE, ICA, London 1983
INDUSTRIE + ARCHITECTURE, Centre Pompidou, Paris 1983
BRITISH ARCHITECTS, Moscow 1986
BRITISH ARCHITECTS, Tokyo 1987
BRITISH WEEK, Aarlborg, Denmark 1989
1990-99
BARCELONA/LONDON/STOCKHOLM/PARIS, L'Arsenal, Paris 1990
PROJECT IMAGINATION, Moscow + London 1992+93
LIGHT + ARCHITECTURE, Ingolstadt + Frankfurt, Germany 1992+93
RIBA ART OF THE PROCESS, London, Birmingham 1993
IAN RITCHIE ARCHITECTS, Grassi Museum, Leipzig, Germany 1993
JUBILEE LINE EXTENSION, Architectural Foundation 1993
SEELE COMPETITION, Berlin, Paris, Vienna + London 1994
IDEAS FOR CROYDON, Architectural Foundation 1994
WELSH NATIONAL OPERA HOUSE, Architectural Foundation/ITN 1994
MDO 94, Monte-Carlo 1994
LDDC BRIDGES Architectural Foundation/RIBA/Tokyo 1994,1995,1996
MILLENNIUM LANDMARK COMPETITION Architecture Foundation 1995
AJ CENTENARY EXHIBITION London 1995
SPACE BEFORE, BETWEEN, AFTER Architecture Zentrum-Vienna 1995
CARNUNTUM, Aedes-Berlin, AZ-Vienna, Venice Biennale 1995,1996
STEEL FRAMED HOUSES: Heinz Gallery, London 1995
RIVER THAMES Architecture Foundation, London 1996
EDF 50years, La Villette, Paris 1996
ARCHITECTURE TOMORROW Building Design Centre, London 1996
PUBLIC TRANSPORT IN LONDON Architecture Foundation 1996
LEIPZIG GLASHALLE, Berlin, Venice Biennale 1996
LIVING BRIDGES – THE INHABITED BRIDGE Royal Academy 1996
PICKING WINNERS, RIBA 1997
PARIS SOUS VERRE, L'Arsenal, Paris 1997
NEW WORKS/FUTURE VISIONS, São Paulo Biennale/Amsterdam 1997
BRUCE NAUMAN EXHIBITION, Hayward Gallery, London 1998
NEW URBAN ENVIRONMENTS, Royal Academy, Tokyo, Hiroshima 1998-99
ROYAL ACADEMY SUMMER EXHIBITION 1999,2000,01,02,03,04,05,06,07
2000-
IAN RITCHIE ARCHITECTS Terrasson-La-Villedieu, France 2000
JUBILEE LINE EXTENSION Municipal Art Society of New York 2001
LIGHT & SHADOW Deutsches Architektur Museum, Frankfurt 2002
VENICE BIENNALE, British Pavilion 2004
URBAN SPACE BY DESIGN, City Hall, London 2005
POIESIS IN ARCHITECTURE Ian Ritchie Architects, Liverpool University 2008-9
A VISUAL EUROPEAN DESIGN TOUR, Budapest Design Centre 2008
MASTERWORKS, Royal Academy, London 2011
DESIGN FOR DECADES, The American Institute of Architects, Washington DC 2011
NLA, Don't Move, Improve! North House 2010-11
NLA PUBLIC LONDON EXHIBITION, Mercers' Yard 2015
NLA LONDON DESIGN CAPITAL INSIGHT STUDY, Mriehel Masterplan and
Farsons Old Brewhouse and Trident Business Park 2017
Ian Ritchie Architects City of Culture Liverpool University 2008
Ian Ritchie Architects Lectures
Ian Ritchie Architects studio based in London
Stirling Prize 2004 winner – The Spire Dublin
RIBA National Award 2007 for the RSC Courtyard Theatre
Architectural Design
Comments for the Ian Ritchie Exhibitions page welcome