Michelin House, Brompton Road, Knightsbridge Building, Architect, London, Image
Michelin House London
Premises of The Conran Shop + Bibendum Restaurant, England, UK
4 Jul 2009
Michelin House
Location: Brompton Road, Knightsbridge, southwest London
Date built: 1911
Address: 81 Fulham Road, London SW3 6RD, England, United Kingdom
Design: Francois Espinasse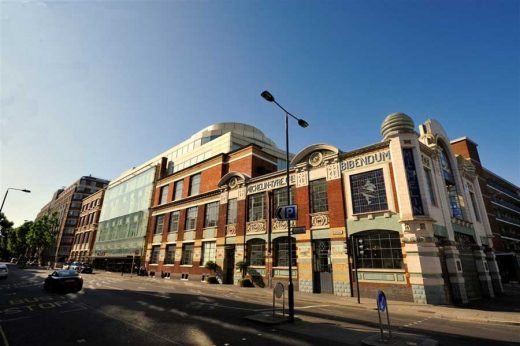 photo © Nick Weall
Michelin House
Michelin Trey Company British HQ, Grade II listed
Its exuberant stylistic individualism has been variously described as an example of Art Nouveau, proto-Art-Deco, Secessionist Functionalism and geometrical Classicism. It has even been described as 'the most completely French of any Edwardian building in London'!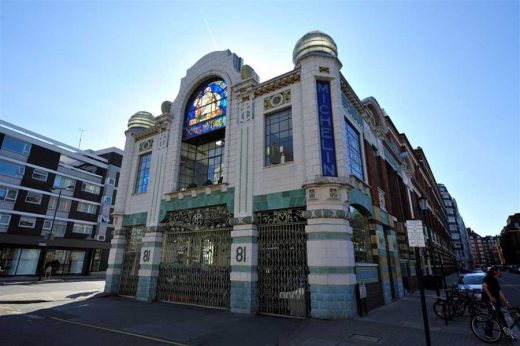 photo © Nick Weall
Designed by an employee of the company, probably under the guidance of Edouard and Andre Michelin, it owes more to the imagination, vivacity and outrageously irreverent flair for public relations of these two men than to any notion of the architectural taste of its time.
Source: Bibendum website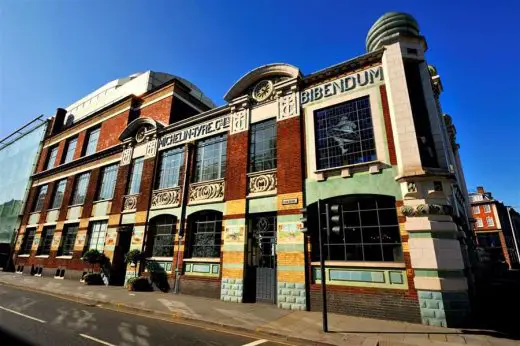 photograph © Nick Weall
Michelin House at 81 Fulham Road, Chelsea, London, was constructed as the first permanent UK headquarters and tyre depot for the Michelin Tyre Company Ltd. The building opened for business in 1911.
Designed by one of Michelin's employees, François Espinasse, the building has three large stained-glass windows based on Michelin advertisements of the time, all featuring the Michelin Man "Bibendum". Around the front of the original building at street level there are a number of decorative tiles showing famous racing cars of the time that used Michelin tyres.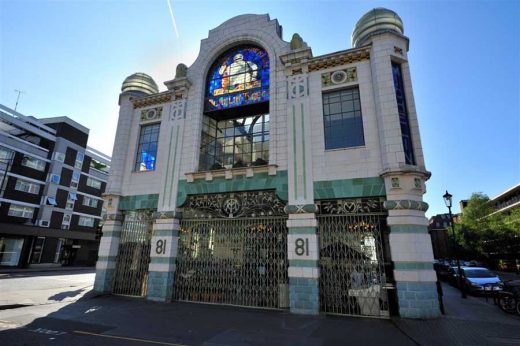 photograph © Nick Weall
More tiles can be found inside the front of the building, which was originally a tyre-fitting bay for passing motorists. People walking into the reception area of the building are still greeted by a mosaic on the floor showing Bibendum holding aloft a glass of nuts, bolts and other hazards, proclaiming "Nunc Est Bibendum" (Latin for "Now is the time to drink").
The reception area also features more decorative tiles around its walls. Two glass cupolas, which look like piles of tyres, frame either side of the front of the building. The Michelin company's close association with road maps and tourism is represented by a number of etchings of the streets of Paris on some of the first-floor windows.
Michelin moved out of the building in 1985, when it was purchased by the late publisher Paul Hamlyn and the restaurateur/retailer Sir Terence Conran, who shared a love for the building. They embarked on a major redevelopment that included the restoration of some the original features.
The new development also featured offices for Hamlyn's company Octopus Publishing, as well as Conran's Bibendum Restaurant & Oyster Bar, and a Conran Shop. All three businesses opened in 1987.
Source: wikipedia website
Michelin House Redevelopment, Brompton Road, Knightsbridge, southwest London
Dates built: 1986-87
Design: Conran Roche
Bibendum Restaurant; The Conran Shop; The Conran Oyster Bar; Paul Hamlyn Publishers
£9m
Location: 81 Fulham Road, south west London SW3 6RD, England, UK
London Buildings
Contemporary London Architecture
London Architecture Designs – chronological list
Architecture Walking Tours in London by e-architect
London Art Deco Architecture
Key London Art Deco Architecture, alphabetical:
BBC Broadcasting House
Date built: 1932
Design: Val Myer


photo © Adrian Welch
BBC Broadcasting House
Gillette Building, Brentford
Dates built: 1930s
Design: Sir Banister Fletcher


photo © Nick Weall
Gillette Building
The Hoover Factory & Office Building, Perivale
Date built: 1932
Design: Wallis, Gilbert and Partners


photo © Nick Weall
Hoover Factory : possibly the finest Art Deco structure in Britain
Michelin House redevelopment architects : Conran & Partners
Buildings close by to the Michelin House on Brompton Road:
Pelham Crescent, just to the northwest


photo © Adrian Welch
Conran offices on Sloane Avenue, behind Michelin House


photos © AW
Michelin House in London – Bibendum
Adjacent buildings to the east on Sloane Avenue – Gucci store on right


photos © AW
Nell Gwynn House, Sloane Avenue


photo © Nick Weall
Comments / photos for The Conran Shop Brompton Road page welcome