RIBA West Midlands Awards 2017 Shortlist, Winning Buildings, Birmingham Architecture, Links, Projects
RIBA West Midlands Awards 2017
Royal Institute of British Architects Birmingham Area Prize Shortlist: Buildings + Architects
8 Apr + 28 Mar 2017
RIBA West Midlands Awards in 2017
RIBA West Midlands Awards Shortlist in 2017
The Royal Institute of British Architects has today announced the shortlist for its annual West Midlands Regional Awards. These projects will be hoping to emulate the success of The Master's House in Herefordshire, winner of the RIBA West Midlands Building of the Year 2016. Over the years the Awards have become the benchmark in identifying the very best standards in architecture across the West Midlands.
The twelve shortlisted buildings are:
.Alan Walters Building, University of Birmingham by Berman Guedes Stretton
.Compton Verney Chapel and Landscape Project in Warwickshire by Purcell
.Croft Lodge Studio in Leominster by Kate Darby Architects and David Connor Design
.Forum Health Centre in Coventry by IDP
.Jaguar Land Rover Engine Manufacturing Centre in Wolverhampton by Arup
.New Library, University of Birmingham by Associated Architects LLP
.Remembrance Centre, National Memorial Arboretum in Alrewas by Glenn Howells Architects
.St Michaels Hospice in Hereford by Architype
.The Compound in Birmingham by BPN Architects
.The Keyes Building in Worcester by Associated Architects LLP
.The Oculus, University of Warwick by Berman Guedes Stretton
.Writer's Coach House in Birmingham by Intervention Architecture
For over 50 years the RIBA awards and prizes have championed and celebrated the best architecture in the UK and around the world, no matter the form, size or budget. Successful projects may reflect changes and innovations in architecture, but at their core they display a commitment to designing and developing buildings and spaces for the improvement and enhancement of people's lives.
Natalia Maximova, Chair of the Judging Panel commented:
"This year's shortlist includes a healthy range of projects from a chapel restoration to a new car manufacturing centre, which demonstrates a high design standard across the sectors. There are some unusual takes on conservation, as well as unique building types. All are so different and all have merits worthy of a jury's visit. The jury are now keen to meet the project teams and their clients – both well-known and newly-established names. Congratulations to them all for ensuring that the region's architectural aspirations remain so strong."
All shortlisted buildings will be assessed by a regional jury and the winners of RIBA West Midlands Awards will be announced on 15 May 2017 at a celebration evening at the Park Regis, Birmingham. The event is open for all to attend and more details can be found here. Regional winners will also be considered for a coveted RIBA National Award in recognition of their architectural excellence. The shortlist for the RIBA Stirling Prize for the best building of the year will be drawn from the RIBA National Award-winning buildings later in the year.
Background:
RIBA West Midlands Awards shortlist 2017 – Buildings + Architects
Alan Walters Building, University of Birmingham by Berman Guedes Stretton
The Alan Walters Building provides the Birmingham Business School with a dedicated facility for their Post Graduate, MBA and Executive programmes. High quality specialist teaching spaces are provided, including 100 seat Harvard style and 200 seat raked lecture theatres, mock trading room, 50 seat computer suite, flexible 100 seat and a range of general purpose teaching rooms. To serve as the social base for the postgraduate cohort, these are augmented by a range of informal social learning spaces, café, programme offices, and Careers in Business Centre.
Compton Verney Chapel and Landscape Project in Warwickshire by Purcell
The 'Capability' Brown Chapel and Landscape Restoration Project is a scheme of capital and revenue works aimed at conserving Compton Verney's nationally significant Brownian heritage, enhancing and caring for its ecology and natural history, and providing a range of improved visitor facilities to attract more diverse visitors . The pairing of art gallery and parkland is unique in the area. The project scope consisted of the repair and refurbishment of the Grade I listed 'Capability' Brown Chapel for cultural use, a new contemporary Welcome Centre containing visitor facilities and interpretation providing an accessible, welcoming entrance to the site for all, and a new grounds maintenance building enabling Compton Verney to better care for the landscape and a base for volunteers and training.
Croft Lodge Studio in Leominster by Kate Darby Architects and David Connor Design
The preservation of a 17th century cottage and the creation of a new house and studio. The strategy was not to renovate or repair the 300 year old listed building but to preserve it perfectly. This would include the rotten timbers, the dead ivy, the old birds' nests, the cobwebs and the existing dust. The ruin would be protected from the elements within a new high performance outer envelope. This means that in most places there would be two walls, two windows and two roofs, old and new. The work was undertaken to create a functioning studio with living accommodation. that could be easily be changed in the future into a house with three bedrooms and two bathrooms.
Forum Health Centre in Coventry by IDP
The long-standing GP practice recognised through its growing size they were dealing with a better-informed population whose needs were changing. The GP Five-year Forward Plan sought to re-shape traditional Primary Care by necessitating infrastructure improvements, re-designing services, developing and streamlining the workforce. Forum's vision to bring together defragmented services into a more cohesive patient journey, improve staff wellbeing and create an innovative environment became key objectives. The principles of 'healing architecture' are conveyed through the composition of space, materials, colours and most notably natural daylight, which follows patients and staff on their journey throughout the building. Introduction of flexible integrated working spaces, layout adaptability, improved accessibility and wayfinding for vulnerable users became key components of inclusive design, which responded to client's vision and belief, that architecture and creation of innovative space can benefit patient care.
Jaguar Land Rover Engine Manufacturing Centre in Wolverhampton by Arup
Jaguar Land Rover's BREEAM Excellent Engine Manufacturing Centre houses 1400 staff and is comprised of buildings including machine and assembly halls which are flanked by office, social support spaces and community educational centre. Large span steel roof framing, supported on columns spaced at 30m intervals, is arranged with an open truss form to give high level services distribution, a clear hierarchy, modulated to suit the north light architecture. This incorporated with the sawtooth roof forms, breaks down the massive scale to humanise the production space. The essence of the project is its flexibility, allowing for the ongoing development of the manufacturing process. The dominant constraint on the project was the criticality of the programme. As well as delivering a first class working environment and leading-edge sustainability, handover had to be achieved just 18 months after the appointment of the design team. The building operates 24/7, hence all elements of the functionality of the building, the circulatory system and the resilience of the buildings must be seamless and fail proof.
New Library, University of Birmingham by Associated Architects LLP
The University required a brand-new 24/7 Library giving users a 'transformational experience', providing state-of-the-art facilities for students, staff and researchers. It had to be tailor-made to suit modern users' requirements designed to make more of the University's extraordinary collections accessible to students and staff. In contrast to the 1950's defunct library, it needed to be technology-rich housing a variety of learning spaces to cater for different modes of study. Space had to be created for over 2.1 million printed books and journals on 40 miles of shelving. Students wanted access to an array of learning areas including informal seating, group study spaces and individual desks; 1,800 seats in total. Alongside traditional learning resources, the Library required innovative tools and enhanced accessibility for learning in the 21st Century and beyond including, wireless mobile charging, media rooms and video editing booths.
Remembrance Centre, National Memorial Arboretum in Alrewas by Glenn Howells Architects
The National Memorial Arboretum is the UK's year-round centre of Remembrance; a spiritually uplifting place which honours the fallen, recognises service and sacrifice and fosters pride in our country. The new £9.9m Remembrance Centre provides a gateway into the 150-acre arboretum and is also home to exhibition, interpretation and retail spaces, along with a restaurant, café and learning centre. The design intention was to develop the scheme as a group of 'pavilions in the landscape,' each with their own identity but unified by a common architectural language. The use of natural materials, both interior and exterior, reinforces the organic and sustainable principles advanced by the Arboretum and form a strong contextual relationship with the Armed Forces Memorial. A prominent rotunda at the heart of the building, housing an immersive film experience, is a deliberate punctuation of the unifying four metre grid applied throughout the building. It serves as a powerful visual marker in the site and beyond.
St Michaels Hospice in Hereford by Architype
Architype and the Hospice worked closely to develop the brief, rethinking palliative care requirements to develop a cognitive design that responded to specific user needs, whilst sensitively balancing the buildings character to support patients emotionally. The existing curved 1980's building was in need of significant upgrade and expansion. The refurbishment has repurposed it as the daycare provision, with a large new training-suite and office spaces. The old and new buildings are internally linked, increasing the footprint by two-thirds. Along a central 'street', the new building accommodates 20 private en-suite in-patient bedrooms grouped into four clusters. All bedrooms of each cluster share a lounge and have individual access to private terraces, overlooking views of the beautiful rural surroundings. Although built on greenfield land and near to a listed former convent, planning constraints were relaxed due to the building use. Architype has employed a natural material palette. The new timber-frame building is clad with painted timber, cedar shingles and colourful lime renders. Internally, natural timber finishes, compliant with healthcare standards are a welcomed alternative to clinical plastics.
The Compound in Birmingham by BPN Architects
The Compound is a former textile factory located in Birmingham's Jewellery Quarter. Behind the unassuming façade, Javelin Block have used their unique design approach to transform the building into a place to live, work and display art. Javelin Block respond to a building 'as found'. The building is a fusion between the historic and industrial aesthetic, presented in a contemporary way. BPN's role was to support and facilitate ideas from the client's brief to create a place to live and work and to provide a gallery space for a collection of contemporary art. A limited palette of materials combined existing fabric and found materials and objects. Brick, metal, concrete and reclaimed wood are left exposed. The Compound has an enclosed garage and play space under a north light roof. A large industrial glazed screen forms the entrance to the house. Open plan living is based around a linear kitchen which becomes a key social space. Bedrooms, situated throughout, have their own distinct character. At the very top of the building ('The Treehouse') is a bedroom, kitchen and bathroom. There is also a basement cinema and bar.
The Keyes Building in Worcester by Associated Architects LLP
On the last site remaining for School redevelopment, the Keyes Building is the culmination of two ten-year masterplans by Associated Architects, working mainly with historic buildings. This site was occupied with outbuildings, a redundant 1950s pub, and scrubby sycamores. Opposite are the Listed Worcester Porcelain buildings. In Worcester Conservation area, this project's archaeology has revealed that the 5m site fall was once a significant Bronze Age rampart. The scheme breaches this ancient rampart, linking Severn Street (public) and Castle Court (School) with a generous flight of brick steps, and framing a new view to the previously concealed Cathedral. The School's ambitious brief contains five elements: performing arts, teaching, sixth form, parking and sports. Previously King's Worcester had just one undersized sports hall, and no adjacent playing fields. Above a semi-basement of parking, sport occupies the Lower Ground floor.
The Oculus, University of Warwick by Berman Guedes Stretton
The Oculus provides the University of Warwick with a new flagship teaching and learning building – the first on the campus to be dedicated purely to teaching and available to all regardless of academic department or discipline. The brief was for a landmark building and an important first step in a new phase of campus development. Our design fulfils this requirement, providing the new architectural direction with a warm palette of natural materials, expansive and generous geometry, and a high degree of transparency and openness. Teaching spaces are located in two wings supporting a dramatic arched timber roof, beneath which the two lecture theatres are placed. Generous circulation spaces flow around these and create enclaves of space for social learning whilst the inclusion of a café further promotes the use of the building by students beyond formal teaching sessions.
The Oculus at the University of Warwick Building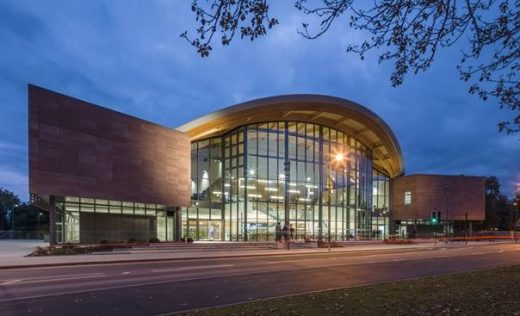 photograph : Quentin Lake
Writer's Coach House in Birmingham by Intervention Architecture
IA has designed and project managed the complete refurbishment and extension of an existing outbuilding, to create a live/work studio for a Writer, in Birmingham. The space was previously a dilapidated shed used for storage and historically as a timber maintenance outbuilding, which served the Victorian residential building it is linked to. The project creates an open plan one-bedroom studio with kitchen, bathroom and all new mains servicing connections. A key approach from the conception of the project was the view of the Writer at work, who is now able to enjoy an outlook for inspiration, over the mezzanine level out to the garden via an arched south-facing window. Filling the space with natural light, the central double height void connects the lower and upper floors, enriching the internal atmosphere and opening views out to the secluded garden. The character of the building evolved during the planning stage to include faux doors to the front, to accentuate the form and scale in contrast with adjacent Victorian villa builds.
Posted on Tuesday 28th March 2017
Event
Tickets for the RIBA East Midlands Annual Awards evening are priced at £50+VAT. Ticket includes reception and Awards event. More information and to book: http://www.eventbrite.co.uk/e/2017-riba-east-midlands-awards-celebration-tickets-32848283099
RIBA Awards have been running continuously since 1966 and are judged and presented locally. No matter the shape, size, budget or location, RIBA award-winning schemes set the standard for great architecture all across the country. RIBA awards are for buildings in the UK by RIBA Chartered Architects and RIBA International Fellows.
——————————————————————————–
RIBA Awards in 2017
RIBA Awards Shortlists in 2017
RIBA East Midlands Awards 2017
RSAW Welsh Architecture Awards 2017
RIBA Northern Ireland Awards 2017
——————————————————————————–
RIBA West Midlands Awards Shortlist 2018
Location:Northampton, UK
RIBA Awards Past Winners
RIBA Awards Winning Buildings + Architects
RIBA Awards
English Architecture Designs – chronological list
Birmingham Architecture Designs – chronological list
Website: West Midlands
Comments / photos for the RIBA West Midlands Awards 2017 page welcome
RIBA West Midlands Awards 2017 – page
Website: RIBA West Midlands Awards winners news