RIBA Gold Medal Winner 2013, Architect, Citation, Architecture Prize
RIBA Gold Medal – Winner in 2013 : Peter Zumthor
Citation : Royal Institute of British Architects Award, England, UK
27 Sep 2012
Peter Zumthor – Royal Gold Medal for architecture
The full citation written by Yvonne Farrell of Grafton Architects: Royal Gold Medal 2013 – Peter Zumthor
Royal Gold Medal for architecture Citation
Architecture needs warriors.
Architecture has to be made.
Otherwise how do we keep going?
We need proof.
We need proof that architecture exists.
We need to spend time in spaces that nourish the soul.
Writings contribute, exhibitions explain, film animates life, but in the end architecture is architecture : a cultural vessel that we can hand on to others, proof that it speaks its own spatial language, that is not exclusive but shared, understood physically, intellectualy, sensually.
Peter Zumthor somehow speaks this language.
It is not a secret language, but it is a difficult language to learn.
Architecture is a difficult language speak.
In his Book: Works: Buildings and Projects 1979 – 1997, dedicated to his children: Anna Katharina, Peter Conradin and Jon Paulin, he begins under the enigmatic heading: Lightness and Pain.
He sets out to list what motivates him in the process of designing buildings. He shares his thoughts. A mixture of influences map a course for him; overlaps of memory, place, materials weave. Steeped in Heidegger, he knows that our thinking is fundamentally connected to our experience of place. Quoting from the book, he describes :
Kolumba Diocesan Museum, Cologne, Germany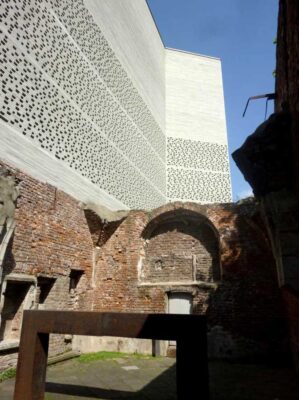 picture © Breun
"The thought process is not abstract but works with spatial images. It has sensuous components. It uses the images of places and spaces to which we have access, which we remember. In other words: thought travels through a specific space which contains traces of place and architecture."
For him, places and spaces which are stored in our bodies are the fertile ground and starting points for his work. His focus in his process of designing, of thinking up new spaces, is imagining the possible experiences of what he might choose.
He seems to have a crystal ball, made of a solid, highly articulated haptic sense, where he seems to be in his future imagined space, while simultaneouly, being in previous experiences.
He is aware of the world and has the ability to invent spaces that someone, he hopes, "will remember with pleasure".
Baths at Vals – Therme Vals


photograph : Hélène Binet
Peter Zumthor builds
Under rooflights, embedded in the town of Chur, Switzerland, a metal gantry holds the observer above the Roman ruins encased by light-weight, slatted timber.
A garden of cherry trees draws out the space from his studio, embedded in the village of Haldenstein.
The tear-drop shaped, sacred room of Sogn Benedetg evokes a "sheltering, feminine "forma materna". A shingled-bellied wrap on the 37 timber posts is held apart from the hovering floor and the boat-like, timber ribbed roof. Light is held in the gap between.
Mature and independent citizens enjoy themselves in the enclosed street/corridors of the 21 apartments of Chur. Crafted larchwood, concrete and tufa enrich their lives.
Time, he takes his time. He is part of time and buildings are meant to last. In the log cabin, the Gugalun House in Versam, the living quarters survive from 1708, here he stitches into the existing log structure in a remote location, only accessed by an ancient, natural footpath. He carefully weaves the new and original, with surgical magic, from pencil sketch to wooden patches, he holds time, notches it into the timber, into the black, oiled concrete. Heirs to this alpine treasure are assured of their inheritanceas so are we.
Why do architects go to visit Vals? They go because it is a building by Peter Zumthor, but when they get there, they forget about this architect and feel the building.They sense that they are enveloped by the forgotton power of water, they secretly sing among the petalled water and they become children. Noticing their footprints on the beautiful stone, they watch their breath form clouds in the cold air. They have all been to Spas beforebut this is no Spa, this is magic water, hollowed mountain.
Beside Lake Konstanz in Austria, stands his Art Museum in Bregenz.Think about the inventive intelligence of the glass containment.Think about the liberated and highly controlled space in urban terms, in its plans, in its sections, in its volumes, in its surfaces, in its light. It wins the Mies van der Rohe Award.
In the Serpentine Pavilion, he created dark layers to penetrate, an enclosure for flowers and birds, a place to sit, a roof to frame the sky.
When the Columba Art Museum of the Archdiocese of Cologne was awarded the 2011 Nordrein Westfalia Architecture First Prize, the Tribute stated:
Baths at Vals – Therme Vals


photograph : Hélène Binet
"A person entering this building experiences the magic that architecture can conjure up. The successful combination of historic and contemporary elements unfolds a sensual potency, which at once impresses the visitor with strong sensations of space and fine details. The choice of materials, the treatment of light, and the carefully composed sequence of rooms join to become an integral whole. Likewise, with respect to urban space, this stone building construction conveys a quiet strength and in doing so, integrates in an almost playful, self-evident manner the fragments of the building's historical legacy, the perforated frieze of stones, and the large glass surfaces into a highly expressive contemporary building. It is an encounter with a lasting impression."
The Bruder Klaus Chapel stands in a field at Mechernich, Germany. It tells the story of local farmers who wanted to honour their 15th century patron saint, Bruder Klaus. The construction began by forming a wigwam of 112 tree trunks. When they had completed a frame, 24 layers of concrete were poured on it, and finally the wooden frame was set on fire, freeing up an interior space, lit from above, open to the sky, lined with black, charred surfaces. Rain and sunlight share the building and the floor is frozen molten lead.
Set in a small fishing village in Norway, the Steilneset Memorial wants us to remember those who died as a result of witch hunts in the 17th century. Inspired by wooden racks once used for drying fish, Zumthor makes a repeated timber struture march 125 metres along a rocky shore. A confined route is made through a space made of strapped teflon-coated, fiberglass weave. Set beside the structure is a dark glass cube, where the non-light of perpetual darkness, is the setting for the artist Louise Bourgeois work.
Kolumba Diocesan Museum, Cologne, Germany


picture © Breun
Peter Zumthor teaches
Advising students to ask themselves questions,he encourages them to learn to perceive the world with emotion and reason; to look within themselves to rememeber, not to forget; to learn to handle materials; that architecture is always a concrete matter. Like sheet music requiring to be played, a drawing requires to become built, to become space in which we can physically be, in order to become architecture.
In the book titled Thinking Architecture, published in 1998, Zumthor set down in his own words a philosophy of architecture. He says
"I believe that architecture today needs to reflect on the tasks and possibilities which are inherently its own. Architecture is not a vehicle or a symbol for things that do not belong to its essence. In a society that celebrates the inessential, architecture can put up a resistance, counteract the waste of forms and meanings, and speak its own language. I believe that the language of architecture is not a question of a specific style. Every building is built for a specific use in a specific place and for a specific society. My buildings try to answer the questions that emerge from these simple facts as precisely and critically as they can."
Kolumba Diocesan Museum, Cologne, Germany


photograph : Hélène Binet
Continuing he says.
"Construction is the art of making a meaningful whole out of many parts. Architecture has its own realm. It has a special physical relationship with life. I do not think of it primarily as either a message or a symbol, but as an envelope and background for life which goes on in and around it, a sensitive container for the rhythm of footsteps on the floor, for the concentration of work, for the silence of sleep."
As a warrior, Peter Zumthor stands his ground. By standing his ground, he anchors architecture into our contemporary world. Initially trained as a joiner in his father's cabinet making firm; his lists of achievements expands: the Carlsberg Architectural Prize; the Mies van der Rohe Award for European Architecture; the Praemium Imperiale; the Pritzker Architecture Prize and now, the Royal Gold Medal.
By making samples of beauty, his continued work is the encouragement and the proof we need to carry on.
As an Architect, he defends Architecture.
He stands obstinately, defiantly, in the clearing.
He can say 'no', where many cannot.
He claims Time. He takes his time.
The spaces that Peter Zumthor imagines feeds the soul.
He thinks, he considers, he remembers, he invents.
Kolumba Diocesan Museum, Cologne, Germany


photograph : Hélène Binet
27 Sep 2012
Royal Gold Medal for architecture
Peter Zumthor to receive the Royal Gold Medal for architecture
The world renowned Swiss architect Peter Zumthor has been named today (Thursday 27 September 2012) as the recipient of one of the world's most prestigious architecture prizes, the Royal Gold Medal.
Given in recognition of a lifetime's work, the Royal Gold Medal is approved personally by Her Majesty the Queen and is given to a person or group of people who have had a significant influence "either directly or indirectly on the advancement of architecture".
Known for running a small yet powerful and uncompromising practice, Peter Zumthor founded his award-winning firm in 1979 in Switzerland. His most celebrated projects include the Kunsthaus Bregenz in Austria, the Therme Vals (thermal baths) in Vals, Switzerland and the Kolumba Art Museum in Cologne. He designed London's 2011 Serpentine Pavilion and is currently designing a house in Devon for philosopher Alain de Botton's Living Architecture architect-designed holiday home scheme.
He is exceptionally talented at creating highly atmospheric spaces through his mastery of light and choice of materials. Zumthor's buildings, such as his small rural chapels and the Thermal Baths at Vals, are an experience for all the senses, with every detail reinforcing the essence of the building and its surroundings.
RIBA President Angela Brady, who chaired the Honours Committee which selected the Royal Gold medal winner said,
"Peter Zumthor's work renews the link with a tradition of modern architecture that emphasises place, community and material practice. His writings dwell upon the experience of designing, building and inhabitation while his buildings are engaged in a rich dialogue with architectural history. I will be delighted to present him with the Royal Gold Medal."
Peter Zumthor will be presented with the Royal Gold Medal on Wednesday 6 February 2013 at a ceremony at the Royal Institute of British Architects in London, during which the 2013 RIBA International and Honorary Fellowships will also be presented.
This year's RIBA Honours Committee was chaired by RIBA President Angela Brady with architects Peter Clegg, Yvonne Farrell, Professor Adrian Forty, Niall McLaughlin and Sarah Wigglesworth.
Peter Zumthor


photograph : Gerry Ebner
Peter Zumthor was born in Basel in 1943 and trained as a cabinet maker at his father's shop. From 1963-67, he trained as a designer and architect at the Kunstgewerbeschule Basel and at the Pratt Institute in New York.
In 1967, he was employed by the Canton of Graubünden (Switzerland) in the Department for the Preservation of Monuments working as a building and planning consultant and architectural analyst of historical villages. He established his own practice in 1979 in Haldenstein, Switzerland where he still works with a staff of 30.
He was visiting professor at the University of Southern California Institute of Architecture and SCI-ARC in Los Angeles in 1988; at the Technische Universität, Munich in 1989; and at the Graduate School of Design, Harvard University in 1999.
From 1996-2008 he was a professor at the Academy of Architecture, Universitá della Svizzera Italiana, Mendrisio.
His major buildings are: Protective Housing for Roman Archaeological Excavations, Chur, Switzerland, 1986; Sogn Benedetg Chapel, Sumvitg, Switzerland, 1988; Gugalun House, Versam, Switzerland, 1994; Therme Vals, Switzerland, 1996; Kunsthaus Bregenz, Austria, 1997; Swiss Sound Box, Swiss Pavilion, Expo 2000, Hanover, Germany, 2000; Kolumba Art Museum, Cologne, Germany, 2007; Bruder Klaus Field Chapel, Wachendorf, Germany, 2007, Steilneset, Memorial for the Victims of the Witch Trials in the Finnmark, Vardø, Norway, 2011, and the Serpentine Gallery Pavilion, London, England, 2011.
His many awards include the Heinrich Tessenow Medal, Technical University, Hanover, 1989; Carlsberg Architectural Prize, Copenhagen, 1998; Bündner Kulturpreis, Graubünden, 1998; Mies van der Rohe Award for European Architecture, Barcelona, 1998; Spirit of Nature Wood Architecture Award, Wood in Culture Association, Finland, 2006; Prix Meret Oppenheim, Federal Office of Culture, Switzerland, 2006; Praemium Imperiale, Japan Art Association, 2008; DAM Prize for Architecture in Germany, 2008 and The Pritzker Architecture Prize, The Hyatt Foundation, 2009.
In his book Thinking Architecture, published by Birkhauser, Zumthor set down in his own words a philosophy of architecture: "I believe that architecture today needs to reflect on the tasks and possibilities which are inherently its own. Architecture is not a vehicle or a symbol for things that do not belong to its essence. In a society that celebrates the inessential, architecture can put up a resistance, counteract the waste of forms and meanings, and speak its own language. I believe that the language of architecture is not a question of a specific style. Every building is built for a specific use in a specific place and for a specific society. My buildings try to answer the questions that emerge from these simple facts as precisely and critically as they can."
RIBA Gold Medal 2013 Winner information from Royal Institute of British Architects
Location: UK
RIBA Gold Medal Winners
Royal Gold Medal Recipients
RIBA Gold Medal 2012 : Herman Hertzberger


photo © Hans van den Bogaard
RIBA Gold Medal 2011 : David Chipperfield


photograph : Ute Zscharnt
Architectural Design Awards
Architecture Awards – selection below:
Comments / photos for the RIBA Gold Medal 2013 Winner – Swiss Architect Peter Zumthor page welcome
Website: RIBA Gold Medal